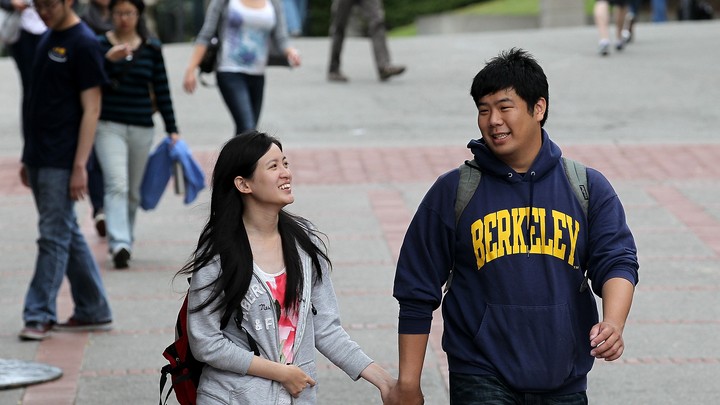 California's third-largest employer just gave its workers a raise.
The University of California on Wednesday announced it will bump minimum wage for employees and contract workers to $15 an hour.
It will become the first public-university system in the country to have such a high minimum wage. But the decision didn't happen in an isolated ivory tower.
U.C.L.A. — the system's largest school and one of its most highly regarded — sits in Los Angeles County. L.A. County, which happens to be the nation's most populous, just agreed to raise its minimum wage to $15 an hour in unincorporated communities by 2020. The city of Los Angeles passed a similar proposal earlier this year, and further north, voters in San Francisco approved a measure to gradually raise the city's minimum wage to $15 an hour.
While U.C. President and former Homeland Security Secretary Janet Napolitano said in a statement that raising the minimum wage is the "right thing" to do, it's also politically smart.
The state's Senate approved a bill to increase the minimum wage from $9 to $13 an hour by 2017, and labor activists have repeatedly criticized the U.C. system for failing to pay living wages to workers. The university system is also taking heat for opposing a bill that would require it to verify that contractors offer employees compensation and benefits comparable to what U.C. employees doing similar work get. Raising the wage is a proactive, feel-good move that makes the university system look good. It also won't cost that much money.
U.C. spokeswoman Dianne Klein said the increase will likely cost about $14 million per year, and will come mostly from so-called auxiliary enterprises like the bookstore and parking lots instead of tuition or taxes. She said it would affect about 3,200 workers, many of them students who work in the bookstores or resident halls. Other campus workers, including teaching assistants, are unionized and already earning a higher wage.
The $14 million price tag is, "in the scheme of things, not a lot of money." -- U.C. Spokeswoman Dianne Klein
The $14 million price tag is "in the scheme of things, not a lot of money," Klein said. The system has an operating budget of $26 billion and a payroll of $12.6 billion.
The increase will apply to employees who work at least 20 hours per week, including contract workers. U.C. will raise the minimum wage to $13 an hour by October, $14 the following year, and $15 in October 2016. The living wage for a single adult in California is $12.34, meaning all U.C. employees should be earning a living wage within a few months.
Because only people working at least 20 hours per week qualify for the increase, work-study students, who are prohibited from working more than 20 hours per week, will not benefit.
While Klein called the fact that the timing of the announcement aligns with L.A.'s increase "coincidental," she acknowledged that the system has fielded a number of concerns about substandard contract-worker conditions, such as a lack of benefits and low wages, and wanted to be sure workers were paid fairly. Along with the increase, the U.C. system will launch a new phone hotline for contract workers, such as custodians and landscapers, to file complaints.
After the state and federal governments, the system is the largest employer in California. Nearly 200,000 employees work at 10 campuses, five medical centers, several labs, and other locations.
Napolitano, she said, "felt we need to be a leader."
Reception to the announcement has been generally positive, with endorsements from top White House officials and other lawmakers.
University of California is taking steps to #RaiseTheWage! Great to hear about all the progress across the country. https://t.co/kh6cMKAtRB

— Cecilia Muñoz (@Cecilia44) July 22, 2015
Thrilled to see @UofCalifornia at the forefront of the fight to secure a #LivingWage for hard-working families. http://t.co/PmWdS5964P #UC

— Xavier Becerra (@RepBecerra) July 22, 2015
But the Republican leader of the California Assembly, Kristin Olsen, has voiced concerns that raising the minimum wage should not be a priority while the system struggles to keep tuition affordable.
"This action will result in even higher costs on students and parents, at a time when U.C. is already struggling to maintain affordability and student access," Olsen said in a statement.
UC spent year saying didn't have enough $ 2 meet basic needs of educating students. Now imposes significant new costs on itself. Frustrating

— Kristin Olsen (@KristinOlsenCA) July 22, 2015
Yet advocates hope the announcement will give momentum to the statewide push for a higher minimum wage and for other major state employers to follow suit. After Napolitano's announcement, Lt. Gov. Gavin Newsom took to Twitter to call on the California State University system to join U.C. in raising its minimum wage.
As a Trustee -- I am urging @calstate to do the same -- #FightFor15

— Gavin Newsom (@GavinNewsom) July 22, 2015
While proponents of a higher wage may have to wait a while for that announcement, they're reveling in the fact that thousands of U.C. workers are set to bring home heftier paychecks by October.
This story is part of our Next America: Workforce project, which is supported by a grant from the Annie E. Casey Foundation.
We want to hear what you think about this article. Submit a letter to the editor or write to letters@theatlantic.com.
Emily DeRuy
is a former staff writer at
The Atlantic
, where she covered education.