The Senate's Bid to Defund Planned Parenthood Is Just Getting Started
If a vote fails next week, as expected, the GOP plans to to keep bringing the defunding measures to the floor.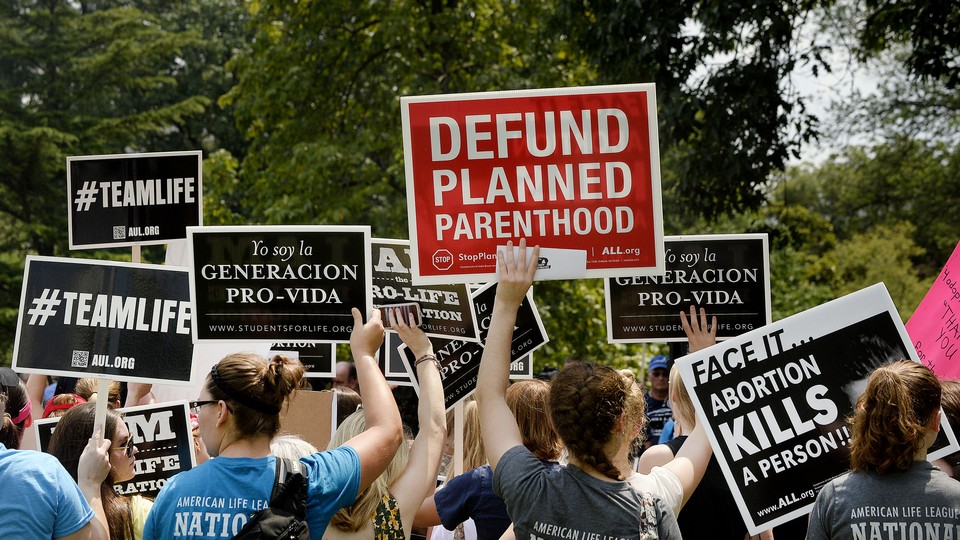 Senate Republican leaders are vowing that if a stand-alone measure to defund Planned Parenthood fails next week, the provision will come up again and again — including, possibly, as part of a government-spending bill in the fall.
Republicans clearly see the possibility over forcing repeated votes to cut funding for the group, which is under scrutiny for sting videos that show officials allegedly discussing the sale of fetal tissue, as a political winner.
Senate Majority Whip John Cornyn did not explicitly endorse defunding Planned Parenthood as part of the spending bill that Congress is expected to take up before its Sept. 30 deadline to keep the government funded. But he also did not rule it out when asked multiple times Wednesday about the possibility.
"I'm confident we'll use every resource available to us, every tool," he said when asked directly if defunding could be included in a government-spending bill.
When asked the same question again moments later, Cornyn said, "I think you'll see it in other manifestations. I do, yeah.
"This is going to unfold, I think, as people learn more about it and as the public becomes more and more horrified at what they're learning," he said. "What we don't yet know is whether they violated law with regard to consent or with regard to profiteering, and so those are sorts of things that will come up. It may be that there are more additional follow-on pieces of legislation that are offered until we get to be able to stop this terrible practice."
A group of 18 Republican representatives sent a letter to House leadership Wednesday saying they would not support any spending bill funding Planned Parenthood.
The first test is next week's stand-alone bill, crafted by a working group led by Sen. Joni Ernst of Iowa, which would prohibit federal funding to Planned Parenthood and redirect the money to community health centers. It isn't expected to attract enough Democratic support to break the 60-vote threshold needed to advance. "We'll find out Monday night," Cornyn said.
By redirecting the money so it would still be used for women's health, Republicans are hoping to avoid familiar accusations from Democrats of being antiwoman. And they are seizing upon Hillary Clinton's description of images in the videos as "disturbing." Clinton continues to defend Planned Parenthood, however, which the GOP is not mentioning.
"Even Hillary Clinton has said this is very disturbing, so I think they need to take a good hard look at it and listen to their constituents, because this is reprehensible," Ernst said in an interview.
But the assumption is still that next week's vote will fail, and the path after that isn't yet clear. Senate leaders themselves don't know what they'll do next, although at this point, they sound open to anything.
"I wouldn't rule anything out," said Sen. John Thune of South Dakota, the No. 4 Republican in the chamber. "I don't think, again, that that's been mapped out or thought out yet. I think we're going to start with this step and we'll see where the next steps go."
Although Majority Leader Mitch McConnell kept amendments to defund Planned Parenthood off must-pass highway legislation, that trend might not hold in the future.
"There's always another bill coming across the floor. In the Senate, as you know, bills are open to amendment and there may be something that fits," Thune said.
Republicans are also banking on continued public momentum for their cause. The organization responsible for the videos has said there are enough recordings to release a new video every week for months.
"I don't think the issue's going to go away," Thune said. "I think these videos are so disturbing to people and demonstrate such a callous disregard for human life that there seems to be an interest in doing something to try and ensure this sort of thing doesn't happen again."