The Road Rage of a Narcotics Detective
An off-duty Medford, Massachusetts, cop threatened a motorist during a traffic stop. His colleagues seemed unperturbed by his behavior.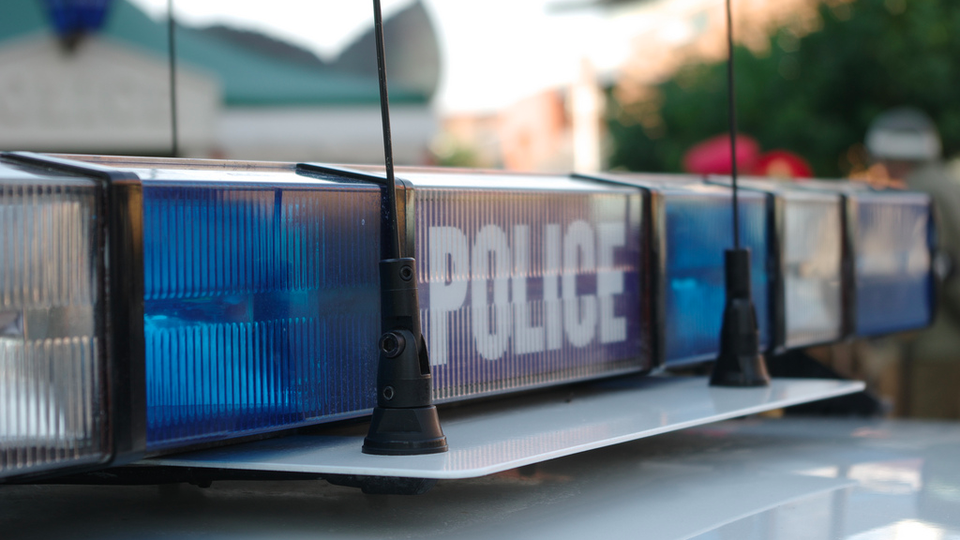 Three years ago in Medford, Massachusetts, narcotics detective Stephen LeBert calmly told the brother of a man he was arresting, "He's selling drugs illegally. What they should do is just take him up to the railroad tracks and tell him to lay down." He knew he was being recorded as he made the comment, as moments earlier, the footage shows him licking his finger and wiping saliva on the citizen's lens. Medford Police Chief Leo Sacco says that he was counseled after the incident.
After watching that video, it comes as no great surprise that Detective LeBert was suspended earlier this week for another instance of misbehavior recorded by a citizen:
The footage, captured by the dashboard camera on a motorist's vehicle, begins shortly after the driver got confused at a roundabout in an unfamiliar neighborhood and wound up briefly driving on the wrong side of the road (an error for which he would repeatedly apologize). At first, the motorist is terrified and starts to flee because Detective LeBert, who is driving an unmarked pickup truck and plainclothes, does not identify himself as a police officer, even as he is upset that the motorist doesn't defer to him. "I'll put a hole right through your fucking head,'' LeBert says. "Pull your car over. I'll put a hole right in your fucking head. I'll put a hole right through your head.'' The motorist begins to cooperate as soon as a badge is produced.
"You're lucky I'm a fucking cop," LeBert says. "Cause I'd be beating the fucking piss outta you right now."
Police Chief Leo Sacco has put LeBert on administrative leave and expressed discomfort at the behavior captured on video. It's easy to imagine an uglier ending to the very first part of the video, when the motorist was being threatened by a stranger with no way of knowing that he was a cop; and it's unnerving to think of a man who cannot control his temper in traffic being vested by the state with the power to use lethal force. But there's something else about the video that bothers me.
Boston's ABC affiliate notes that towards the end, "LeBert, who was not in uniform, called other Medford police officers, who are recorded as handling the situation calmly and telling the driver that he will receive a summons for the traffic violation."
But notice what those other, admirably polite police officers don't do.
"Can I talk to you guys a little more?" the motorist asks them after they tell him that he's free to go. At this point they've had a long, polite interaction with one another, and established the motorist did nothing wrong save a minor traffic infraction.
"Like I said," the motorist tells them, "I have a dashcam and everything is recorded. I mean, this guy jumped out and he's yelling that he's gonna blow my brains out."
Appropriate responses might include, "Are you saying that detective over there verbally threatened your life?" or  "Would you like to file a complaint?" or "Would you be willing to come down to headquarters so that we can take a look at what happened?"
Here's what happened instead.
"All right, he already informed you that he's going to issue you a citation," the polite police officer said. "So there will be a box on the back to check off that you wish to make an appeal and you can bring all that up when you go to appeal the ticket."
Then Detective LeBert can be heard again, taunting the motorist to bring the dash-cam footage that shows his dangerous driving. And the polite police officer tells the motorist, "The longer you stay here the more trouble you're just going to get into, so the stop has ended, you're all set, you're free to leave." If I were a purist, I'd complain that the polite police officer shouldn't tell a citizen who isn't breaking any law that he'll get in more trouble by asking questions about another cop's misconduct. Since I'm a pragmatist who recognizes that a bully of a cop with a hot temper was still on the scene, I see the wisdom in urging our motorist to move along, and would be happy if he'd only reported on his colleague when he got back to the station.
But news accounts suggest Detective LeBert was only caught and suspended when the clip appeared online, so it seems like the polite police officers failed to do anything about misconduct by a colleague severe enough that the police chief put him on leave after seeing it. One wonders how many times Medford cops who'd never behave that way covered for their colleague. All who have bear a measure of responsibility for his behavior, which is an embarrassment to their department and their profession.
If police officers want to rebuild their image in the era of YouTube, they'd do well to respond as if they're upset when fellow cops behave unprofessionally. America is watching.