The Republican Establishment's Major Divide
The Republican establishment always rallies behind one candidate. But not this time. Results from an exclusive survey of RNC leaders.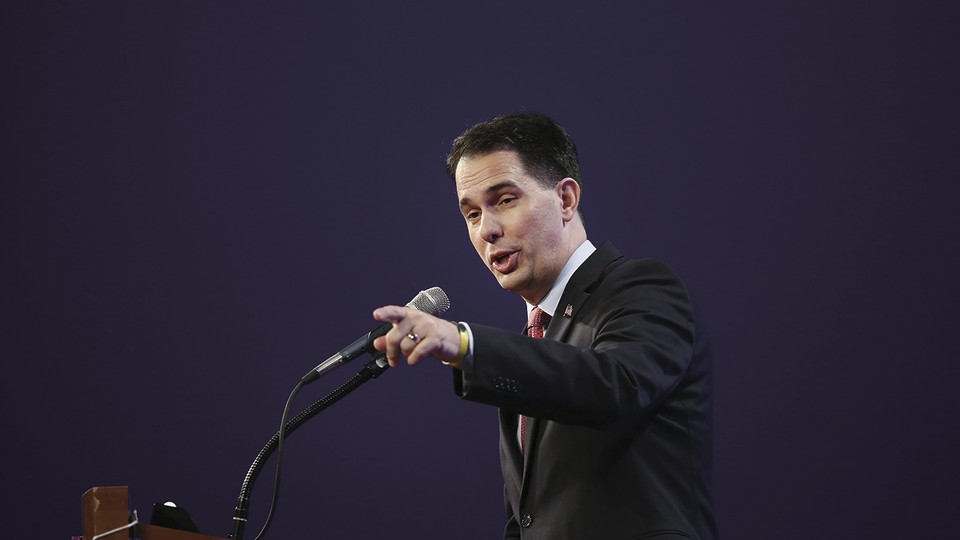 Republicans for a generation have followed a reliable blueprint in choosing their White House nominees. In a crowded primary, as conservative candidates split votes, a single right-of-center contender—deemed "most electable" by the GOP elite—consolidates the support of moderates and, with the establishment's blessing and tactical aid, tallies enough delegates to secure the nomination.
Crumple up that blueprint and throw it away. Ahead of the 2016 election, according to a National Journal survey, the Republican establishment is divided every which way.
We put three questions to the Republican National Committee's 100 committeemen and women representing the 50 states: Whom would you vote for today? Who do you think is most likely to win the nomination? And who would be the best candidate to take on Hillary Clinton? In interviews with more than 50 of them, opinions on the 2016 field revealed a jarring lack of consensus among the party's ruling class.
Their answers show that no one candidate is poised to monopolize the structural and institutional support that has sustained every recent Republican nominee. This dynamic, enhanced by the historic size of the GOP field, threatens to produce precisely the scenario that RNC Chairman Reince Priebus and his colleagues have plotted to avoid: a prolonged primary season in which candidates trade ugly, reputation-crushing attacks, resulting in a months-long slog to the nomination.
A plurality of the RNC members surveyed said Jeb Bush, once believed to be the party favorite, is their most likely nominee—but only a fraction say they would vote for him today. Scott Walker would take the largest number of primary votes today, yet startlingly few say he'd make a strong general-election candidate. And while Marco Rubio is seen as an unlikely nominee, he's also regarded as the strongest opponent Republicans could nominate to face Hillary Clinton.
These findings, and dozens of conversations with senior party officials, demonstrate a deep-rooted disagreement within the GOP's governing body that hasn't been visible in decades. A few outliers aside, RNC members overwhelmingly supported Mitt Romney in the 2012 primary. Several even formally advised his White House campaigns. The opinions of RNC members, which were collected anonymously to allow for candor, are instructive because they come from those individuals who literally write the GOP's rules and collectively embody a party establishment that prioritizes order and electability.
"I have at least three favorites," said one RNC committeeman, naming Rubio, Walker, and Paul.
They are part of Republican tradition that has since 1980 promoted a "next-in-line" approach. From Ronald Reagan (lost the previous primary to Gerald Ford) to George H.W. Bush (Reagan's VP after losing the 1980 primary) to Bob Dole (lost to Bush) to George W. Bush (the former president's son) to John McCain (lost to Bush) to Romney (lost to McCain), the GOP has a definitive recent history of elevating those who have paid dues or are products of the D.C. Republican machine—or both.
That candidate was supposed to be Jeb Bush in 2016. A son and brother of the two most recent Republican presidents, Bush is armed with a dynasty-driven political network, an attendant behemoth fundraising operation, and restrained rhetoric aimed at appealing to the broadest possible cross-section of voters. Yet Bush clearly has not distinguished himself amid a talented field of Republicans, several of whom, including Walker and Rubio, are competing for those right-of-center supporters while simultaneously courting conservatives.
"I have at least three favorites," said one RNC committeeman, naming Rubio, Walker, and Sen. Rand Paul. Asked who he expects to become his party's nominee, the member replied: "I have zero idea, nor does anyone. Jeb certainly lost his front-runner status."
Indeed, while national conservative leaders have held discussions for months aimed at marshaling their resources and uniting behind a single candidate in order to finally buck tradition, it's suddenly the establishment wing of the GOP that finds itself divided. And it's Bush whose candidacy stands to suffer the most.
The survey was conducted over three weeks starting June 4, a bustling stretch that included Bush formally announcing his candidacy, South Carolina Republicans pledging to remove the Confederate flag from their statehouse grounds, and several other candidates (including Walker and John Kasich) firming up plans to launch campaigns in July.
In emails and follow-up phone calls, we asked 100 RNC committeemen and women—two from each state—to answer our survey. Responses from 51 of them demonstrate how fragmented opinions on the presidential field have already become.
Jeb Bush (Getty Images)Nearly a third of all RNC members who responded said they expect Bush to become the nominee, the most of any candidate, reflecting some lingering perception of inevitability. "People are desperate for leadership," one Bush supporter said. "They'd vote for Attila the Hun looking for a competent manager of Washington, D.C."
But the enthusiasm gap is telling: That figure includes a number of committee members who seem resigned to, not excited by, the possibility of Bush. The vast majority of those who said they expect Bush to win the nomination also said they wouldn't vote for him as of today.  Nearly as many respondents said they were considering voting for Kasich as for Bush.
Bush's fundraising, though, has been a powerful signal to those RNC members about the direction of the 2016 campaign. "I hate to say it'll be Jeb, but the money will be a gigantic factor. And I know they're just putting up wood like crazy right now," said one respondent, echoing comments by several others.
Bush also has the advantage of stepping onto a political foundation that extends beyond finances and has been building for decades. "He's the best organized, he'll be the best funded, he has the best Rolodex, and for a lot of reasons, including the family experience, he will be less likely to put a foot wrong," said another RNC member.
Still, Bush isn't seen as a sure thing, even within the Republican establishment's inner sanctum. Walker is close behind, with one-fifth of the survey respondents saying they think the Wisconsin governor is the most likely nominee. While some of Walker's policy positions, such as his views on immigration or his push for a constitutional amendment that would ban same-sex marriage, have ruffled Republican moderates, the governor is perceived as the candidate most able to rally both wings of the GOP behind him.
"I think Scott Walker will appeal to the broadest spectrum of Republicans voting in our primary," one RNC member emailed. "He doesn't carry the Bush 'baggage,' and I think he is perceived as being more conservative than Jeb Bush." Another member, one who does not plan to vote for Walker, agreed: "Every faction wants a certain type of person, and I think he has a lot of those different characteristics."
Walker simply comes from a different place than Bush, too. While some see Walker's lack of a college degree as a liability—he left Marquette University to start a career before he graduated—about half of Republican primary voters similarly lack a degree, according to exit polls from 2012. "He is an average American in so many ways," one RNC member responded. "This gives hope to the middle class and to the downtrodden. "... People can relate to this man."
After Bush and Walker, the support of RNC members is scattered among a handful of other potential nominees.
But the responses on another survey question foreshadow an issue that might grow in importance to Republican voters and power brokers in the coming months: Which of these candidates can best take on Hillary Clinton?
While Rubio was basically an asterisk in the responses to the first two questions of our survey—almost no one sees him as the single-most-likely candidate to win the nomination—the senator from Florida was most likely to be named the GOP's best option against Clinton, just ahead of Bush.
"He's inclusive and can reach millions of voters Romney could not," said one committee member who nevertheless voiced support for a different candidate.
Certainly, Clinton looms over the Republican nominating contest, not least because of her fundraising potential and built-in tactical advantages. A surprising number of respondents predicted that any of the Republican candidates running could defeat Clinton, who has been dogged by controversies surrounding her email, Benghazi, the Clinton Foundation, and other issues so far in 2015.
"Any of our candidates will look new and fresh and can present a forward-looking, future-focused narrative against Hillary Clinton, with the exception of Jeb Bush," one RNC member said. "Hillary is loaded up with scandal and baggage," said another. "I think that any Republican candidate should stand a good chance of defeating her, if she turns out to be the Democratic nominee, which is not assured."
One RNC committee member who plans to vote for Fiorina, calling her "the complete package," suggested the field isn't as strong as advertised.
But as 2016 draws closer, the reality of Clinton's strengths could make Rubio's electability a bigger selling point for the elites who recognize it now but are still considering other candidates. "Side by side, everything from visual optics to messaging, he is the best contrast to Hillary," one respondent said of Rubio.
Bush, Walker, and Rubio garner the most support among establishment leaders, but they aren't close to locking down support or clearing the field. When RNC committee members were asked whom they support today, three-quarters of respondents named a candidate outside of that trio, or said they were undecided. In fact, respondents identified 11 different candidates as their first choice, and eight of those 11 received multiple mentions of support, including Chris Christie, Ted Cruz, John Kasich, Rick Perry and Rand Paul.
One official named George Pataki, the former New York governor who barely registers in polls. An undecided committee member likes both Walker and Rubio, but named Ben Carson as first choice. A handful of respondents mentioned Carly Fiorina when asked who would be strongest against Clinton. And one committee member, asked which candidate would run best in the general election, was intrigued by Donald Trump. (This came, though, before Trump's campaign launch featured inflammatory remarks about Mexican immigrants.)
Such tremendous splintering of support, while testifying to the depth of the bench, also speaks to a reality less pleasant for the party: To some Republicans, there is no ideal—or "most electable"—candidate to support.
One RNC committee member who plans to vote for Fiorina, calling her "the complete package," suggested the field isn't as strong as advertised. "Whether it's Scott Walker and a college degree, or Jeb Bush and the Bush name, or Christie and Bridgegate, or Rubio and the immigration plan—everybody has something."
If these patterns hold, 2016 could look unlike any election in recent history. A party whose establishment wing has dominated primaries by identifying and rallying behind a single favorite may struggle in light of the reality that there is no "next in line" —and that their once-anointed favorite, Bush, is anything but.
To be fair, Rick Santorum, the 2012 runner-up who won 11 states in his battle against Romney, argues that he's the rightful heir apparent in 2016. He ends a typical stump speech by noting that, in the modern era, Republicans nominate someone "who checks one of three boxes," either as vice president, the son of a former president, or a candidate who "came in second last time and ran again." To predictable laughter, Santorum urges audiences to "keep that tradition rolling."
But it doesn't seem to be working. In our interviews, 15 of the 16 Republican candidates merited a mention from an RNC member. Santorum's name never came up once.