The Obama Administration's Campaign for the Iran Deal Is in Full Force
Cabinet members have spent the last two weeks working to convince members of Congress and the public at large that the White House is right about the nuclear agreement.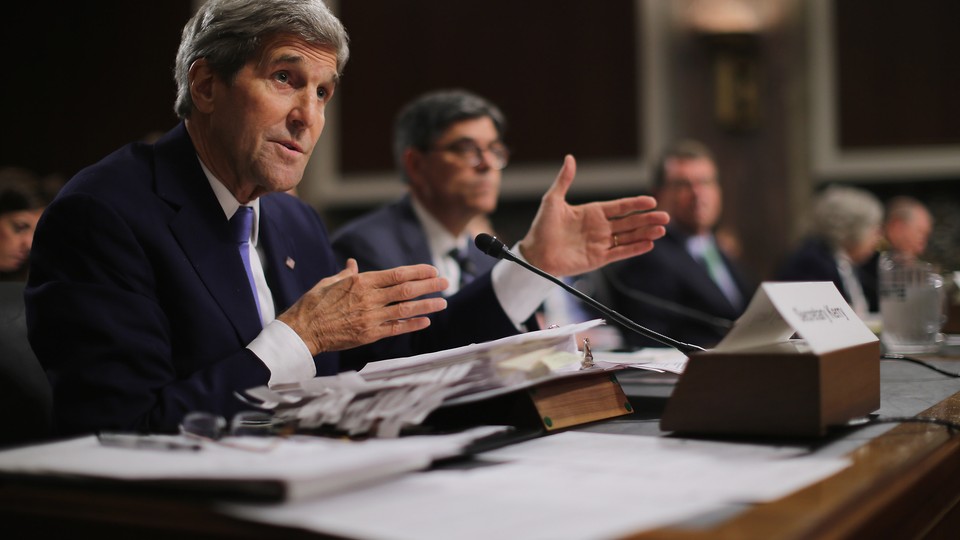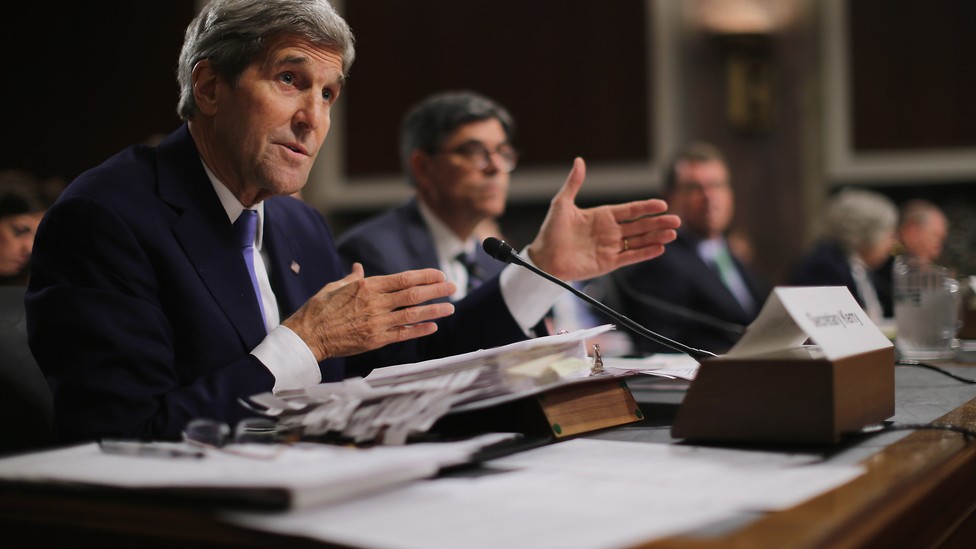 Two weeks after President Obama announced negotiators had reached a nuclear deal with Iran, his administration is barreling ahead with a confident message to a steadily skeptical audience, both on and off the Hill.
Secretary of State John Kerry, Energy Secretary Ernest Moniz, and Treasury Secretary Jacob Lew have now testified before a slew of House and Senate panels—even those they weren't requested to attend. The hearings continued into Wednesday, when Defense Secretary Ashton Carter and Joint Chiefs of Staff Chair Martin Dempsey, along with Kerry, Moniz, and Lew, came in front of Sen. John McCain's Armed Services Committee.
McCain on Wednesday joined other Republican senators in criticizing the fact that documents being negotiated separately between the International Atomic Energy Agency and Iran cannot be released. "That is absolutely astounding," McCain told the panel of administration officials. Kerry defended the procedure, saying, "It is not shared with the world, but we do get briefed on it."
During the hearings over the last week, many lawmakers have argued that the deal does not prevent Iran from obtaining a nuclear weapon.
Last week, Sen. Bob Corker similarly criticized the administration's negotiations at a Foreign Relations Committee hearing. "What I think you have actually done in these negotiations is codified a perfectly aligned pathway for Iran to get a nuclear weapon just by abiding by this agreement," Corker said. "In the process of being fleeced, you have turned Iran from being a pariah to now Congress being a pariah."
Negotiators from the U.S., Britain, China, France, Russia, Germany, and Iran reached an agreement to curb Iran's nuclear program in exchange for sanctions relief earlier this month—after blowing through a series of self-imposed deadlines. The deal is before Congress now, which has already begun a 60-day review period and has the power to vote to disapprove of the agreement.
The administration is also trying to sell the deal to the public and the press. Speaking at a breakfast for journalists hosted by The Christian Science Monitor Wednesday, Lew said he thought the White House would be able to get enough congressional support.
"I think we've made a lot of progress in educating members that this is not going to change the shape of Iran's resources for good or bad purposes," Lew said, noting that even with sanctions in place, Iran has continued to find money to fund activities like terrorism.
Lew also pushed back on what he said were misconceptions about the deal, such as the idea that Iran would receive a "signing bonus," a criticism leveled loudly by Sen. Ted Cruz.
"There is no signing bonus—only sanctions relief to Iran," Lew said.
The administration appears to be in need of the full-bore sales pitch. A majority of Americans want Congress to reject the deal, according to a CNN/ORC poll released on Tuesday. The poll showed that 61 percent of Democrats say it should be approved while 66 percent of Republicans and 55 percent of independents say it should be rejected.
Another aspect of the deal Lew was quick to highlight Wednesday was the so-called "snapback" provisions, which would allow the U.S. and other parties in the agreement to reinstate sanctions if Iran sidesteps the deal.
"That means we have the ability to do everything we can do now if they violate the agreement," Lew said.
The White House faces not only great opposition from Republicans, but also skepticism from some Democrats, like Sen. Robert Menendez, who has frequently criticized the president on the negotiations. On Tuesday, however, the White House received the support of Rep. Sander Levin, a Michigan Democrat and the longest-serving Jewish member currently in Congress.
The Obama administration may not be panicking about whether or not it'll be able to overcome a congressional disapproval vote. But if the public relations press just two weeks in is any indication, the administration knows it has its work cut out to try and convince Americans that this deal is in their best interests.