The Obama Administration Tried to Woo Congressional Skeptics on Iran. The Results Won't Shock You.
Lawmakers had classified briefings on the Iran deal Wednesday. And that only made some of them more restless.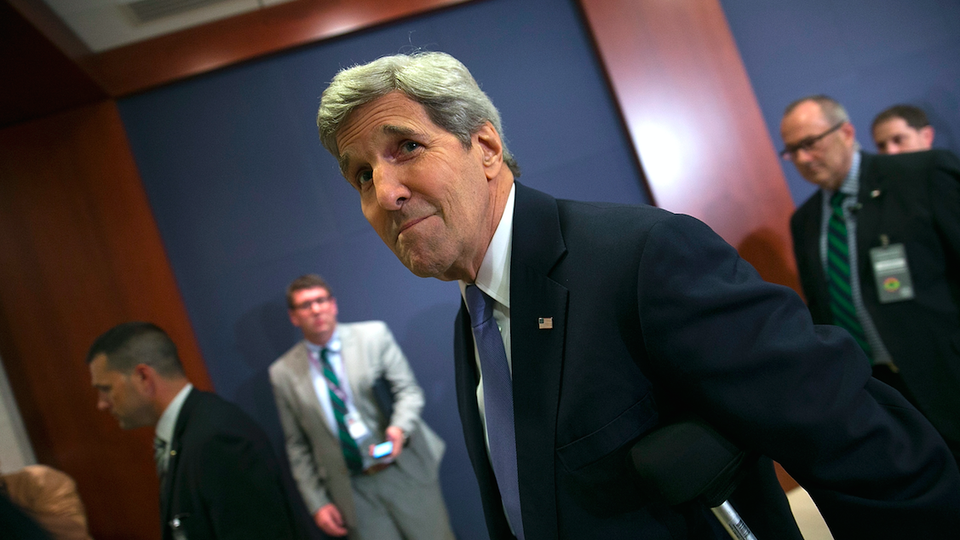 Lawmakers in the House and Senate got a lesson from top administration officials Wednesday: "Nuclear Bomb-Making 101."
In an effort to sell the historic Iran deal reached in Vienna last week, Secretary of State John Kerry, Energy Secretary Ernest Moniz, and Treasury Secretary Jacob Lew gave both chambers of Congress classified briefings Wednesday, intended to allay congressional fears to ensure the agreement can move forward.
But for Republicans and some Democrats, the extra information hasn't appeared to alleviate any concerns—particularly on the up-to-24-day wait period for inspectors to enter nuclear facilities, snap-back provisions on sanctions, and what the fallout would really be should they reject it.
Many Republicans filing out of the House meeting in the Capitol Visitor Center Auditorium were on the same page: They were, at best, deeply skeptical. Democrats, however, were more inclined to listen and open to being convinced. And because the Obama administration can get the deal through with Democratic support alone, that could be enough.
Republican Rep. Charlie Dent of Pennsylvania said he walked out feeling even more skeptical of the Iran deal than when he walked in.
"I think the administration believes snap-back sanctions will actually snap back," he said of the provision that current sanctions, which go away under the deal, would be reimposed should Iran violate the terms. "I think it's fanciful at best to assume that snap-back sanctions would snap back. It seems to me they're more a mirage, a fantasy, not something that could ever become a reality."
Sen. Bob Corker, the Foreign Relations Committee Chairman, said he's still "skeptical" of the agreement.
"I think one of the more troubling aspects for people is that after about nine months—and I think everyone agrees this is about the right time frame, in March or April—all of the sanctions will be relieved against Iran," the Tennessee Republican said. "They'll have their money. The sanctions relief will have taken place, people will be in signing contracts. At that point the leverage changes, and Iran has the leverage.
"There are questions about what types of sanctions can be reapplied, and we're trying to clear that up," he added.
The two-hour meeting was "contentious," said Democratic Sen. Dick Durbin of Illinois, adding that it was one of the largest turnouts he'd ever seen for a classified briefing. It was also highly technical, with Moniz, himself a nuclear physicist, educating members on the finer nuances of nuclear physics.
"Nuclear Bomb-Making 101," said Rep. Steve Israel, D-N.Y., who told reporters he planned to host Council on Foreign Relations President Richard Haass, as well as four or five Democrats, in his office after the briefing.
Kerry gave members a detailed play-by-play of his negotiations and how he'd come to work with Iran on specific points. Still, many were deeply skeptical about whether the deal truly halted Iran's nuclear program, especially as top nuclear experts have denounced the waiting period for when Iran must grant inspectors access to its facilities—under the deal, up to 24 days—as too cavalier.
"This administration is tripping all over itself," said Cory Fritz, a spokesman for House Speaker John Boehner. "The 24-day period is a major flaw, and a far cry from the 'anywhere, anytime, 24/7 access' the White House promised."
At the White House on Wednesday, National Security Adviser Susan Rice stood by the deal.
"We could not have reasonably achieved through the imposition of sanctions and diplomacy a more effective means of preventing Iran verifiably from achieving a nuclear weapon," she told reporters ahead of the Hill briefing. "There's unprecedented transparency, unprecedented inspections, 24/7 monitoring of Iran's nuclear facilities, the dismantling of their heavy-water facility at Arak, the reduction by 98 percent of their uranium stockpile, two-thirds of their centrifuges are gone, and all in the context of the United States and the international community having full knowledge and transparency about what they're doing.
"That's, in our view, the definition of what we set out to accomplish, and we're gratified that that deal has been achieved," she added.
During the briefing, Rep. Israel said Kerry had a convincing argument for the deal's ability to stop Iran from developing a nuclear weapon. The country already has the potential to build a bomb, Kerry said, and if Congress stopped the deal, they would simply continue down that path uninterrupted.
"That is a compelling point," Israel said. Even so, he said he still had some principal concerns after the briefing, including verification and lifting the embargo on conventional weapons and ballistic missiles. "I'm leaning very strongly against it," he said.
Republicans were nearly united in their opposition. "I'd be shocked if there is more than a handful of Republican 'yes' votes, if there are any at all," said Sen. Chris Murphy, D-Conn.
"If this deal goes through," warned Sen. Ted Cruz of Texas, "it will transform the Obama administration into the world's leading financier of radical Islamic terrorism."
Members were also desperate to know how congressional disapproval of the deal could impact the U.S.'s status in the world. Though Kerry was unequivocal that the country's standing would be diminished if that occurred, members said they were not convinced that would be the case.
Rep. Brad Sherman, a senior member of the House Foreign Affairs Committee, said the administration officials had the utmost confidence in the agreement.
"They were matter-of-fact—very, very sure," the California Democrat said. "They weren't there to say they think they won the game 5 to 4. They were there to say that they had done a spectacular job, and there are Democrats who agree with them. They portrayed not the slightest doubt that they got the best possible deal that could have ever been achieved."
Even though Moniz got into the weeds of nuclear physics, it may not have been enough to explain the complexities of the deal.
"We could have used a version perhaps even more simple than that," said Rep. Joe Kennedy, D-Mass.
After the push from the White House, the next step for many members will be to talk to their constituents during the next month's recess. They'll face a skeptical public: Of those who have heard about the deal, more Americans disapprove of it than approve of it, according to a Pew poll released Tuesday.
"I think most of us want to go back home, we want to talk to our constituents, we want more time to go through this," said Rep. Adam Schiff of California, the ranking Democrat on the House Intelligence Committee, who is undecided on the deal. "Many of us view this as weighty of an issue as voting on Iraq or Afghanistan or other issues of war and peace."