The Issue That Divides the Dingells
John was an NRA board member. Now Debbie is working closely with a gun-control group. "Let's just say we don't talk about this a lot," she says.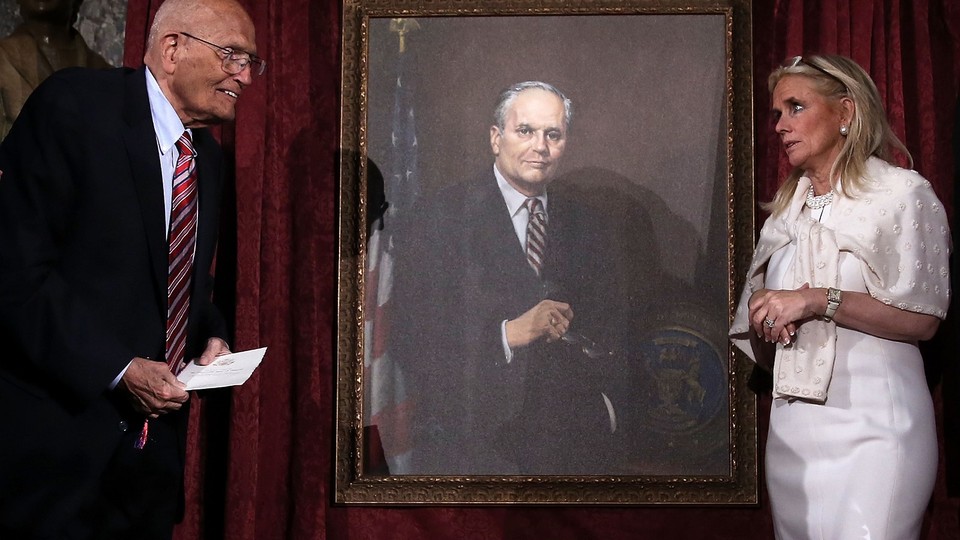 Marriages, needless to say, have their disagreements. The union between the Dingells — ex-Rep. John and current Rep. Debbie — just happens to include one over a public-policy issue that's important to both spouses.
One of Debbie Dingell's first major moves as a lawmaker — just the second bill that she's introduced — reveals a key difference with her predecessor. Dingell introduced a bill this month aiming to stop convicted domestic abusers and stalkers from purchasing guns, and she had help from former Rep. Gabrielle Giffords's gun-control group, Americans for Responsible Solutions, in promoting it.
In teaming up with a group that has cast itself as a counterweight to the National Rifle Association, the Michigan Democrat has quickly drawn a contrast with her husband, a notably pro-gun Democrat who served on the NRA's board of directors and received endorsements from the group.
"Let's just say we don't talk about this a lot," she said, when asked if she and her husband disagree on this aspect of gun regulation.
Debbie Dingell wasn't always an advocate for measures like this one, but it does predate her election to Congress. After the Sandy Hook Elementary School shooting in Newtown, Connecticut, in December 2012, Dingell revealed in a Washington Post op-ed that she was the survivor of the kind of incident she's now trying to prevent: When she was in the eighth grade, her father "almost shot" her mother, and she "tried to grab the gun" from his hands, Dingell wrote.
In that piece, Dingell stopped short of calling for specific policy solutions, but she wrote that Americans "need to be willing to acknowledge that we have serious social problems and have to get at the root causes for so many of these horrific scenes."
Dingell is still cautious talking about her personal background with gun violence.
"My mother is still alive, and it's never been a subject that's been easy for me to talk about," she said. "... I really did not speak out until after Newtown when it hit me so strongly."
But her Washington Post piece was the start of her advocacy. In January, almost immediately after being sworn in to Congress, Dingell wrote a letter to Michigan Gov. Rick Snyder, a Republican, calling on him to veto an NRA-backed bill that would have allowed some domestic abusers to get concealed-weapons permits. Snyder sided with her and other gun-control advocates, vetoing the bill.
Dingell is careful to point out that she does not view her bill as a gun-control measure as much as a domestic violence bill.
"For me, this is about domestic violence," she said. When asked if she's generally in favor of stronger gun-control laws, she said she's "not going to make blanket statements."
Regardless of how Dingell defines it, her bill touches on one of the top priorities for Giffords, who has become the face of gun-control advocacy since being wounded in a January 2011 shooting in her Tucson, Arizona-based district.
Dingell met with Giffords and her husband, Mark Kelly, in March to discuss the bill, Americans for Responsible Solutions spokesman Mark Prentice said. The organization has backed similar measures in 23 state legislatures. And the group made it a key point in a major House race last cycle: It ran a TV ad in the district Giffords used to represent, accusing now-Rep. Martha McSally, a Republican, of opposing laws that bar stalkers from buying guns.
"This has been a huge priority for us," Prentice said.
That pits Dingell against the NRA, which hasn't taken a stance on Dingell's bill but spoke out against a similar bill in the Senate, introduced by Sen. Amy Klobuchar of Minnesota. The group wrote a letter to members of Congress saying Klobuchar's bill attempts to use "emotionally compelling issues such as 'domestic violence' and 'stalking' simply to cast as wide a net as possible for federal firearm prohibitions."
For now, NRA officials are still unsure if there are any significant differences between Dingell's bill and Klobuchar's, which they oppose, said spokeswoman Jennifer Baker. But she noted that, while pushing for "domestic-violence" bills on guns at the state level, gun-control advocates have used the emotional reaction to domestic violence in order to limit gun owners' rights.
"There's a reason they call these bills domestic-violence bills," she said.
It wasn't long ago that the NRA was using equally forceful language to endorse Dingell's husband's reelection. In 2010, the group noted John Dingell's "A+" rating and called him "a staunch defender of the Second Amendment freedoms of law-abiding gun owners, hunters, and sportsmen in Michigan and across America."
John Dingell had his spats with the group; in 1994 he left its board of advisers after he voted for Bill Clinton's major crime bill even though it included an assault-weapons ban that neither he nor the NRA supported. But his opposition to gun-control laws was a thread that ran through his 49-year tenure in the House. Upon his announcement last year that he would retire, the liberal New Republic wrote, "Don't Whitewash the Legacy of Rep. John Dingell, D-NRA," arguing that Dingell's alignment with the group undermined his stature as a progressive legislator, despite his work on Medicare, the Clean Air and Clean Water acts, and the Affordable Care Act.
Prentice noted that Debbie Dingell isn't taking an overtly progressive stance with her bill, calling it a commonsense measure with bipartisan support. Her cosponsor is Republican Rep. Robert Dold of Illinois.
And in emphasizing that she's pushing a domestic violence bill, Dingell preached understanding between the two sides on gun-control issues — a practice she's had to learn, living with a husband and predecessor who may not have supported this legislation.
"When I first married him, I came from the experience of somebody who shouldn't have owned guns," she said. "He is someone that hunts and fishes, and I respect his total right to do that. ... I think it's a very complicated subject. Everybody likes to make it a black-or-white subject, but it's not."
CORRECTION: An earlier version of this article misstated Gov. Rick Snyder's party affiliation. He is a Republican.