The GOP's Iran Deal Point Man Is Holding His Fire
As he plans a series of hearings and briefings, Bob Corker isn't opposing the nuclear agreement—yet.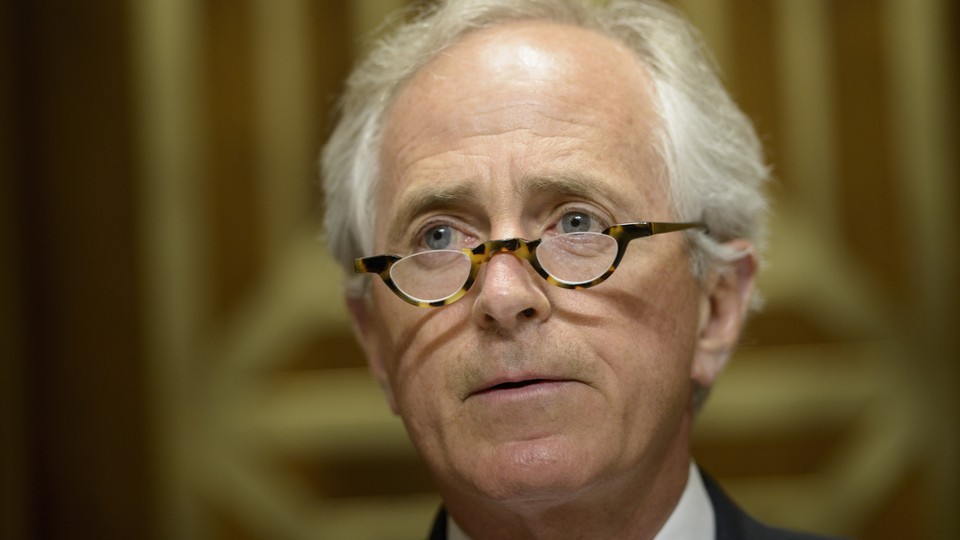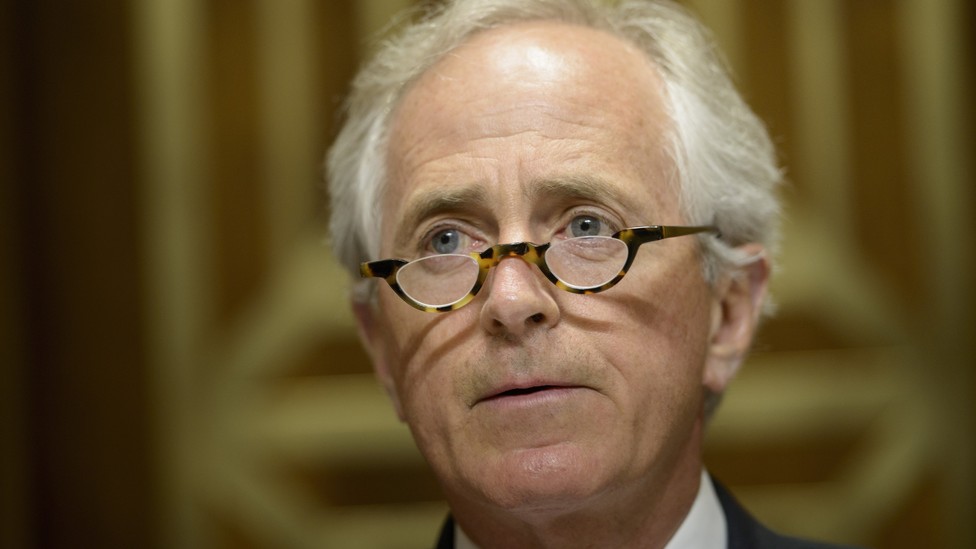 Within an hour of President Obama announcing a landmark nuclear deal with Iran, Republican leaders and rank-and-file members in both chambers had released a flurry of statements signaling their opposition to the deal.
But one Republican is holding his fire—and he could be instrumental in the success or failure of the deal.
As he prepares to preside over a 60-day congressional review of the deal, Senate Foreign Relations Chairman Bob Corker withheld judgment Tuesday, telling reporters that he will wait until he's read the full agreement, which clocks in at well over 100 pages, and has heard from both sides on the issue before he signals his support or opposition.
More so than his fellow Republicans in Congress, Corker finds himself in an interesting position on the Iran deal. Should Corker side with the rest of his party in opposing the deal, he'll need to convince 14 Democrats to come along in order to get the two-thirds majority needed to override an Obama veto. And the reticence he has shown in speaking out before listening to both sides (much less reading the deal) could go a long way in maintaining good faith with the minority party, some of whose members are already skeptical of the deal.
Senate Majority Leader Mitch McConnell told reporters Tuesday that it will be a "real challenge" for Obama to get the requisite votes to uphold the veto. "The president is the most important Democrat in the country and he's obviously in favor of this—he negotiated it—he's going to work hard to get the 34 votes that I know he knows he needs in order to sustain it," McConnell said. "So it'll be a real challenge for him because I think it falls short in a lot of ways."
Corker is already earning praise from Democratic Sen. Ben Cardin, the ranking member on the Foreign Relations panel, for holding his fire. "I am encouraged in what I've heard from Sen. Corker that we're going to have the opportunity in our committee for full deliberations and we won't rush to judgment," Cardin said. "And I think that's what we need to do."
Corker's response contrasts sharply with that of Armed Services Chairman John McCain, who promised to hold hearings on the deal he is "totally opposed to," as he said Tuesday, in part because it lifts the conventional arms embargo on Iran in five years. He believes that Corker will come around and eventually announce his opposition too.
"I think he's looking at it right now but I think he's going to be very unhappy with it," said McCain on Tuesday. "But he's looking at the details now. That's his job."
Corker listed five issue areas he'd like to learn more about before making a decision—many of which, he said, are concerns shared by other members in both parties who are "on the bubble" about whether they'll support the agreement. They are: whether Iran will be required to outline its past military work involving nuclear weapons, how the deal addresses the ballistic missile program, how negotiators plan to lift the arms embargo, whether Iran has agreed to open up to "anytime, anywhere" inspections of its nuclear program, and how the U.S. and its allies plan to restrict Iran's research and development.
"All those things, obviously, I think are going to be very important to a lot of people on both sides of the aisle. I began with skepticism because two years ago we began with a roguish country with a boot on its neck and we went from dismantling their program to now managing their proliferation. And if the public comments that are being made are true, we're actually going to allow them to industrialize their nuclear program after year eight," Corker said. "So again, I want to read the documents carefully. "¦ Look, there will be plenty of time for us to get a much better sense of how this ended up."
Corker emphasized that Congress' 60 days for review will not begin until the administration has delivered all of the deal-related documents to the Capitol, which could happen as early as Friday.
Once they have all of the documents, Corker said he will begin a thorough vetting process that will involve multiple hearings and classified briefings with administration officials and outside experts, which could begin as early as next week and last through early September.
Asked if he will call Secretary of State John Kerry to testify, Corker said he hoped to. "I would think that [the administration are] going to be wanting to get people over here to get their side," Corker said. "So again, as quickly as we have time to go through and understand the details, we can ask the questions that need to be asked, we will schedule those hearings."
Corker was reluctant to criticize fellow Republicans for jumping to "nay" before reading the documents and attending hearings on the issue, noting that he has "sort of a different role in this" than rank-and-file Republican members. But he did stress that given the complexity of the deal and the potential consequences at hand, members should give the agreement a full hearing, particularly given that much of the deal will remain classified and protected from public view.
"I think this is such a technically oriented agreement and the details matter that I would stress that people take their time. ... And my guess is just because of the way things are, they'll try to put as much of it in the classified documents so you know they can't be talked about publicly," Corker said. "That's just the nature of administrations, I would guess, on both sides of the aisle, OK? But I think ... going through this agreement in detail is very, very important to people."
Corker also criticized Obama for getting out ahead of Congress in threatening to veto a congressional vote of disapproval on the deal.
"I don't know why he took that approach. I think at the end of the day, regardless of what he said in sort of throwing down the gauntlet, I think people are going to, you know, vote their conscience," Corker said. "And I think if they feel like this agreement keeps Iran from getting a nuclear weapon and makes the world safer, they'll support it. I think if it doesn't prevent that and in some cases even paves the way for them to get a nuclear weapon, they'll oppose it. I don't think his comment will affect the [outcome]."
---
Alex Rogers contributed to this article