Baltimore's Mayor Fires Her Police Commissioner
Stephanie Rawlings-Blake said that a recent crime spree in West Baltimore, and not police brutality or the handling of recent riots, was the reason for her decision.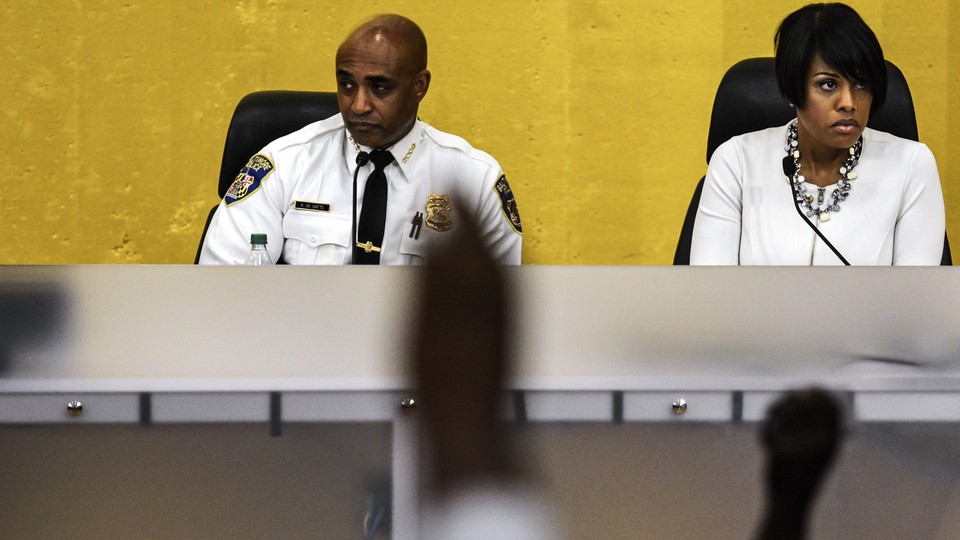 In a whirlwind series of events on Wednesday, Baltimore Mayor Stephanie Rawlings-Blake fired Police Commissioner Anthony Batts. Pointing to a recent crime spree in West Baltimore, Rawlings-Blake announced she was removing her commissioner and naming Kevin Davis, the department's deputy commissioner, to replace him.
"We cannot keep having the level of violence in our city," she said. "We cannot grow Baltimore without making our city a safer place to live. We need a change. This was not an easy decision, but it is one that is in the best interest of the people of Baltimore."
The firing came hours after the release of a highly critical report from the Fraternal Order of Police released Wednesday. The police union, which has clashed with both Rawlings-Blake and Batts since the death of Freddie Gray in April, complained of inadequate training for officers, confusion in the chain of command during protests and riots, and poor leadership. In particular, the report charged that Batts had failed to prepare the force for rioting. It also found that a "credible threat" by gang members to kill officers during the worst day of rioting was an unconfirmed rumor, but that publicizing it fed the chaos.
Rawlings-Blake's initial response, earlier on Wednesday, was to blast the FOP. "The FOP declined to wait and gather all of the information before rushing to conclusions which is a disservice to our officers who acted so courageously during the unrest," her spokesman said, according to The Baltimore Sun. But the report came as others, including a member of the city council and community faith leaders, were calling for Batts to step down.
The commissioner scheduled a press conference for late afternoon, but before he could deliver it, the mayor announced that his contract had been terminated.
Batts, the former chief of police in Long Beach California, was hired in 2012 to help clean up the Baltimore Police Department, which has long struggled with a culture of police brutality and with fraught relationships with the black community in Charm City. Those problems were brought into sharp focus by the death of Freddie Gray, a young black man who died while in police custody, allegedly due to officers giving him a "rough ride" in a van and failing to seek medical help for him.
When several days of street protests over Gray's death erupted into out-and-out rioting, the Baltimore Police Department seemed ill-prepared. Some of the steps that it took seem to have actually encouraged violence—a large group of students was stranded at Mondawmin Mall, a transit point; police presence ratcheted up tensions; and then police quickly fell back, creating a vacuum. Batts himself was photographed chasing after protestors in the streets. Eventually, the mayor requested assistance from the National Guard and instituted a curfew. District attorney Marilyn Mosby's quick move to bring charges against six officers also helped calm the streets.
In the aftermath of the protests, however, crime spiraled in West Baltimore. Every party pointed fingers: The police union blamed Mosby for making them afraid to do their job, Batts blamed an influx of drugs, and some citizens and activists accused the police of orchestrating a slowdown. May was Baltimore's most lethal month since 1972, with more than 40 homicides (there have been 155 this year). Six people were killed in West Baltimore Tuesday night alone, Rawlings-Blake noted during her press conference Wednesday, saying that the wave of violence led her to sack Batts, and that the FOP report was not a factor in her decision.
"The people of Baltimore deserve better and we're going to get better," Rawlings-Blake said.
Davis is the former chief of police in Anne Arundel County, south of Baltimore. (In his statement leaving that job, he delightfully quoted native son Frank Zappa, as Jean Marbella notes.) But Davis, who spoke warmly about Batts at the mayor's press conference, will have his work cut out for him. His department remains divided and distrustful of the mayor and its leadership, as the FOP report made clear. The departmental culture managed to withstand Batts's attempts to change it during his time at the helm, and the people of Baltimore still have little faith in the police. And the deep problems that help create the current crime wave, from decades of housing segregation to entrenched inequality to drug use, won't go away any time soon.