The Aftermath of a Senator's Stroke
The Illinois senator is running for reelection after suffering a stroke. How much did it change his brain? And is it wrong to ask?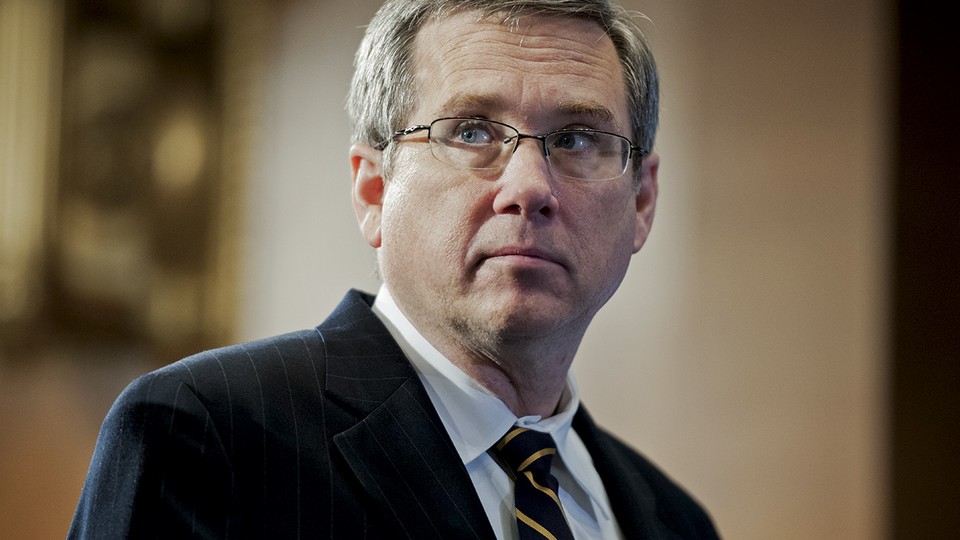 This is how Mark Kirk wants you to see him. It's a July morning, in a first-floor foyer of a children's hospital. A dozen onlookers are watching him as he treks up a flight of stairs. But Kirk, a Republican senator from Illinois, isn't alone on this journey. Trailing him, step for step, is a man named Eddy Brown. The 68-year-old Brown suffered a stroke in February; it left Brown's speech slurred and his walking impaired.
Now, Kirk, dressed in a navy t-shirt and shorts, is challenging Brown to overcome his partial paralysis and reach the second floor. "Eddy, follow me," Kirk says, turning to make sure Brown is still with him. Brown's reply is quick: "I'm with you, brother."
The climb isn't easy for the senator, either: In 2012, just a year into his first term in the Senate, he too suffered a stroke. Today, his left side remains partially paralyzed. He is often confined to a wheelchair and needs an aide's help with some basic tasks, like getting in and out of cars. As a result, Kirk's own trek up the hospital stairs requires a methodical approach: lifting his right leg first, pausing for a second, and then swinging the affected left leg over.
But on this day, the 55-year-old Kirk is not a victim; he's the guide. And his protégé is following him up 21 steps, to the second floor, where coffee, refreshments, and the applause of spectators awaits. At the top of the stairs, as Kirk and Brown congratulate each other, Brown's wife, Mary, begins weeping—overjoyed, she says, to see someone showing that her husband's life isn't effectively over.
The event—held in St. Louis, whose media market extends across downstate Illinois—was part of a series of gatherings called "Kirk's Battle Buddies," during which the senator gives stroke victims pep talks before they climb stairs with him. "To me, this is the joy of my life, to meet folks like Eddy," the senator told reporters afterward. "This is the reason why I survived a stroke, to be able to give back to my fellow stroke victims."
Vice President Biden (left) and a throng of supporters welcomed Kirk (second from the left) back to the Senate in January 2013, almost exactly a year after he suffered a stroke.
It was a genuinely heartfelt moment. But it was also undeniably political. Kirk is up for reelection next year. Even if he hadn't suffered a stroke, he would probably face the longest odds of any sitting senator. While Kirk is a relatively liberal Republican, he represents solidly blue Illinois, and presidential election years—with their higher turnout—tend to favor Democrats. Meanwhile, the likely Democratic nominee is a formidable opponent: Rep. Tammy Duckworth, who lost both of her legs in 2004 while piloting an Army helicopter in Iraq.
As he gears up for this difficult campaign, Kirk's staff is undertaking an enormous political gamble. Rather than hiding their candidate's medical struggles—as staffers for FDR to JFK have done—they have decided to embrace them. Kirk's first TV ad, which began airing in May, recounted how the stroke nearly killed him and detailed his long recovery. The campaign's argument is that disability has fundamentally changed the senator—humbling him and teaching him empathy for the challenges faced by everyday Americans.
"A lot of us are very proud of fact that he is such a better person than he was before the stroke," says Kate Dickens, Kirk's chief of staff. More so than before, she explains, he is "someone you can actually have a conversation with, who can see both sides of something. Who is willing to understand the tough element of a conversation and not just, 'I already know how I feel about this.'"Š"
But politicians don't get a free pass to only tell their version of events. And so, if Kirk's campaign wants to argue that his stroke has changed him for the better, it also seems fair to ask whether it has changed him for the worse. Has it affected his mental state, or his judgment, or his ability to do his job?
Of course, asking such questions about a politician's health is a fraught endeavor. When I brought up the subject with Republican politicos unconnected to Kirk, many expressed surprise and suggested the topic should be verboten. However, over the course of more than a dozen conversations with former and current Kirk staffers, allies, and confidants, I found that those closest to him expect and welcome the questions. Fielding them is necessary, many of them say, because during his reelection campaign Kirk will have to calm concerns about his health. "Do I love that you're questioning it? No," Dickens says. "Do I love needing to defend the intelligence of my senator because I happen know he's more intelligent than the majority of the senators up here? No, I don't love it. But it is what it is. So I'm not going to hide from the fact that it is a question. And neither will he."
MARK KIRK FIRST entered Congress in 2001 and proceeded to maintain a vise grip on his centrist suburban Chicago congressional district, even during the Democratic wave years of 2006 and 2008. In 2010, he ran for and won a Senate seat. A liberal on social issues but a staunch foreign policy interventionist, he has long been regarded as one of the Hill's most important voices on national security and the Middle East.
Kirk was always extremely smart—and, according to those who know him, he was well aware of it. "He'll probably hate me for saying this, but he was a micromanager," says Rodney Davis, a Republican congressman from central Illinois who worked as a staffer on the GOP's get-out-the-vote effort in Illinois in 2010. "I saw Mark's fingerprints on a lot of the decisions that were made." "All of these guys are dicks," says one top GOP official with ties to Kirk, comparing him to other politicians. "And Mark can be a dick with the best of them."
On January 21, 2012, Kirk began feeling dizzy and numb on his left side. Less than 24 hours later, he found himself in an ambulance, asking a technician to hold his hand. As Kirk recalled during a public appearance in April: "I held her hand really hard, because "... I wanted my last breath on Earth to be holding someone else's hand. I was pretty sure the stroke was taking hold at that point, that I was a goner."
Rather than hide their candidate's medical struggles, Kirk's staffers have decided to embrace them.
But Kirk survived, and weeks later, he transferred out of the hospital into a rehabilitation center. For about a year, he mostly stayed out of public view, save for two videos that provided updates on his recovery. Aides say now that, at the time, getting the senator to deliver even a short scripted speech to the camera was extremely difficult for a man who was literally learning to talk again.
Kirk returned to Congress almost exactly a year after his stroke, climbing the Capitol steps while being applauded by a bipartisan collection of congressmen and senators, plus Vice President Joe Biden. But even allies acknowledge that the senator's ever-present fatigue was making it difficult to fulfill his role. "Early on, I saw him and he was clearly not able to do his job," says Ron Gidwitz, a major Kirk donor and influential figure in Illinois GOP politics. (A few weeks after I interviewed him, Gidwitz would cause a stir when he put forward—then quickly retracted—a call for Kirk to exit the race.)
Gidwitz and many others say they've seen dramatic improvement over the past few years. In all of my interviews with the men and women in Kirk's orbit, none suggested he wasn't currently up for the job. "I've seen him improve himself mentally," says Davis. "He's able to hold his own in any situation—where I think he would even admit when he first came back, it wasn't as easy for him."
Still, he's not the same. Some of the change is good: Aides describe him as mellower, less prone to be curt with his staff or colleagues. One former aide suggests that the stroke—and the realization that life is short—also emboldened him on policy. In the spring of 2013, Kirk announced that he supported same-sex marriage. "Prior to that, to come out and be the second Republican senator to take that kind of bold stance, I'm not certain he would have before the stroke," said the former aide.
Other changes haven't been as welcome. The physical diminishment is apparent: It's why he's confined to a wheelchair much of the time, why his left hand is curled in a ball, and why his face features a slight droop. His speech isn't slurred, but the cadence of how he talks has slowed considerably. And, says Dickens, he'll randomly begin talking louder in the middle of a sentence because he has been taught that stroke victims let their voices trail off. "So sometimes, you'll just have a burst of emphasis, because he's remembering to speak with emphasis," she explains.
Many around Sen. Kirk say they've seen a dramatic improvement in his condition over the past few years.
Aides are quick to acknowledge Kirk's physical limitations, but they're less inclined to discuss how he has changed mentally. The refrain from many of them is similar: Kirk has the same sharp intellect he has always possessed. But some also concede that the senator, who once could give long, detailed thoughts about any topic extemporaneously, can no longer do so. It's a consequence of the stroke, they say, that when he talks, he's confined to one topic at a time.
"This is a guy who could walk into any room and, no notes, give a 15-minute speech on any topic," says one former aide. "That's not going to happen anymore." Another aide compared his impression of how Kirk's brain has changed to movie-theater screens. Before, Kirk had 16 projectors up and running at once in his mind's eye, allowing him to bounce from topic to topic with ease. Now, the aide says, it's as if he's down to one projector.
MOST ALARMING, THOUGH, is the fact that, since his return to public life, Kirk has repeatedly found his way into the news for making strange statements—most infamously in June when he was caught on a hot mic referring to Sen. Lindsey Graham (a lifelong bachelor) as a "bro with no ho." That followed his April assertion that people drive faster through black neighborhoods because they're worried about their safety; which followed his February statement to Politico that "if we have a successful terrorist attack, all the dead Americans from that should be laid at the feet of the Democratic caucus"; which followed a January incident in which he questioned whether human activity was contributing to climate change. (That last statement might not have been unusual coming from many Republicans, but it was out of character for Kirk, who has long been an environmentalist.) Most recently, Kirk told a Boston-based radio program that President Obama "wanted "... to get nukes to Iran," and used the president's middle name, "Hussein," when he spoke of him. In most of these instances, Kirk apologized or walked back his statement within days.
Disentangling whether the lingering effects of his stroke might have something to do with all of this isn't easy. Kirk has always been someone who enjoys getting a laugh; some people who know him well say that, when "bro with no ho" became big news, they saw the telltale sign not of a stroke victim but of a nerdy former House staffer who was just trying to fit in. "He's hilarious, and he oftentimes makes bad jokes," says Christine Radogno, the GOP leader in the Illinois state Senate. "Things he'll say as a congressman, you'll just say, 'Oh my God, I can't believe that came out of his mouth.'"Š" (At a recent gay-pride parade in Chicago, I watched Kirk tell a man—who was complaining that his travel-writer husband doesn't take him on enough trips—that if the husband didn't improve, "I'll call SEAL Team Six and whack him." Both members of the couple told me they thought it was genuinely funny.)
In truth, nobody knows what role, if any, the stroke plays in Kirk's public statements. Ask the people who know Kirk best, and you'll find mixed sentiments. Many point out that he is simply someone who has always tended to speak a bit incautiously. (They note that, in 2010, for instance, Kirk was revealed to have embellished his record in the Navy, falsely claiming that he had taken fire while flying over Iraq and had been awarded the U.S. Navy's Intelligence Officer of the Year award.) On the other hand, almost all of the Illinois Republicans I spoke to ultimately agreed that, though the stroke wasn't the only factor, it has likely at least amplified Kirk's penchant to shoot from the hip. "It's clearly worse," a high-ranking Republican with ties to Kirk told me.
Medical experts offer little additional clarity about the connection between Kirk's stroke and his verbal miscues. Victims can indeed be less inhibited following a stroke; if enough parts of the brain are damaged, in fact, a person can acquire an entirely new personality. But all sorts of things—psychological or physical—can change the way a person behaves in public. Perhaps a near-death experience convinced Kirk that he didn't want to waste time mincing words. It's also true that people change as they age, and differences in the senator's personality might be the consequence of a natural evolution, rather than the stroke.
"The only thing you can say is these are valid questions that people could ask," says Victor Urrutia, director of the Comprehensive Stroke Center at Johns Hopkins Hospital. "But there wouldn't be any way that you could say with any degree of certainty that actually any of these things that people are noticing are due to a stroke. It's impossible to say that." His assessment was echoed by two other experts I spoke with, who both emphasized that a definitive diagnosis was essentially impossible.
The best measurement of a stroke victim's cognitive capabilities is a neurological assessment, Urrutia says. But asking for one, he hastens to add, verges on discriminatory: "That's going to be hard to say without sounding like a jerk, just to be frank." Dim-witted politicians who say something stupid, for instance, aren't asked to take an IQ test. And demanding that a stroke victim produce results from a similar cognitive assessment could quickly become a double-standard. "There's a lot of old senators that often say things that don't sound smart," Urrutia points out. "You could say the same thing—what if they have Alzheimer's?"
SOME THINK THAT, if the stroke has indeed caused Kirk to lose his filter, he should try to turn this new trait to his political advantage. One former aide compares him to the Jim Carrey character in Liar Liar, a 1997 movie in which the protagonist, a lawyer, finds he can no longer tell a lie. It's something, the thinking goes, that voters might appreciate. "I think he should lean into it a little bit," says another ex-staffer. "He's leaned into everything else. All the physical disabilities and stuff—he's not shied away from that. It's somewhat refreshing to voters to have someone say, 'Yeah, I'm going to say how I feel.'"Š"
But would voters really forgive their senator for a few off-color comments because his stroke has made him, as some in Kirk-world like to say, too honest? Or would the prospect of having a senator who can't always filter what's coming out of his mouth scare them away?
Beyond Kirk's verbal filter, there are other questions, too. For someone who struggles to speak extemporaneously, the back-and-forth of a traditional debate with an opponent could be difficult. Campaign aides acknowledge it's a question they have yet to answer. "Can he debate?" one wondered. "Can he have a discussion with a [newspaper] editor?"
How all of this should influence Kirk's bid for reelection is very much an open matter. When does the mental state of our politicians deserve scrutiny? And when does this scrutiny cross into an ugly kind of discrimination? These are the types of things that Illinois voters will have to grapple with in the year ahead. "In politics, any issue is fair game," says Davis, of Kirk's current situation. "Because if someone is thinking it, they'll likely write it. But it's also up to that same politician to turn what one thinks is a weakness into a strength."