Between the World and Me Book Club: Two Texts Masquerading as One
Ta-Nehisi Coates's book addresses a pair of very different audiences.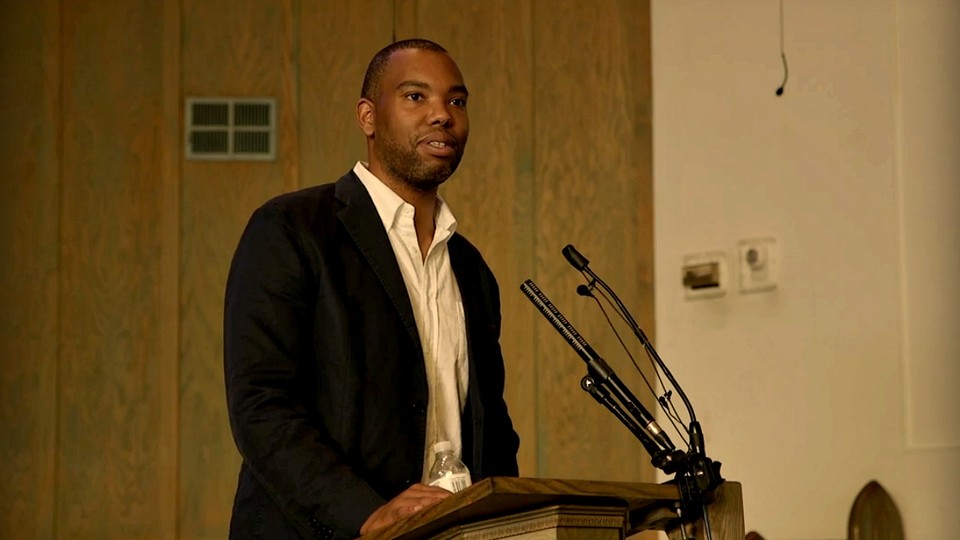 Over the next three weeks, The Atlantic will be hosting a Book Club discussion of Ta-Nehisi Coates's Between the World and Me. (An excerpt is available online.)
This week, the discussion centers on the first two chapters of the book. It will shift to chapters three and four the week of Monday, July 27th, and conclude with chapters five and six on Monday, August 3rd. Tressie McMillan Cottom, an assistant professor of sociology at Virginia Commonwealth University, will kick off each week's discussion with a response of her own. Readers are invited to send their own responses to hello@theatlantic.com, to follow along on Twitter at #BTWAM, or to read other responses to the book from Atlantic readers and contributors.
---
Ta-Nehisi Coates's Between The World and Me is two texts masquerading as one. One is a treatise on having "Baltimore eyes" in a moment when places like Baltimore are giving birth to social movements. The other text is an actual letter to his son that grapples with identity, anxiety, and what the moment means to those who cannot turn it off.
In The Atlantic, Coates is a cross between a public historian and a public sociologist. This book, though, doesn't want to describe as a historian might or explain, as historical sociology should. Coates wants you to feel. That is literature's job.
The signposts signaling the shift from Coates's day job to this project's literary ambitions are mostly elegant. For example, he makes strange the familiar practice of using phenotypical racial markers and unequal distribution of resources by collapsing it all into "hue and hair":
Difference in hue and hair is old. But the belief in the preeminence of hue and hair, the notion that these factors can correctly organize a society and that they signify deeper attributes, which are indelible—this is the new idea at the heart of this new people who have been brought up hopelessly, tragically, deceitfully, believe that they are white.
The most visible signpost is the literary device on which the whole book rests: It is a letter to his son. James Baldwin—to whom Coates has been ceaselessly compared—is famous for this device in The Fire Next Time, a book featuring two essays on race and reckoning in America. One of those essays was a letter addressed to his nephew "on the One Hundredth Anniversary of Emancipation." In it, Baldwin snatches rhetoric from the sky and lands it in a kin relationship. If you love the essay (I do), that move makes esoteric debates tangible in ways very few thinkers and writers can do. Coates has shown that he, too, can do this. Between The World and Me uses the device unevenly. (To be fair, some said the same of Baldwin.) Even though the book begins with an address ("Son,") Coates does not really introduce the reader to his son until page 69. That is when we first hear his son's name and begin to get a sense of their relationship. This is what gives me the sense of two different texts that were meant to be more cohesive than they end up being when read as ordered. (I'd like to try reading it backward to test this theory.)
This first text wants readers for whom thinking about the necessary ugliness of America is novel. Coates has appealed to this audience's intellect, vanity and rationality in The Atlantic. Here, Coates goes for that audience's throat. He wants them to feel the strangulation of struggle, to rob them of breath for one heartbeat longer than is comfortable. He mainly does that by using some version of "the body" as a rhetorical device—employing it, by my count, some 101 times over 156 sparse pages:
The streets were not my only problem. If the streets shackled my right leg, the schools shackled my left. Fail to comprehend the streets and you gave up your body now. But fail to comprehend the schools and you gave up your body later.
This is the "gut-wrenching" prose with which many white reviewers are wrestling. It also creates a gap between audience and message that invites readers to insert themselves. Surely, I know what carrying around a black body feels like in America. I carry it, a uterus and hair and hue all day every day. I suspect Coates's son, too, is beginning to know that weight.
When Coates discusses what race in America feels like he is not talking to black readers. Neither does he seem to be talking to his black son. Instead, he is talking to white readers. In those moments, it was easy for me to forget that his son was the intended audience. And it made it very easy for me to start looking for myself, my experiences, my eyes in the text. The friction of shifting audiences is smoothed over by black readers' graciousness. I know Coates' body shots aren't aiming for any blind spot I would have but he has to throw them anyway. It is the toll black writers frequently must pay.
The first text re-emerges throughout the book and is most compelling near its end. That is when Coates merges the letter device (and the fictive son audience) with that of readers, both with and without black bodies to carry. His description of contemporary capitalism is one of my favorite examples of when this really works:
Once, the Dream's parameters were caged by technology and by the limits of horsepower and wind. But the Dreamers have improved themselves, and the damming of seas for voltage, the extraction of coal, the transmuting of oil into food, have enabled an expansion in plunder with no known precedent. And this revolution has freed the Dreamers to plunder not just the bodies of humans but the body of the Earth itself.
Read that aloud. There are no gaps. When Coates is landing lines like this he is, like Wu-Tang Clan, nothing to fuck with.
In the second text, Coates is a black parent of means raising a black son who will never have his father's "Baltimore eyes" or worldview. Coates accepts this—but he is still afraid. Or, he is afraid because he accepts this. The Faustian bargain of "making it" is that your success necessarily destroys that which may have made you successful. Coates writes of his "hard household," the beatings given when his parents could not control the world that would kill him for sport, and the black-male posturing that fits like a cheap suit but also gives black men a lingua franca. The suffering may be the point of it all but what, then, if his son will not suffer as he did?
You would be a man one day. And I could not save you from the unbridgeable distance between you and your future peers and colleagues, who might try to convince you that everything I know, all the things I'm sharing with you here, are an illusion, or a fact of a distant past that need not be discussed. And I could not save you from the police, from their flashlights, their hands, their nightsticks, their guns. Prince Jones, murdered by the men who should have been his security guards, is always with me, and I knew that soon he would be with you.
My mother once told me that black progress meant fighting for your children to never know you. Coates knows his son's body is vulnerable but he worries first here about his son forgetting.  He is afraid of losing his son to the "new black" of multiculturalism that absorbs blackness and spits out beige history, beige politics and beige faiths. Coates is not trying to get into heaven but in this he has found a reason for faith. He puts his in history, the discipline and practice of history.
The lines between the two texts in this one book are blurred most effectively when Coates grapples with the love at the center of the second and the history that anchors the first. I suspect many white readers only see the first text. Like Narcissus, the world they shaped in their image has told them they are beautiful. They cannot help but look for their reflection in the gaps Coates provides more of than I prefer. They drown in their reflections and never get to the second text. It is a text, that is inherently, irrationally hopeful. He writes: "The Dreamers will have to learn to struggle themselves, to understand that the field for their dream, the stage where they have painted themselves white, is the deathbed of us all." Coates knows better than most that history doesn't bode well for waking white consciousness to black death. He wrote the book anyway. In that sense, Between The World and Me is the apotheosis of works unseen.