Sen. Bob Corker Rails Against the Iran Deal
The chairman of the Senate Foreign Relations Committee laid into John Kerry at Thursday's Senate hearing.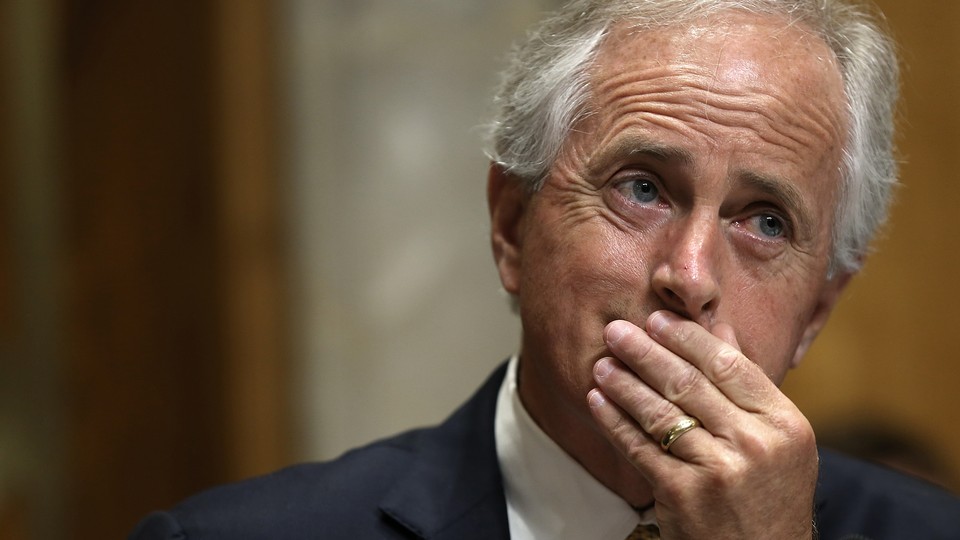 Senate Foreign Relations Committee Chairman Bob Corker doesn't trust Iran. Now he is making it clear that he does not trust the Obama administration's negotiations with Iran either.
Corker, who vigorously fought to ensure Congress had a chance to weigh in on the administration's nuclear deal, now appears to be leaning strongly against the deal.
The more he hears about it, the more "disappointed" he is, he said Thursday. Secretary of State John Kerry has made it clear that Congress has two choices: this deal or a nuclear arms race. Corker isn't buying it.
"I believe that to be hyperbole," Corker said in his opening statement.
"What I think you have actually done in these negotiations is codified a perfectly aligned pathway for Iran to get a nuclear weapon just by abiding by this agreement," Corker said. "In the process of being fleeced, you have turned Iran from being a pariah to now Congress being a pariah."
Republican Sen. James Risch of Idaho told Obama officials in his opening remarks that, "with all due respect, you guys have been bamboozled and the American people are going to pay for that."
Ahead of the first public hearing since the historic nuclear deal was reached, Republican and Democratic senators remained intensely skeptical about the deal, but Corker's apparent dissatisfaction marked a turning point on the Foreign Relations Committee, which has largely remained united thus far on ensuring Congress got a vote on the deal.
For Republican presidential contenders, the Iran hearing presented a unique opportunity to distinguish themselves from the Obama administration's foreign policy.
Sen. Marco Rubio threatened that "the deal could go away on the day Obama leaves office," a preview of a campaign promise voters can expect from the junior senator.
"Even if this deal narrowly avoids congressional defeat because we can't get to that veto-proof majority, the Iranian regime and the world should know that this deal is your deal with Iran, meaning yours and this administration's, and the next president is under no legal or moral obligation to live up to it," Rubio said.
Kerry shot back that he hoped the next president would be more sensible than to arbitrarily decide to roll back a historic deal.
Sen. Rand Paul, another 2016 candidate, had a less contentious message. Paul applauded Kerry for negotiating, but questioned whether the deal was enforceable. He also had concerns that economic sanctions would be rolled back in bulk instead of incrementally.
Opting not to decry the Obama administration as Rubio did, Paul did not even use up all his time.
But Republicans were not the only ones grilling administration officials.
Democratic Sen. Robert Menendez, who has been one of the biggest critics of the administration's negotiations with Iran, said that the Iran deal "fails to appreciate Iran's history of deception in its nuclear program."
Kerry and Menendez engaged in a contentious seven-minute exchange, complete with the senator and secretary interrupting one another on several occasions.
"Don't eat up my time," Menendez chided.
The New Jersey senator wanted to know whether lawmakers would be capable of reauthorizing economic sanctions that expire in 2016 if Iran failed to hold up its end of the bargain.
"If you are going to 'snap back,' you have to snap back to something," Menendez said.
Most Democrats, however, appeared willing to get behind the administration's deal, an important marker. While the administration would like to have bipartisan support, the president only needs to ensure he holds on to members of his own party.
Democratic ranking member Ben Cardin said that it was time to listen, not make snap judgments.
"I have not reached a conclusion and I would hope all the members of Congress would get all the information," Cardin said. "This is a very important agreement from the point of view of U.S. foreign policy."
Kerry's message to Congress remains that Iran already has the potential to move toward a nuclear weapon.
"The choice we face is between an agreement that will ensure Iran's nuclear agreement is limited, rigorously scrutinized, and fully peaceful or no deal at all. That is the choice," Kerry said.