Running in Aaron Schock's Shadow
Darin LaHood hopes to win the ousted Republican's seats without inheriting his tarnished reputation.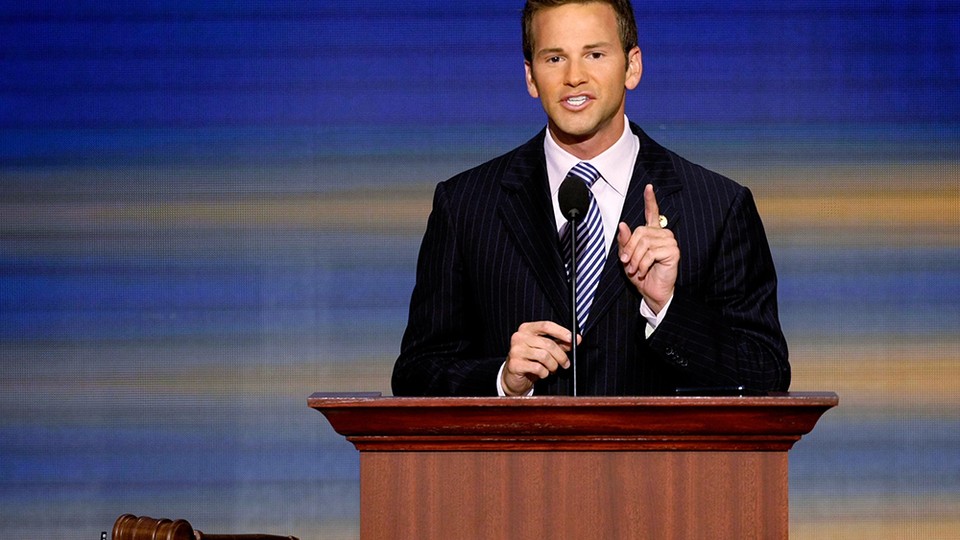 Darin LaHood still has another election in his future if he is to win a House seat, but he already is thinking about ways that he — and his district — can leave the past behind.
That's because LaHood, an Illinois Republican, is running in the special election to replace ousted Rep. Aaron Schock, who resigned in the aftermath of a high-profile ethics scandal over how he spent public funds. And so if LaHood wins — and in a highly Republican district, it's likely that he will — his first task will be to turn the page in a district where trust in elected officials has taken a beating.
"People wish they weren't having a special election," LaHood said in an interview with National Journal. "They're not used to this happening, so you get mixed reaction "¦ from sadness to disappointment to frustration. People want to move on and put somebody in there and get this behind us."
For LaHood, that starts with his current campaign, and he's eager to remind voters that he has hired a federal-election lawyer to ensure his operation complies with the law at every step. He also points to his tenure as a state legislator and former state and federal prosecutor as proof that he is focused on ethics reform and government accountability. While his push for ethics reform wasn't entirely successful, LaHood championed a bill that is similar to the executive order that Illinois Gov. Bruce Rauner signed to prevent executive-branch employees from immediately becoming lobbyists.
"I don't look at these issues as Republican or Democrat, but good government," he said, "shedding more light on our process, campaign finance reform, full disclosure [of] who's giving money to candidates."
Of course, putting any of that into practice depends on LaHood defeating Democratic nominee Rob Mellon on Sept. 10.
LaHood won entry into the general election by besting Breitbart News editor Mike Flynn and little-known candidate Donald Rients in the GOP primary. And he's hoping to win his next contest with a "united front" of Republicans on his team: "I think the bottom line is we have to make sure that this seat stays in Republican hands, and I think we as Republicans are united on that," LaHood said.
The district's political makeup suggests that LaHood has an excellent chance of making that happen. The Cook Political Report assesses it as a safely Republican seat, and in the primary election, Republican voters outnumbered Democrats by more than 2-to-1.
If LaHood wins, he'll be elected to the seat his father, Ray LaHood, held for 14 years before he was tapped as the transportation secretary during President Obama's first term. The piece of advice he received from his father when he decided to run: "Always remember who[m] you work for."
"I think he had a very good record when it came to constituent service and coming back every weekend," he said. "And being active in your community and making sure you don't become intoxicated by Washington, D.C."
Compared to his father's more-moderate record, LaHood touted his conservative voting record as a state legislator. If elected, LaHood said he would focus on economic recovery, including growing the private sector and decreasing the national debt.
Ethics reform isn't the only issue that LaHood hopes to shepherd on Capitol Hill.
As a proponent of term limits in the Illinois General Assembly, he's already signed the U.S. Term Limits pledge, which seeks to pass legislation that limits representatives to serve no more than three terms. If a bill isn't passed that applies to all 435 House members, LaHood said he thinks four to eight terms is an "appropriate" amount of time to serve before becoming a "career politician."
While he's not yet acquainted with many members of Congress, LaHood said he has a good relationship with many in Illinois's House delegation. LaHood said he's inspired by Rep. Trey Gowdy, who's tasked with leading the investigation of the 2012 attack on a U.S. consulate in Benghazi, Libya. He says he has never met Gowdy, who also is a former federal prosecutor, but that he admires the South Carolina Republican's use of "clear and decisive" language.
"I look forward — if I'm fortunate enough to get elected — to being a constructive member of the [Republican] caucus," LaHood said. "I don't come in there with any preconceived notions. I know I have to learn about the process to be strong advocate for my district."
And while he may come to Congress with a familiar surname and the lessons learned from his father, LaHood hopes to carve out his own path on Capitol Hill. "I'm going to stand by my record and what I believe in," he said. "Everybody creates their own path and I'll create my own."