Republicans Say Enough With the Government-Shutdown Talk Already
Many doubt the government would really shut down over Planned Parenthood funding.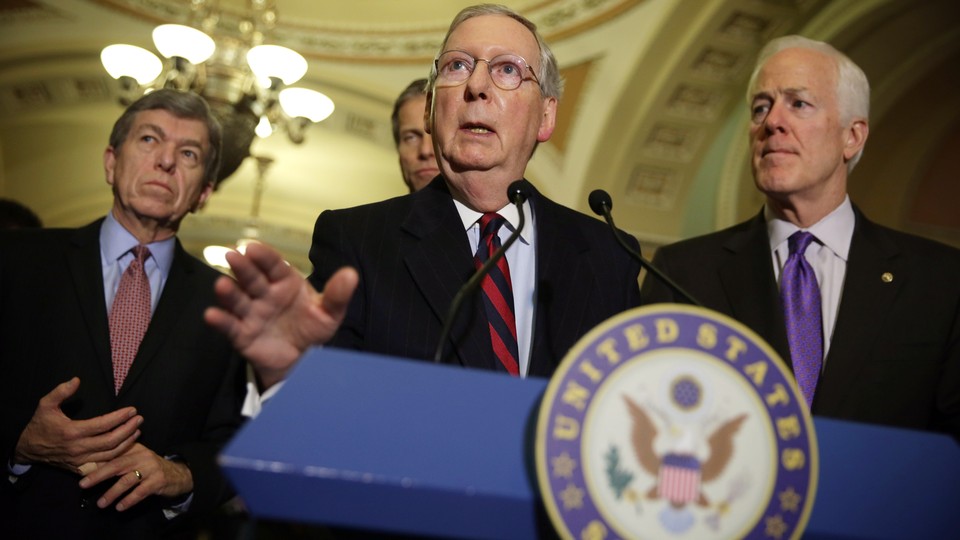 While a handful of conservatives are hankering for a showdown in September over Planned Parenthood funding, many prominent Republicans are dismissing the possibility that the federal government could shut down over the organization's stream of federal dollars.
The GOP is livid over recently released sting videos that show Planned Parenthood officials allegedly discussing the sale of fetal tissue. The Senate will try next week to move forward on a stand-alone measure to defund the group and redirect the money to community health centers, though it is expected to fail in the face of Democratic opposition.
But with memories of the 2013 government shutdown fresh in many of their minds, few Republicans seem to think it's worth closing down the government over the issue.
"No. Not over this," said Sen. Roy Blunt, a member of Senate leadership and chair of the Appropriations subcommittee that oversees health care, when asked if the government could shut down over the controversy.
That doesn't mean Blunt wants the issue to go away. "I think it'll be an ongoing topic for discussion until Planned Parenthood comes up with a much better explanation for their conduct than they have so far," he said.
In the House, a group of 18 Republicans sent a letter Wednesday to their leadership saying that they would not vote for a government spending bill that continued to fund Planned Parenthood.
"It would lead to a fight, no question about that," said Rep. Phil Roe, chairman of the GOP Doctors Caucus. "There's no doubt that it would, but I think this is a fight worth having.
"I'd be willing to shut the government down over human life," he said, adding that he does not foresee a shutdown actually happening.
But there was always likely to be a contingent of Far-Right Republicans who wouldn't support whatever spending bill leadership put forward. It is much more doubtful that GOP leaders would be willing to pick a fight with Senate Democrats and President Obama over the issue and risk a shutdown.
"I don't think to the point that it will stop a CR," said Rep. Tom Cole, who chairs the House Appropriations subcommittee for health and is a close ally of Speaker John Boehner, when asked if the Planned Parenthood issue could stymie the spending bill. Congress is expected to pass a short-term continuing resolution before the Sept. 30 deadline.
"Look, I'm very sympathetic to my colleagues," Cole said, noting that his panel's Appropriations bill had cut all funding for a federal program that funnels money toward Planned Parenthood. "But I don't believe in shutting down government and I don't believe in blackmailing your leadership.
"A lot of these threats are from people who won't vote for the CR or final deal anyway, so they don't carry too much credibility," he added. "But we should be working toward what they're trying to do. I just don't believe in government shutdowns as the vehicle to do it."
Senate Republicans in particular swept into power last year with a promise to make Congress more functional. Senate Majority Leader Mitch McConnell has said on numerous occasions that the federal government would not shut down or default on its debt under his leadership.
"Those are the commitments that we made," said Sen. John Barrasso, the No. 4 Republican, on Thursday.
Even those working on the upper chamber's defund measure balked at the notion of shutting down the government to cut Planned Parenthood money.
"I'm hoping to avoid that," said Sen. Joni Ernst, who led the working group that produced the bill. "I don't want to see the government shut down. I'm not even going to talk about that."
"I'm not trying to risk a shutdown. That's not what I'm trying to do," said Sen. James Lankford of Oklahoma, another member of the working group.
That sentiment seemed to pervade much of the GOP conference.
"I'm going to want to make sure that we keep the government funded," said Sen. Kelly Ayotte of New Hampshire.
---
Alex Rogers contributed to this article