Pollsters to Networks: Please Don't Use Polls to Decide Who Appears on the Debate Stage
Fox and CNN are relying on polls to determine which candidates make the grade for prime debate slots. Some pollsters and poll watchers suggest a different path.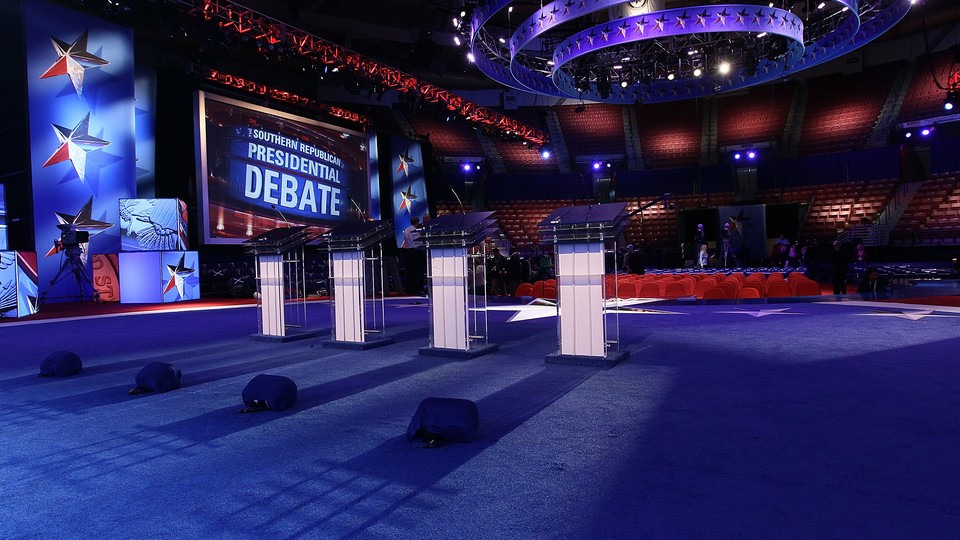 Republican presidential hopefuls are closing in on a tight race: not for their party's nomination, but for the chance to advocate for their party's nomination during this week's first 2016 debate.
Whether they'll get that chance depends entirely on how they've performed in recent national polls — a metric that some pollsters are wary of employing for such a significant event, especially as voters are only just starting to pay attention to the candidates now crisscrossing the country looking for their vote.
Lee Miringoff, director of the Marist Institute for Public Opinion, said using polls as a determinant for eligibility to the main contests — "especially the first debate" — isn't a good use of the data.
A Marist poll released July 26 was the subject of much hype: It showed that Donald Trump was way up in New Hampshire, and just behind Wisconsin Gov. Scott Walker in Iowa. But just because polls get attention doesn't mean the brains behind them buy into it.
When it comes to polls' involvement in debate setup, "we're being cast in a much larger role than I think public polls should be cast in," Miringoff said.
Fox has said it will average five recent national polls to determine the top 10 candidates, who will be eligible for the Aug. 6 debate. (Lower-rung candidates will attend an earlier forum.) With this methodology, Trump is guaranteed a spot on the main stage. But candidates with actual executive experience — such as Ohio Gov. John Kasich — are not. Rick Santorum, who won 11 caucuses and primaries in 2012, and Carly Fiorina, the only female Republican candidate, also could miss the cut.
CNN also is employing a two-tiered approach based on polling for its first round of GOP debates in September. Top candidates will be featured in one "segment," and a second "segment" will play host to the B team.
It's generally accepted that early primary polls have little predictive power when it comes to the general election. But they are having an impact. Neil Malhotra, a Stanford University political economist, frames it this way: It's not that these early polls will decide who will be the nominee; it's that they are deciding who won't.
"I think a lot of people are saying: Don't worry about the early polls, Trump isn't going to be the nominee," Malhotra says. "But the other thing to say is: Maybe we should worry about the early polls because [candidates like] John Kasich [are] not going to be the nominee."
Should lesser-known candidates such as Gov. Bobby Jindal, who have significant political resumes, have the chance to make their case in front of a national audience? It's a dilemma. Right now, name recognition matters in the polls. But if polls are deciding who gets featured in debate coverage, how does a candidate get recognized?
"All this does is reinforce those candidates who are getting media attention, while ignoring those who are not; thus becoming in some sense self-fulfilling — the media determines who deserves attention, so they get attention, and get to debate," David Redlawsk, director of the Rutgers-Eagleton Poll, said in an email.
To an outsider, the cutoff between top and lower-rung candidates may appear scientifically determined, Miringoff said, but it's not. For one, most of the candidates who'll be excluded from the main debates rank within the margin of error of candidates that make the grade. According to averages calculated by NBC News and released Monday, Rick Perry, at 2.2 percent, would be able to attend the Fox debate; but Kasich, at 2 percent, would not. Miringoff called the decimal points separating candidates like Perry and Kasich meaningless.
Sylvia Manzano of Latino Decisions thinks using polls as a selection metric is fairer than using, say, the number of Twitter followers or small-dollar contributors. But, she said, "there are good arguments to be made" for using both national and statewide polls as a means to suss out which candidates are at the top. CNN plans to use some state polling as a potential tiebreaker.
There's also the problem of the polls' methodologies, which are not standardized. Among the polls that networks are likely examining, variations could abound in terms of sample size, margins of error, order of polling questions, and the political preference of voters polled, to name a few elements. These variables aren't minimized much by averaging polls together.
"I know it's nice to take an average of the five and you hope all the errors cancel out," Miringoff said, "but it's sort of a leap of faith."
Mollyann Brodie, president of the American Association for Public Opinion Research, said that if the networks are going to base their selection on public opinion, "they need to deal with some of the complexities of how a survey design can impact the results."
Her organization doesn't take a stance on how the networks structure their debates, but she calls for full transparency in the selection process. And she hopes that organizers will disclose the details about their method "long enough in advance so that the participants and interested parties know what criteria is being used."
But perhaps there's a better way to organize the early debates.
Some pollsters National Journal spoke with suggested a randomized heat approach to these early contests: Randomly draw eight candidates for one debate night and eight for the second, then randomly choose which debate group goes first.
"While [this] approach means some go first and some go second, at least everyone is on a debate stage with seven other candidates, randomly selected," Rutgers' Redlawsk said.
Miringoff agrees that a two-debate strategy could work. "I think the democracy can handle that."
Leonie Huddy, director of the Center for Survey Research at Stony Brook University, also suggests a randomized debate draw. "This would be a more-fully democratic process because it provides all candidates, even those who are not yet well-known, to make [their] case," she said in an email. "This process would increase the burden on Republican primary voters who would have to watch double the number of debates at least early in the campaign."
And if, in the future, the GOP wants to address the pitfalls of a high-volume race, they've got to address it "on the front end," Manzano said," and discourage some potential candidates from running.
Though she doesn't know how many candidates would actually take that advice.
"You can't really enforce 'Don't run,' " Manzano said.