Planned Parenthood: Joni Ernst's First Target in the Senate
The freshman senator from Iowa has laid low, but when it comes to fighting Planned Parenthood, she's got experience.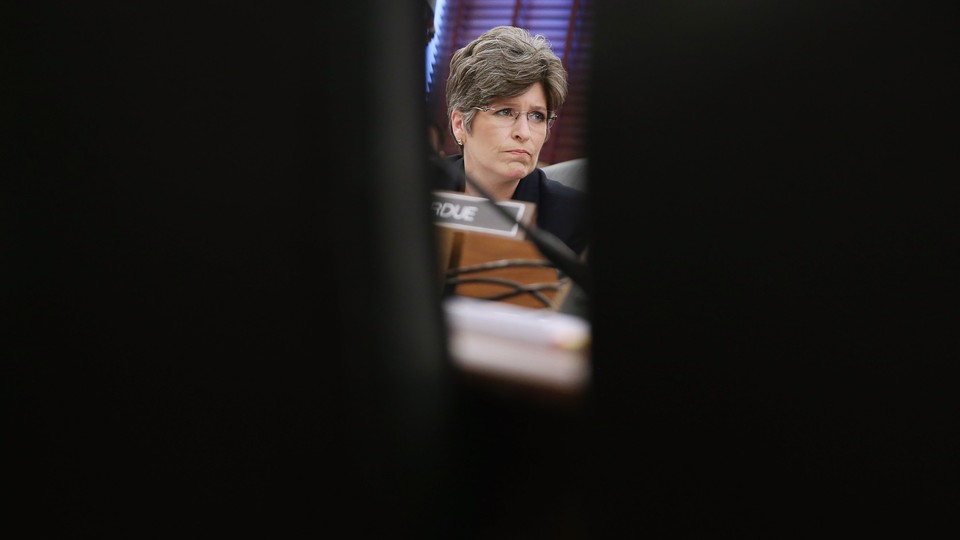 Joni Ernst knows a thing or two about going toe-to-toe with Planned Parenthood.
In her hotly contested Senate campaign last fall, Planned Parenthood's political arm spent $450,000 in ads against her.
In one ad, a woman sitting around a table pipes up that "it's amazing [Ernst] would vote to defund Planned Parenthood." Less than a year later, Ernst is proud to live up to her reputation as an abortion opponent and anti-Planned Parenthood crusader in the Senate.
This week, Ernst filed a bill to defund Planned Parenthood, marking her first major legislative push since she was sworn into the Senate in January. From the 2014 campaign trail, Ernst embodied a fresh face for the Republican Party. She was a homespun pig castrator. And she was a rare candidate: a veteran and a conservative woman.
Now, at a time when the GOP feels called to take action against Planned Parenthood after video footage surfaced of a provider discussing fetal tissue donation, Ernst is once again a key GOP messenger. With her voice, Republican leaders are hoping they can make a statement against Planned Parenthood without the GOP being seen as engaging in a "war against women."
"I think it is brilliant on the part of the Republican Senate," says Marilyn Musgrave, the vice president of government affairs for the Susan B. Anthony List, a group that campaigns on behalf of anti-abortion women candidates.
For so long, Musgrave says, abortion-rights groups have had female spokeswomen leading their cause. She admits that on the Republican side, those leaders have been harder to come by.
"There are not as many women in office. It takes a lot of courage to lead on these issues because Planned Parenthood and groups like Emily's List have a lot of financial resources," Musgrave says.
While a team of Republican lawmakers, including Sen. James Lankford of Oklahoma and presidential candidate Rand Paul, has been closely working with Ernst on the bill to defund Planned Parenthood, colleagues say it was under Ernst's leadership in the working group that the Republican Party finally came to find a more-sensitive messaging strategy on slashing federal dollars that go to the organization.
Instead of merely cutting more than $500 million in grant money to Planned Parenthood, Ernst's bill redirects the money to a network of community health clinics. Republicans argue that the move makes it easier for women to get health care.
"She's the one who came to our conference and said that she was interested in taking the lead, and that she had some ideas on how to do it," says Sen. Rob Portman, a Republican from Ohio who faces reelection in 2016, "Her concern was that we needed to be sure and make it clear that she and we are supporting women's health and reproductive health."
Republicans are confident that the wording will shield them against attacks that they are gutting funding for women's cancer screenings and birth control.
"I can make the case that it is an expansion of health care for women because you are eliminating the intermediary and you are putting it where a majority of women's health is done anyway," North Carolina Republican Sen. Richard Burr told National Journal. "It in no way, shape, or form diminishes women's health. If anything, it increases the access."
But not every Republican woman is supporting Ernst's approach. After all, under current law, no federal funding can be used for abortions. That means the roughly $500 million in grant funding Planned Parenthood receives from Congress goes to providing other health care tests and services for women.
Sen. Susan Collins, a Republican from Maine, is working alongside West Virginia Democrat Joe Manchin to find a compromise bill that would punish Planned Parenthood clinics that engage in fetal tissue procurement while still allocating money to the organization's clinics that are not involved in the latest controversy.
"It would cause women to lose their health care provider for family planning and cancer screenings. There is no system in place to accommodate the screenings and the needs of millions of American women who rely on Planned Parenthood," Collins says.
Collins, however, says she has not spoken with leadership about her latest proposal. Ernst already has a promise that her bill will get a vote next week. But while this may be a fresh start for the Republican Party to talk about defunding Planned Parenthood, Democrats chalk up the latest bill as nothing more than retooled messaging.
Democratic Sen. Claire McCaskill says she doesn't believe that Ernst's role will make that much of an impact in the way voters view the Republican Party's record on women's health. There may be a woman leading the charge, but McCaskill says that "it's still mostly men."
"If I want to reduce abortions," McCaskill says, "the dumbest thing we can do is cut off access to birth control. That is exactly what the Republicans are trying to do. They are trying to cut off access to birth control. None of this money is going to abortions. The money they are cutting off is not performing abortions. It is preventing abortions so I am trying to figure out how that makes sense."