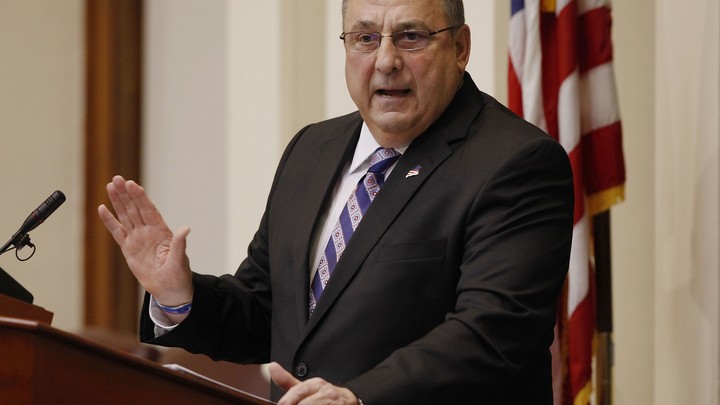 "I'm finally learning how to play the game of a politician," Maine Governor Paul LePage told reporters in late May, moments after he declared, in a fit of pique over a stalled proposal to cut income taxes, that he would veto every single bill written by a Democrat that passed the state legislature.
LePage may have learned the art of politics in the four-and-a-half years since Maine voters first elected him to the governorship, but it seems he hasn't yet mastered state law. In a turn of events as incomprehensible as it sounds, the combative conservative apparently muffed the vetoes of 65 bills at the end of the annual legislative session. He is now asking the state's highest court to rule on whether he successfully rejected the measures, or whether they have in fact become law—as the House and Senate contend—because LePage missed the 10-day window he had to veto them.
It's the latest and most befuddling twist in the soap opera of a governor who has brought Tea Party bombast to a state long known for producing centrists and diplomats. In 2010 and 2014, LePage twice took advantage of a split opposition to win three-way elections. Since then, he's been alternately described as the nation's "craziest governor," its "most outlandish," or in the words of Justin Alfond, the Democratic leader in the state senate, simply "the king of chaos."
But despite LePage's victory last November, the last few months have marked something of an unraveling for the famously filter-free conservative—even before the veto mess. A bipartisan legislative committee is investigating whether he forced a charter school not to hire the Democratic speaker of the house, liberals are calling for LePage's impeachment, and his standing within his own party has deteriorated to the point where the legislature overrode his veto of the state budget with help from the Republican senate president (averting a government shutdown). In retaliation, a LePage-aligned political organization run by his daughter began recording robocalls in Republican districts, accusing legislators of siding with Democrats. In recent days, a veteran GOP operative has launched a group for Republicans who oppose LePage's approach.
What's clear, then, is that outside of a few loyal allies in the House, LePage's relationship with the legislature has reached a new low. And yet: How do you screw up a veto?
It's not as if this was the first time the governor was breaking the pen out of its box. In fact, LePage has issued more vetoes than any governor in the 195-year history of Maine, and the legislature has, in turn, overridden a record number of those vetoes. For most of June, the governor had been carrying out his threat to reject any bill sponsored by a Democrat (and that expanded to some Republicans as well), so as the legislature's session drew to a close, lawmakers had grown accustomed to accepting the hand delivery of veto messages by the bucketload from a member of the governor's staff, often near the end of the 10-day window he has to issue them.
So when, earlier this month, the deadline passed for LePage to veto the first batch of 71 bills that the legislature had approved in the final days of the session ending June 30, lawmakers were confused. "We thought, 'Wow, what a crazy mistake,'" Jeff McCabe, the Democratic House majority leader, told me in an interview. LePage had spent the July 4th weekend campaigning with Chris Christie, so Democrats thought he might simply have lost track of time. But then the veto deadline passed for the rest of the bills, and it became clear, McCabe said, that LePage "was really doubling down and he was pretending that his interpretation of the [state] constitution was way different than our interpretation."
The rules for issuing a veto are not, it turns out, quite as simple as the famous Schoolhouse Rock video makes it seem—at least in Maine. The state constitution gives the governor longer than 10 days to veto bills when the legislature's adjournment prevents a bill's return. After initially giving a different explanation, LePage's office has argued that because the legislature left without setting a firm date to reconvene, the governor could exercise a provision in the constitution allowing him to return vetoed bills when the legislature next meets for three-consecutive days. So on July 16, he delivered veto letters for 65 of the 71 bills. But both Democratic and Republican leaders refused to accept them, saying that both chambers had clearly set a return date for the express purpose of voting to override or sustain the governor's vetoes. LePage had missed the deadline, they said, and the bills had become law. "We made it very clear," McCabe said, noting that even Republicans had mentioned the mid-July session before they left in June. (The Bangor Daily News has an even more detailed explanation of the dispute here.)
While Democrats like McCabe believe LePage was trying to cover up a simple mistake, others aren't so sure. "For the governor to not understand the rules defies all logic, defies all of his actions, and defies the decisive leader that he says he is for our state," Alfond, the Democratic senate leader, told me. "There are all kinds of theories for why this has happened," he said. "It's been one story after another. It's just hard to figure out whether they intended to do this, whether this was some sort of mix-up on their part, whether they were looking for confrontation."
With the legislature refusing to acknowledge his vetoes, LePage is now turning to the courts to find out, quite literally, whether the bills have become laws that his administration is constitutionally obligated to enforce. Few of the measures are considered highly controversial, and many would have become law by veto overrides anyway, but political observers believe the legislature was likely to sustain LePage's rejection of a measure granting state-welfare benefits to immigrant asylum seekers.
"I have a constitutional duty, as Governor, to 'take care that the laws be faithfully executed,'" LePage wrote in his letter to the justices of Maine's Supreme Judicial Court. "Accordingly, I must know whether the 65 bills I was prevented by the Legislature's adjournment from returning to their houses of origin by July 11 have become law." The court has set a date at the end of the month to consider the question, and with the exception of one Republican leader in the Democratic-controlled House, the bipartisan-legislative leadership is united against him. "The only voice that seems to believe that he has the ability to do this is his administration and people who are on his paid staff," Alfond said.
LePage's office has insisted that no, the governor is not dumb. "Despite the repeated claims by Democrats and their faithful stenographers in the Maine media, the governor did not 'botch' the vetoes," LePage spokesman Peter Steele wrote in an email.
The governor's letter to the Law Court spells out his position quite clearly. Democrats and their hand-picked attorney general are content to do business as usual, but the governor prefers to follow the process specified in the Constitution. It's now up to the Law Court to decide whether the Legislature's action—or inaction—triggered that process.
While there appears to be a general consensus that LePage is likely to lose in court, opinions are mixed as to whether he missed the deadline by accident or not. "My strong sense is that this is intentional, not a mistake," said Mark Brewer, a professor of political science at the University of Maine. Brewer said that as LePage has been stymied by the legislature over the last several months, he's been "pushing the boundaries on the prerogatives and powers of the executive"—not unlike President Obama, who is mired in a court battle with Republicans over his executive actions on immigration. "He's picking a fight to prove a point," Brewer said.
Alfond doesn't dismiss that possibility. "He is the king of chaos, the king of unpredictability, and someone who thrives when there's conflict and when there's unease," he said of LePage. (As with many lawmakers, the governor and Alfond have a history: LePage, 66, routinely compares the much-younger Democratic leaders in the legislature to children, and in May he said Alfond should "be put in a playpen.")
Yet LePage is playing around with real laws. By waiting on vetoes that might have been sustained by the legislature, such as the immigrant-benefits measure, he's risking allowing a law that he opposes, and might have been able to stop, going on the books. And unlike Obama's legal fights with Republicans over immigration and healthcare, LePage's tactics have cost him significant support within his own party. Alfond, a 40-year-old real-estate developer who represents much of Portland, said the silver lining of the confrontation is that it has pushed Republican and Democratic lawmakers to work together much more collaboratively against the governor, as evidenced by the many laws they passed this year by overriding LePage's vetoes.
With the governor and the legislature at loggerheads, both ideologically and institutionally, both parties are already looking ahead to an election that's more than a year away. Right now, each party controls one chamber. Republicans allied with the governor have already announced plans to turn LePage's proposal to cut income taxes into a ballot initiative, while Democrats will try to force GOP lawmakers to choose between breaking from LePage or risking electoral defeat. "The reality is that House and Senate Republicans need to decide whether or not they're going to side with the governor's antics and his increasingly, obviously unstable temper," McCabe said. "The electorate's not going to put up with that, and I think the midterm elections will decide what his last two years look like."
Brewer, however, warned that LePage should not be underestimated. After all, this is a governor who scored several victories in his first term and won a reelection many thought he would lose, with a significantly higher percentage of the vote than in his first win—all in spite of his reputation as a partisan, and occasionally offensive, bomb-thrower. As the former businessman himself admitted, he's learned the political game. "He's been in politics now for quite a while now, and he's pretty good at it," Brewer said. "There's a method behind what he's doing, let's put it that way."
We want to hear what you think about this article. Submit a letter to the editor or write to letters@theatlantic.com.
Russell Berman
is a staff writer at
The Atlantic
, where he covers politics.