Obama's Iran Test: Keeping Democrats Together on a Deal
Members of the president's own party are wary of an agreement that doesn't allow unfettered inspections.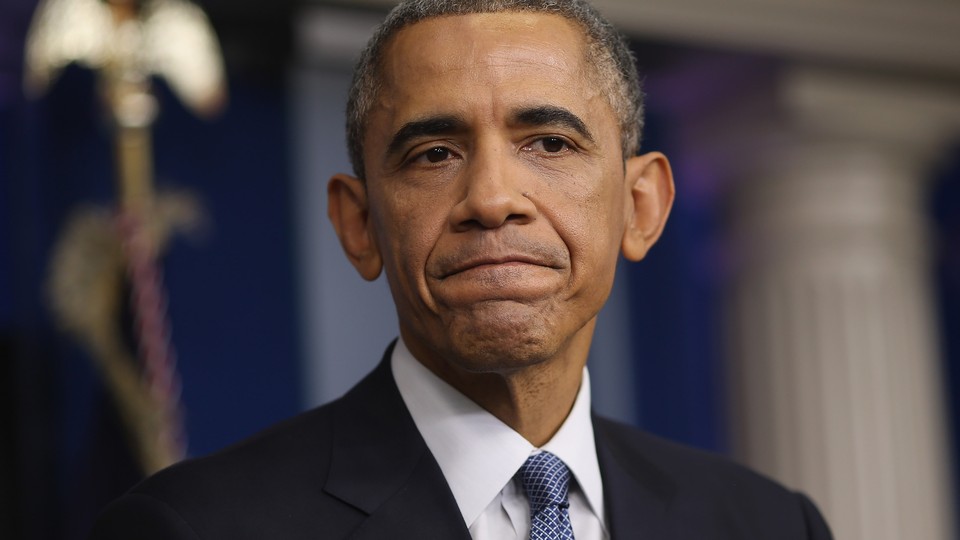 President Obama will have to work hard over the coming weeks to assuage skeptical Democrats that his potentially imminent, legacy-defining accord limiting Iran's ability to build a nuclear bomb meets their deep-seated concerns.
While some outside observers don't expect that enough Democrats would stand with Republicans to vote against the deal and keep congressional sanctions intact, key Senate Democrats laid out before a White House meeting Tuesday night one requirement in particular—anywhere, anytime inspections—that could cause the administration trouble.
The White House meeting touched on several subjects—including appropriations, the Affordable Care Act, and climate change—in addition to Iran. But it's clear the potential nuclear agreement is the most suspenseful issue this week, with the clock ticking down.
Sen. Ben Cardin, the top Democrat on the Foreign Relations Committee, said that only a "very small part" of the 90-minute meeting was on Iran. Obama "indicated" that there must be all avenues of inspections, including military dimensions, Cardin said.
Obama "doesn't know whether we'll get an agreement or not but [said] that he will not bring forward an agreement that does not accomplish those objectives" of preventing iran from obtaining nuclear weapon, Cardin said.
And Cardin added: "I think the president is justifiably concerned that some Americans might believe what the Supreme Leader is saying. He urged us that that should not be our source as to what's in the agreement."
Senate Democrats, meanwhile, are making their own priorities clear.
Inspections are "vital," said Sen. Christopher Coons, a Democratic member of the Foreign Relations Committee, which wrote the bill laying out how Congress would review the prospective accord. "That is a central point. Exactly what the mechanism is by which we have assurances that we can inspect sites reasonably quickly anywhere in the country is going to be a central piece of whether or not this is an agreement that we should sign, and whether or not this is an agreement that will enjoy broad congressional support."
"There really has to be full access, anytime, to sites where there may be development or production of nuclear weapons," added Sen. Richard Blumenthal. "I think that the agreement has to be airtight, comprehensive, long-lasting, and maybe most important, verifiable."
So far the administration has said little in public about whether the deal will meet that demand. But it's possible that the deal will be announced very soon. Under the law, after July 9, Congress will have 30 extra days to review the deal and act upon it. If Congress fails to act during that period, the deal will be considered approved.
Some opponents, like Republican Sen. John McCain, believe that the additional time could help increase scrutiny and change some members' minds.
"The longer there is to examine it, the more likely it is, in my view, for people to reject it because it's a bad deal," McCain said on Tuesday. "As George Shultz and Henry Kissinger wrote, it went from the purpose was to eliminate Iran's capacity for nuclear weapons to delaying it."
Even Coons said it is a possibility—although in his mind not a likely one—that Congress will vote against it, "if it is a genuinely bad deal."
Other senators, including Cardin, and some outside experts don't see the enhanced time frame making much of a difference.
"If the substance of the deal is right (e.g. meeting the terms of the Washington Institute statement I signed), 30 vs. 60 day review doesn't matter," said Gary Samore, a former Obama official and the president of the nonprofit United Against Nuclear Iran. That letter, signed by four other former Obama advisers, said that Iran cannot "deny or delay timely access to any site anywhere in the country," a demand rebuked recently by Ayatollah Ali Khamenei, who opposes international inspection of Iran's military sites.
Democratic Sen. Chris Murphy, a progressive member of the Foreign Relations committee, said Tuesday that "anytime, anywhere" inspections weren't realistic.
"There aren't going to be inspections anytime, anywhere," Murphy said. "There are going to be certain military sites in which you are going to have to have credible evidence in order to get access. I think it's not fair to set up a standard by which Iran is going to give inspectors access to anything, at any time, for any reason. There has to be a meaningful process to get access to military sites if we have information that compels an inspection. But frankly, we shouldn't have unfettered access to military sites. We should only be able to get onto those sites if we have evidence there's covert nuclear activity happening there."
The negotiators announced a framework agreement in the beginning of April, limiting Iran's nuclear capabilities and extending the length it would take to build a bomb from a few months to about a year in exchange for reducing sanctions and increasing inspection capabilities. No member wants to see the strength of the negotiators—including the U.S., Russia, China, France, Germany, and Britain—go to waste after 18 months of talks and over a decade of dreaming to get to this point.
"The imbalance here is dramatic," said Coons. "It is the allied powers of the modern world against one isolated extremist theocracy in the Middle East. And if they get a deal, they will get over $100 billion with which to do mischief in the region and a pathway towards being a renewed participant in the global economy. That's huge for them, and we should hold out for the best deal we can get."
"I am disheartened," added Senate Foreign Relations Chairman Bob Corker on Tuesday. "It is just amazing to me that Iran, with a boot on its neck, has ended up in this place with six important countries. From their standpoint, they've done just an incredible job of outmaneuvering. I don't know. I am sort of despondent over where we are. "¦ But I do want to read it and then figure out what direction to go."
This article has been updated.
---
Lauren Fox, Sarah Mimms, and Ben Geman contributed to this article