No, Dammit, Cities Are Not Dead!
The man who modernized New York angrily takes on his critics in a 1962 essay.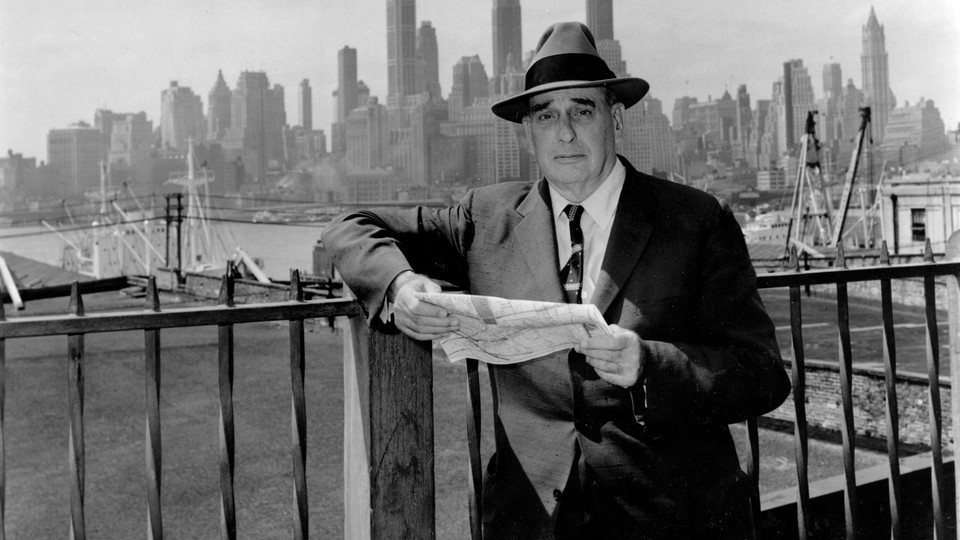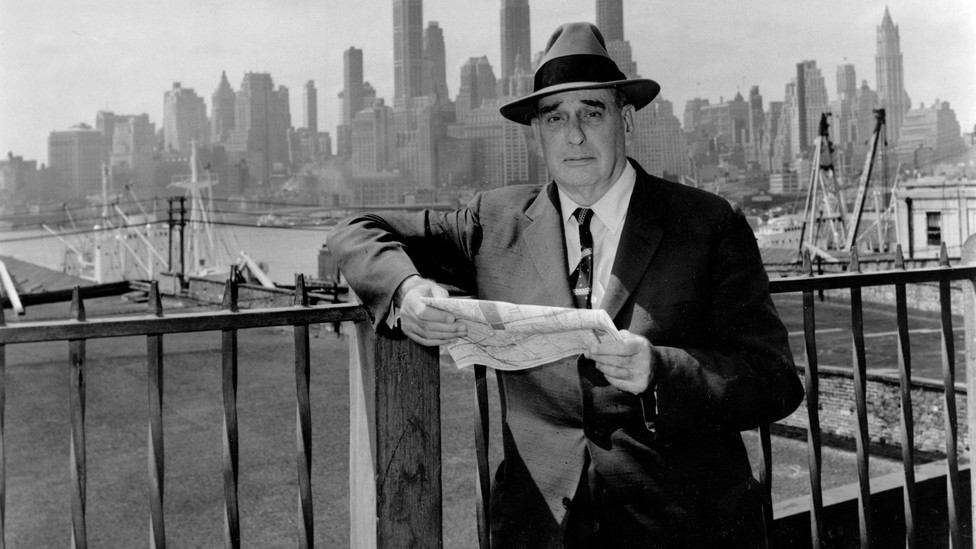 You wouldn't have liked Robert Moses when he was angry.
That's the main message the master builder of mid-20th century New York seems to have hoped to convey in his 1962 essay for The Atlantic, churlishly titled, "Are Cities Dead?" Moses's answer, it's immediately apparent, is no, of course not, and about that he was certainly right. He asks the question not because he believes it deserves a serious debate, but because he thinks anyone who dares ask it is deeply, irredeemably unserious. Had he been writing today, no doubt the headline, sharpened for a social media audience, would have been, "Are Cities Doomed?"
In fact, there's much about the piece that feels perfectly at home in the current, digitally amplified discourse on the future of cities. It was written, ostensibly, as a direct rebuttal to a now-forgotten op-ed that had appeared in an unnamed New York newspaper, though it was really a response to a growing chorus of Moses critics, including the academic and critic Lewis Mumford, and, though she is not directly named, the author and activist Jane Jacobs (her The Death and Life of Great American Cities had been published just months before).
Take these early paragraphs, heavy on urban-leadership boosterism, totally dismissive of the naysayers:
Suppose we were to ask some of our best and most ambitious mayors, battling valiantly for limited, immediate objectives, whether concentrations of population are beyond improvement, whether the raison d'etre of the metropolis is gone, and whether their plans for redevelopment are essentially futile. I mean men like Lee of New Haven, Dilworth of Philadelphia, Miriani of Detroit, and former Mayor Morrison of New Orleans. Are the citizens who believe in such men now to be told that their trust has been betrayed?

There is, indeed, much wrong with cities—big and little—but the answer is not to abandon or completely to rebuild them on abstract principles. Only on paper can you disperse concentrations of population and create small urban stars with planned satellites around them. In the course of many years devoted to reclamation of water front, manufacturing of topsoil to cover thousands of acres of new parks, buying and preserving large areas of natural woodlands and shores in advance of the realtor and subdivider, planting thousands of trees along parkways and expressways, building hundreds of playgrounds, planning cultural centers in place of decaying tenements, tightening zoning and building laws, restricting billboards, opposing entrenched power companies and other utility corporations to keep the basic natural public resources inalienable, and stopping water pollution, I never caught a glimpse of the breast beaters who are now touted as pundits in this field. I saw none of them in our long battle to establish eleven thousand acres of Jamaica Bay within New York City as a permanent, protected, unspoiled natural game refuge. Is Jamaica Bay a symbol of urban rot, or is it just too small and obscure to attract the attention of the critics?
Moses is at once praising the unique abilities of hard-charging mayors, a cause that has no shortage of adherents in 2015, and listing his many, many accomplishments (he'll go on to list many, many more) in an attempt to wave away those who had only recently begun to question his work and legacy. I've addressed more pressing urban problems than you've had hot dinners!, essentially.
Keep in mind the particular moment in time in which Moses is writing. While it would be more than 10 years until Robert Caro published his magnificent, 1,200-page biographical takedown, The Power Broker: Robert Moses and the Fall of New York, it had been just a couple of years since Moses, in the role of New York City Parks Commissioner, had made himself the enemy of the city's cultural elite by refusing to issue permits for free Shakespeare in the Park performances. Here was a man who'd built, over the course of the previous three decades, more than 600 playgrounds and parks, 400 miles of urban freeways, and 13 bridges. And he'd done it, by all accounts, largely through tremendous force of will and a truly keen sense of political know-how. But by 1962, Moses had real, undeniable detractors. He was being actively painted as the enemy of a healthy, happy city. He cared, his critics claimed, more about cars than he did about people. And his consolation prize after being forced out of his most significant public roles—serving as president of the boondoggle that would become the 1964­–65 New York World's Fair—was already proving to be a bruise, rather than a boost, to his reputation.
And so Moses took to the pages of The Atlantic to defend himself. Following a laundry list of specific grievances, all aimed at critics of his urban renewal strategies, we get a lecture on how the "sanest, best-balanced people" choose to live (by being rich enough to afford to split their time between the city and the country, apparently), and finally a list of "pointed" questions to which he assumes urban planning pundits have no answer ("If more cars are inevitable, must there not be roads for them to run on?").
Today's urban planners and thinkers have plenty of answers to Moses's questions, but so too did the planners and thinkers of the time, notably Jacobs, who continues to enjoy a fervent following, despite several non-trivial shortcomings packed inside her theories around "social capital" and "eyes on the street" (the complexities of gentrification and displacement were unthinkable in the 1960s). What's striking about Moses's point of view in "Are Cities Dead?" is less that he's baffled by those who would question his vision of a city of highways and towers, and more that the arguments he raises persist to this day. Moses may have been largely discredited by the late 1970s, but in the current era of gridlock and crumbling infrastructure, he's lately been enjoying a modest rehabilitation—as a man with a formidable list of achievements and experiences, if also some terrible ideas.
New York today may still be in the midst of "moving … to correct [Moses's] ravages," as Caro put it in a 2007 interview with The New York Times. But it is also a city gripped by a housing affordability crisis of epic proportions. When Moses asks, toward the very end of the essay, "Have they an alternative to real-estate taxes?," you almost wish he were still around to cajole city officials into coming up with a real plan.
Almost.