New Hampshire GOP Turns Democrats' Early Anti-Scott Brown Playbook Against Maggie Hassan
In 2013 and 2014, Democratic attacks damaged Scott Brown before he even entered the Senate race. A bevy of GOP outside groups are doing the same to Gov. Maggie Hassan now.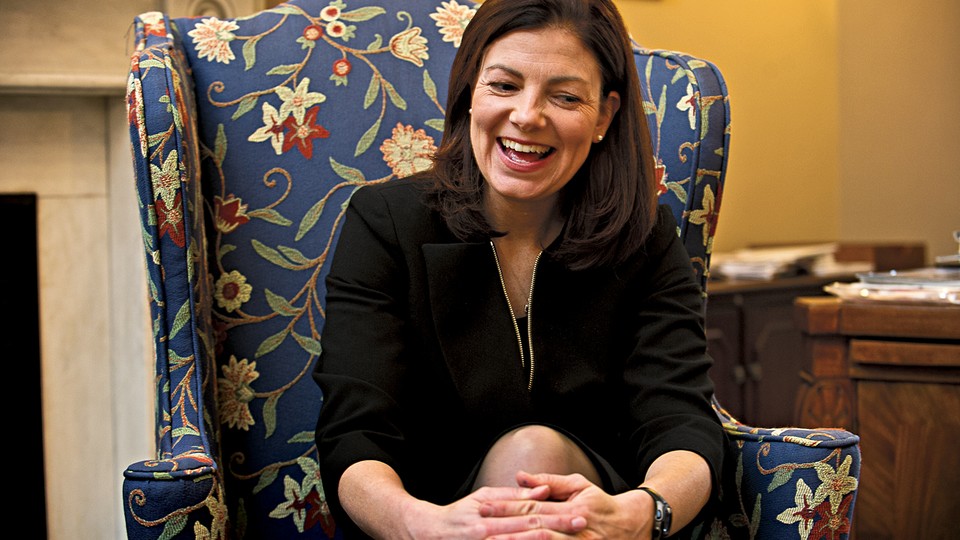 New Hampshire Republicans say the millions of dollars Democrats spent hammering Scott Brown before he entered the 2014 election cost them a Senate pickup in a year when most other battleground races went their way. That's why this year, they're especially eager to flip the script.
It's anyone's guess whether Republican Sen. Kelly Ayotte's strongest potential Democratic challenger, Gov. Maggie Hassan, will run for Senate. But Ayotte's many allies are leaving as little as possible to chance: A large collection of GOP outside groups — including usual players such Crossroads and the Chamber of Commerce but also other Ayotte-specific efforts — has already purchased ads or set up shop in New Hampshire to boost the freshman senator.
Their primary goal: Damage Hassan while the governor remains tied up in a prolonged, ugly battle over the state budget.
Many Democrats and Republicans had all-but-penciled Hassan in as Ayotte's opponent in a crucial Senate battleground. But any plans she might have had were delayed when she vetoed Republicans' budget proposal at the end of June, setting off a negotiating process that could last through the summer. That timeline could still put her in the Senate race far ahead of last year's challenger — Brown didn't enter until April of the election year. But that gives Republicans more time to execute a strategy that they saw Democrats use against Brown last year.
"Granite Staters deserve a full-time governor who fights for them and their families every day of the week. Regrettably, with Governor Maggie Hassan, we have an ineffective and hyper partisan career politician," said one digital ad launched this month by an instate nonprofit, Citizens for a Strong New Hampshire. "Governor Hassan has made it clear that she is more concerned with climbing the political ladder than the welfare of Granite State families."
The ad, entitled "Climbing Maggie," is just one of many attacks coming at the governor from outside political groups. Crossroads GPS started things off in the spring, and an obscure group called Impact America Action, run by former Ayotte strategists, soon followed with $1 million worth of TV ads.
The message across the groups is consistent: Hassan is playing politics with the state budget and is using her office as a political stepping-stone.
And so far, the attacks seem to be having the desired effect. While Hassan's approval is still high, WMUR's poll in mid-July showed Hassan's disapproval ratings climbing to 30 percent for the first time since she was elected governor. Her net personal favorability ratings fell 10 percentage points in the same poll between May and July. An NBC/Marist poll that put Hassan's approval rating at 70 approval in February had her down to 57 percent in July.
Many governors would still kill for ratings like that — but it's not a trend that Democrats want to see.
"Before Brown ever got in, Democrats were already pushing this notion that he was a carpetbagger and that he was in it for himself, and he was never able to overcome it," said Patrick Hynes, a New Hampshire GOP strategist who ran a pro-Brown super PAC in 2014. "It can have a tremendous impact when you define these things and frame these things very early when someone else's hands are tied."
New Hampshire strategist Ryan Williams, who worked on Brown's race, said the early attacks "were effective in disrupting his launch," and also in laying the groundwork for a theme that Democrats would continue throughout the campaign.
Democrats contend this: Republicans aren't capable of simply redefining Hassan, whose approval ratings are still plenty robust for a swing-state governor. Hassan has already won two competitive gubernatorial races, they say, and she has enjoyed good media coverage that has solidified New Hampshire voters' impressions of her.
But so far, there have been few big moves to defend Hassan. Senate Majority PAC, the main outside group supporting Democratic Senate candidates, purchased digital ads attacking Ayotte at the end of June, but the group has not said whether it would spend to buck up Hassan as Republicans try to tear her down.
Meanwhile, Ayotte has no shortage of allies gearing up on her behalf. The Chamber of Commerce went on the air with positive ads on her behalf last week. An Ayotte-specific super PAC, called Granite State Solutions, just received a $500,000 check from Jay Faison, a Republican environmentalist.
Meanwhile, one of Brown's biggest supporters in 2014 — the super PAC Ending Spending Action Fund — is already laying grassroots groundwork for Ayotte, 17 months before the election. The Joe Ricketts-backed group shelled out more than $4.5 million on behalf of New Hampshire Republicans in the last election; this time, it has set up a state-specific group, Commitments Kept New Hampshire, named after the theme it wants to set for Ayotte's reelection.
Longtime New Hampshire strategist Dave Carney, the project's chief consultant, said the GOP group already has a staff of 12 and hopes to hire as many as 30 people. They're focused on door-knocking efforts, he told National Journal in an interview. He said the goal is to reach 500 or 600 households a day, with a focus on talking to independent voters about Ayotte and her record.
"Last time, Scott Brown was late getting in and the race wasn't really formed until late. We did some grassroots, but this time we have the time to take a systematic approach," said Carney, who also ran Ending Spending's 2014 efforts. This time, he said, if Democrats don't have a candidate until the fall, they'll be the ones to have "given away the whole year."
The groups working against Hassan aren't coordinating directly, leaders said in interviews. But they said so far they all seem to be on the same page.
"I think thus far in New Hampshire, the messages have been very consistent, and that'd obviously extremely important," said Ian Prior, a spokesman for Crossroads GPS.
"All our allies working, it's not like we sit around saying ok I'll go on TV this week you go on TV next week, it's not that kind of coordination, but it's very simple," said Carney. "You can have broad-based messages that affect the population we're targeting."