Nancy Pelosi: The House Has the Votes to Back the U.S. Nuclear Deal With Iran
"More and more" Democratic members have told the minority leader that they will support the Obama administration's agreement.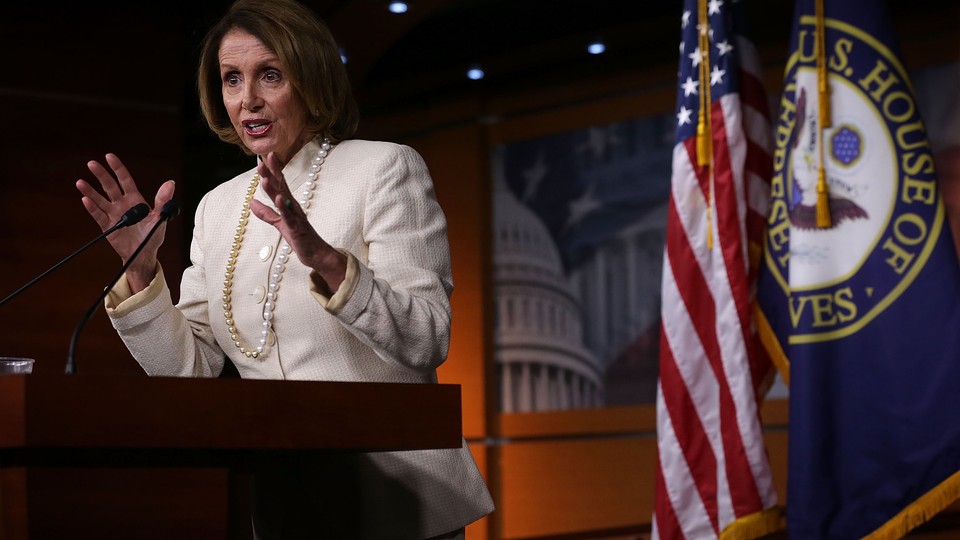 Earlier this month, Nancy Pelosi came out in full support of the U.S. nuclear deal with Iran, as she and fellow House Democrats were in the midst of what she called the "educational phase" of reviewing the agreement.
Now, two weeks later, she says she's "confident" that the House would be able to uphold the president's veto of a potential Republican-backed bill to kill the deal.
"More and more of them have confirmed to me that they will be there to sustain the veto," Pelosi said at her weekly press conference, referring to members of the Democratic caucus. "They've done this not blindly but thoroughly," as they examined the agreement over recent weeks.
Obama administration Cabinet members have been lobbying Congress in the days since the deal was announced, attending hearings on the Hill and privately discussing its provisions with representatives.
But at the same time, Republicans in Congress and pro-Israel organizations have embarked on a campaign against the deal, with the American Israel Public Affairs Committee vowing to spend up to $40 million, a figure Pelosi cited at the press conference. Pelosi didn't single out any particular group by name, but characterized anti-deal efforts as "going door-to-door to poison the well."
Calling the negotiations a "diplomatic masterpiece," Pelosi said the deal review is "probably one of the most important endeavours that members may be engaged in."
And she had words of caution for members of Congress as they continue to weigh their options: A vote for or against the Iran deal belongs to the member alone.
It's not their constituents' vote or their fellow lawmakers' vote, she said: "It's your vote that you're going to be accountable for."
And if a member believes the United States must stop Iran, "then you should vote for this or have an alternate plan, but we haven't seen what that is," she said.