Months After Deadly Amtrak Crash, Safety Upgrades Stalled on the Hill
Northeastern senators frustrated they haven't been able to secure money for improvements.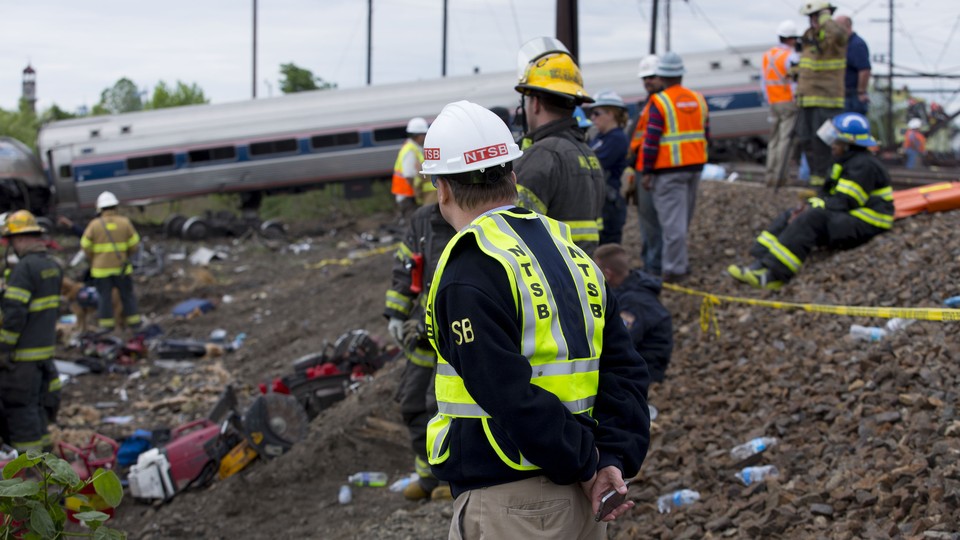 Two months after a deadly Amtrak crash outside of Philadelphia thrust the issue back into the spotlight, frustrated legislators in the Northeast are seemingly no closer to getting the rail-safety upgrades they want.
The transportation measure sitting on the floor of the Senate would seem the best vehicle for them, even as it faces an uncertain future given the plan for both chambers to move a three-month highway-bill extension and revisit the issue in the fall — meaning more delays for what supporters say is an essential pot of money for rail safety.
Northeastern Democrats were disappointed by a lack of funding for safety upgrades in the bill that appeared on the Senate floor and have threatened their support for the final product unless more substantial changes are made. Even a late addition of more funding for a safety system known as Positive Train Control doesn't seem to have met their demands.
At issue is roughly $570 million a year in grants to bring the Northeast Corridor up to a state of good repair and bring PTC online. The grants were authorized on the initial draft of the Senate's long-term bill, but without dedicated funding. Passenger-rail groups have said that they'll have to spend as much as $3.5 billion to get PTC going.
In light of potential delays from commuter groups, there's also language that would delay the installation deadline for three years, leaving open-ended its implementation date.
Experts have said that PTC — which tracks trains' speeds and automatically slows them in spots like curves or construction zones — would have helped avert the May crash in Philadelphia that killed eight people.
Democrats all opposed the safety title of the bill when it went through the Senate Commerce Committee earlier this month and were frustrated to see it remain unchanged when Sen. Barbara Boxer negotiated a compromise on the full bill with Majority Leader Mitch McConnell and Sen. James Inhofe.
Some revisions crafted by Commerce Committee Chairman John Thune late Monday added $199 million to the bill, while also addressing some Democratic concerns about auto safety and freight policy. The PTC money, a Commerce aide said, would be available as direct grants and for loans or loan guarantees. If used as loans, the aide said, the funds could potentially create as much as $2 billion in financing for installation of PTC on commuter railroads.
But rail boosters still said they're waiting to see more. Twenty-one Democrats voted against a procedural motion on the bill Monday night.
"The changes so far have failed to address the concerns I have about robust, ample funding for commuter rail and PTC," said Democratic Sen. Richard Blumenthal of Connecticut.
Sen. Ben Cardin of Maryland told National Journal on Sunday that he'd vote against the bill if it remained unchanged, and Tuesday said he still wasn't sure enough had been done. Likewise, a spokesman for Delaware's Thomas Carper said he was also prepared to go against it without any changes.
Thune, for his part, said Republicans had "made a lot of progress, I think, in trying to fashion a bill that addresses a lot of the concerns particularly those in the Northeast corridor have on some of the rail issues and on some of the highway issues, too.
"I mean, we made a lot of adjustments and changes, accommodations at their request. And so it was, again, a bit of a mystery to me why we didn't have more Democrats on the floor vote for it," Thune added.
Democratic Sen. Cory Booker — who wrote a four-year passenger-rail bill with Mississippi Republican Roger Wicker that included grants for safety upgrades — said Monday that he was "frustrated" his language was included on the full bill without a funding stream.
"I am going to go back down there and fight to get rail funding, especially for rail safety. I don't want to be after the fact again — talking about the lack of positive train control and the other things we know can prevent accidents," Booker said in his home state of New Jersey.
Should the rail provisions not make it onto the highway bill, sponsors are still exploring other options, although not many are immediately apparent. They'll push for more funding for safety upgrades on appropriations bills, but the future of those individual bills is also unclear, as Democrats have vowed to block spending bills that stick to sequester levels. A stand-alone bill could also be difficult, since members prefer to move it on the transportation package to pull funding from the Highway Trust Fund.
Northeast legislators have long complained about underinvestment for the rail lines that run through their states, the most heavily-used corridor in the country. Roughly 750,000 riders take Amtrak and passenger-rail trains on the corridor each day on infrastructure that's decades old. A string of problems on New Jersey Transit last week that led to delays four out of five days underscored the problem.
The Booker-Wicker bill would authorize Amtrak at $1.65 billion a year over four years, with language deploying safety measures and adding $570 million a year in grant funding for capital assistance, service enhancements, and bringing infrastructure into a state of good repair.
The grants would also be used to activate PTC. Railroads face a December deadline to install the system, but a line in the highway bill would delay the installation until 2018, with no date for implementation.
Amtrak has said it's on pace to meet the December deadline, but many smaller railroads have not yet installed the equipment necessary for PTC and say they're facing fines and heavy costs to bring the system online.
---
Alex Rogers contributed to this article