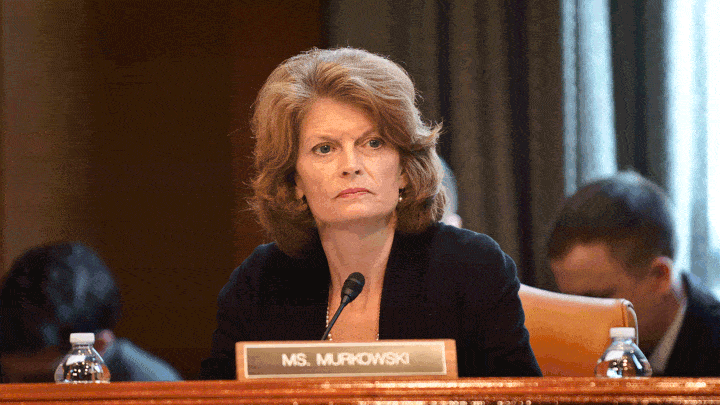 The Hill's push to open up U.S. oil exports cleared another hurdle Thursday as a Senate committee advanced a bill that would repeal a ban on crude-oil exports.
In a party-line vote, the Senate Energy and Natural Resources Committee passed a bill from Chairwoman Lisa Murkowski that would allow for the export of all crude oil and condensate produced in the U.S. The bill would also provide for revenue sharing for offshore drilling in her home state of Alaska, off the Atlantic Coast, and in the Gulf of Mexico.
The vote comes just a day after House Speaker John Boehner said he supported lifting the export ban, the first time he'd weighed in on the topic, signaling more momentum for a House push to lift the ban.
Murkowski and other Republicans have said that lifting the ban is a necessity, given America's booming oil output. The ban was put in place in the aftermath of the 1970s Arab oil embargo, which drove up gas prices, but industry groups say it's now out of date as a result of the fracking boom.
The nuclear deal with Iran has also lent momentum to the exports discussion, since it would lift economic and export sanctions on Iran and could lead to more Iranian crude flooding the market. Industry groups and supporters say that the U.S. should likewise be able to compete, rather than being left out of the global market.
It is possible that Murkowski's exports bill could come up on a Senate resolution related to the Iran deal.
Not all refiners support lifting the ban, and many say they're concerned that such action would cause gas prices to go up, although recent studies have shown that gas prices would likely drop if more American oil went to market. Environmentalists have staunchly opposed lifting the ban, saying it would offer a boost only to the oil and gas industry.
Sens. Martin Heinrich, a New Mexico Democrat, and Angus King, a Maine independent, opposed the exports bill, but said they could be open to supporting it in the future if it did more to offer incentives for renewables. King jokingly called it the "No Fossil Fuel Left Behind Act" and said the committee should do more to balance the measure in order to gain Democratic support.
The measure may also hitch a ride on a comprehensive energy bill that passed out of the committee Thursday after a three-day markup. The Energy Policy Modernization Act from Murkowski and ranking member Maria Cantwell contains titles on efficiency, cybersecurity, energy security, and infrastructure, including a streamlined permitting process for natural-gas exports. The bill also permanently reauthorizes the Land and Water Conservation Fund, a Democratic priority.
The bill passed in an 18-4 vote, with Democrats Bernie Sanders and Debbie Stabenow and Republicans Mike Lee and Jeff Flake voting against it.
Murkowski and Cantwell said they skirted away from hot-button issues like oil exports in a bid to get bipartisan support from the committee, but Murkowski has signaled that more fights could come up on the floor. Supporters have said that the energy bill would offer an opening for the exports debate.
In a sign of possible struggles to come, Sanders voted against the bill after the 2016 presidential contender was unsuccessful in trying to attach a sense-of-the-Senate resolution to the bill saying climate change was real. His effort was rebuffed because of concerns it would make the full bill too controversial for Republican members. Several environmental groups have also said that the bill contains too much language that will promote liquefied natural gas while cutting back measures to promote energy efficiency, and they have not lent their support to the language as written.
The committee Thursday also voted through another bipartisan energy-efficiency package from Sens. Rob Portman and Jeanne Shaheen, a popular bill that has proven snakebitten in the past. Many components from the Portman-Shaheen efficiency bill are included in the comprehensive energy bill.
We want to hear what you think about this article. Submit a letter to the editor or write to letters@theatlantic.com.
Jason Plautz
is a Colorado-based reporter covering energy and environment policy.