Missouri's 'Wild West' Campaign-Finance Rules Are Making Candidates Look Terrible
In the governor's race, it's Missouri Money, Mo. problems.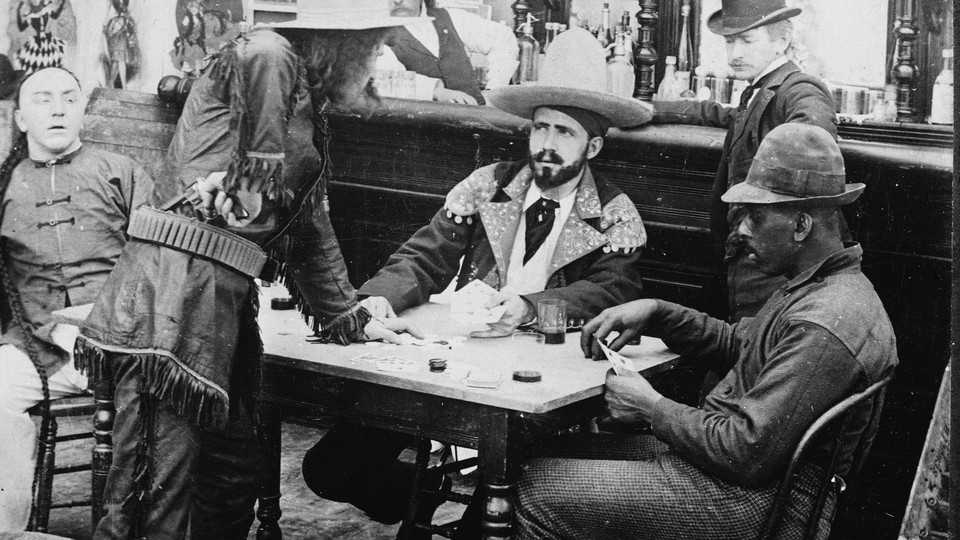 When it comes to campaign finance in Missouri, there's not a lot you can't do. Are you a donor looking to make an unlimited contribution to a campaign? Go for it. Are you a lobbyist looking to give a massive gift to a lawmaker? Feel free. Or a state lawmaker looking to leave and hop directly into a lobbying job? Congratulations. You're hired.
Indeed, a handful of states have no limits on who can donate to candidates or how much, but Missouri is the only state with the combination of no limits on campaign donations or lobbyist gifts, and no laws on the books to prevent elected officials from immediately becoming lobbyists after leaving office.
For candidates looking to raise money, the laissez-faire approach is a boon. But when it comes time to explain to voters where that cash came from and what it was for, candidates are often left without good answers. That has been particularly true of the start of the state's 2016 governor's race, in which candidates have amassed solid campaign accounts but are having a hard time escaping accusations of hypocrisy and double standards.
Money and ethics-focused attacks in the 2016 race for governor have so far centered around Republican Catherine Hanaway, a former state House Speaker, and the lone Democrat in the race, state Attorney General Chris Koster. Hanaway has come under fire for taking $900,000 in campaign contributions from the state's wealthiest political benefactor, Rex Sinquefield, who's given tens of millions to Missouri candidates in recent years, including Koster. Koster became the subject of a separate set of attacks last fall when he was the focus of a New York Times story taking aim at attorneys general who appeared to give special treatment and take campaign cash from groups that had business before their offices.
The Times story laid out instances when Koster's cozy relationship with the law firm Dickstein Shapiro appeared to lead to more favorable outcomes for its clients — including AT&T, 5-Hour Energy, and Pfizer — when those companies were under investigation by Koster's office.
In reaction to the Times revelation, Koster blamed "mistakes made by staff for moves that ended up benefiting Dickstein's clients," but nonetheless responded by placing self-imposed limits on his future campaign fundraising, including a ban on lobbyist contributions or gifts of any size, and on donations from groups with business in front of the attorney general's office.
Campaign spokesman Andrew Whalen emphasized that Koster even "testified before the legislature calling on them to put many of these changes into place statutorily for the state, and the legislature failed to act." Missouri Democratic Party spokesman David Turner equated Republicans attacking Koster over the Times article to "throwing stones at a glass house" and said "that's going to cause problems for them in the end."
But despite the protestations from Koster's camp, most expect the story to be the subject of attack ads at some point. Indeed, Republicans set up a state spinoff of a national opposition-research shop this month, and the group's website is dedicated almost entirely to attacking Koster on ethics. The group is trying to tie Koster to Hillary Clinton by comparing his scandal to the perceived conflicts of interest with money raised by Clinton family's foundation.
Republicans, however, have their own struggles with the perception of corruption.
Hanaway is aware of the optical issue of targeting Koster at the same time that her camp faces its own questions about ethics and campaign contributions. In an interview with National Journal, Hanaway said she is independent of Sinquefield, and that she "absolutely" intends to release an ethics plan — one which could include measures similar to provisions in a bill that failed in the legislature this year. Those items included a lobbyist gift limit and a mandatory "cooling off" period before former lawmakers can become lobbyists. Without delving into specifics, Hanaway said, "I support both those principles, and had a gift limit or a cooling-off period made it to my desk, I would have signed that."
The general feeling of seediness surrounding the campaign was fed by a dramatic, and tragic, series of events this winter. In January, state Auditor Tom Schweich launched a campaign for governor and took direct aim at Sinquefield's influence. But in February, Schweich took his own life, after expressing frustration that he was the victim of a whisper campaign. Following the death, some pointed to an anti-Schweich radio ad from a group that had ties to Hanaway, and while she was not responsible for the ad, it has placed her again in an uncomfortable position.
Neither Hanaway nor Koster has been formally accused of wrongdoing, but other candidates have been happy to capitalize off the perception that they have ethics issues. Other GOP candidates — including Lt. Gov. Peter Kinder, state Sen. Mike Parson, and former Navy SEAL Eric Greitens — are campaigning on the need to change the culture of state government.
But there again it's difficult for any candidate to claim a high ground. The bulk of the money Greitens has collected, for example, comes from $100,000 checks from donors out of state, and second-quarter fundraising reports filed in mid-July show most candidates are similarly reliant on larger checks.