Mega-Donor Keeps Super PAC Supporting Mike Huckabee Afloat
One donor gave $3 million to a committee backing the Republican presidential candidate.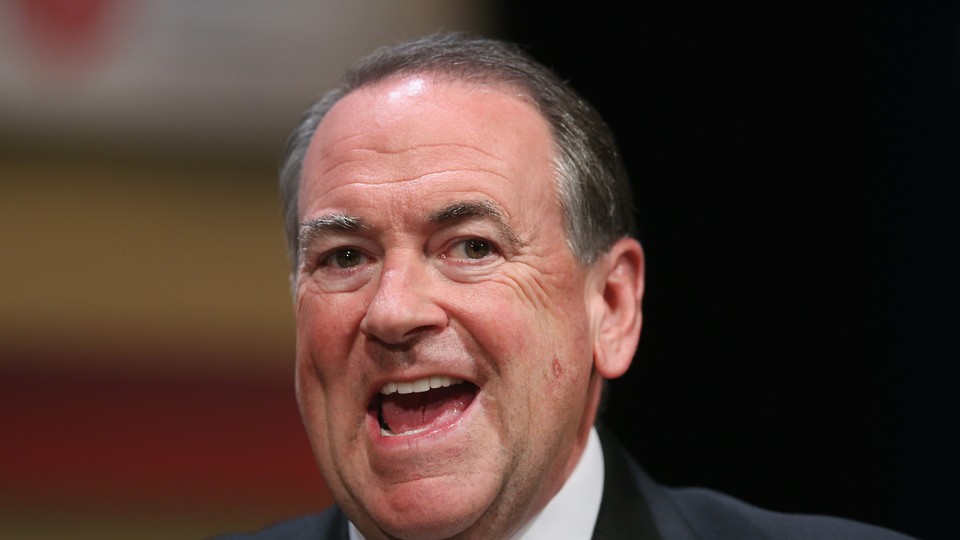 Mike Huckabee may have found his sugar daddy.
Pursuing America's Greatness, the super PAC backing the former Arkansas governor, released its midyear fundraising numbers Friday — and the group has one major donor keeping it afloat. Ron Cameron, a Little Rock "poultry tycoon," donated $3 million of the $3.6 million the group raised from the start of this year until the end of June.
Huckabee's last presidential campaign floundered in 2008, in part because of his mediocre fundraising efforts. He pledged that his 2016 run would be backed by the small contributions of everyday Americans, "not by the billionaires." But at least where his super PAC is concerned, those small-dollar donors are nowhere to be found. The group's non-interest haul came from only six donors; three, including Cameron, made at least six-figure pledges.
But Cameron's support could help keep Huckabee competitive. According to the Arkansas Times, the businessman gave $4.2 million to help GOP campaign efforts in 2014, making him the No. 13 political donor for the cycle.
Cameron also has ties to the Koch brothers, and has been a major contributor to Sen. Tom Cotton of Arkansas and the Club for Growth in past cycles. Notably, Club for Growth has run ads attacking Huckabee's conservative credentials.
Correction: An earlier version of this story misstated the year of Huckabee's last presidential run. He last ran during the 2008 campaign.