McConnell Looks to Take on Cybersecurity Bill Next Week
If it comes up, senators will have little time to debate the measure, with recess around the corner.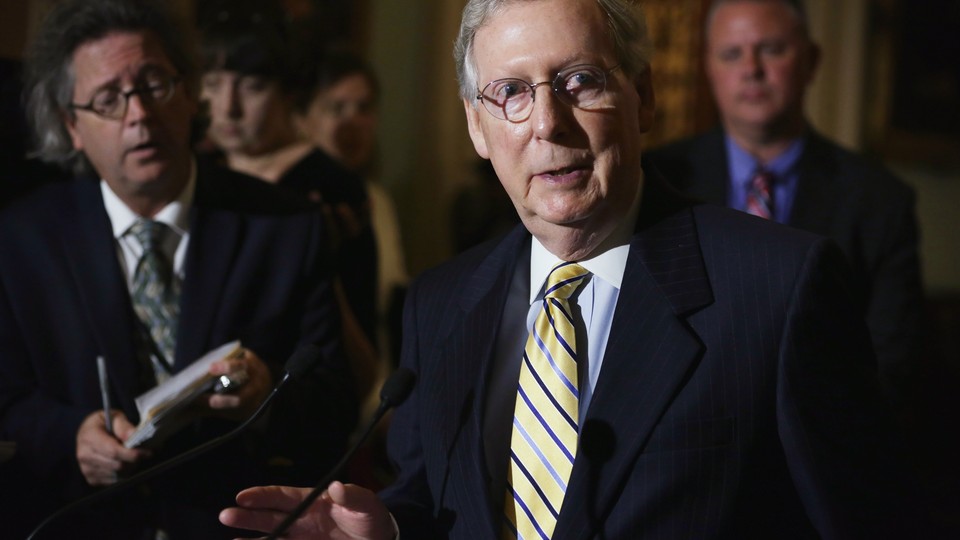 After wrapping up a protracted battle over a highway-funding measure, the Senate is expected to turn its attention next week to a controversial cyberinformation-sharing law before heading home for recess.
Senate Majority Leader Mitch McConnell said Thursday that he will take up the cybersecurity legislation if the Senate fails to proceed on a measure to defund Planned Parenthood. Moving the Planned Parenthood measure forward requires 60 votes, likely an insurmountable hurdle with most Democrats expected to vote against it.
"Well, we hope to get on the Planned Parenthood bill on Monday," McConnell said. "If we don't, then we'll turn to cybersecurity."
The Cybersecurity Information Sharing Act, or CISA, would make it easier for companies to share information about cyberthreats with the government. Privacy advocates, security experts, and lawmakers have criticized it for its treatment of personal information and for the many ways that government would be allowed to use the shared information.
A coalition of advocacy groups is organizing a coordinated campaign to stop the bill's passage, allowing users to send faxes protesting the law to elected officials. According to the campaign, more than 6 million faxes have been queued, and are still being sent.
Sen. Ron Wyden, a Democrat from Oregon, has been one of the most outspoken opponents of the cybersecurity proposal, and has been supporting the activists' Twitter push with the hashtag #StopCISA. In a post on Medium published Thursday, Wyden wrote, "CISA will do little to protect you from hackers, and it may even make things worse."
Sen. Patrick Leahy criticized McConnell's timing. "If the Majority Leader is serious about improving our nation's cybersecurity, he will listen to Senator [Dianne] Feinstein and others who have called for a meaningful amendment process," Leahy said Thursday in a statement, referring to the ranking member of the Senate Intelligence Committee and a CISA cosponsor.
"If he wants yet another political stunt, he will try to jam this bill through the Senate just days before the August recess," Leahy continued. "That is not the responsible way to legislate about our nation's cybersecurity."
---
Sarah Mimms contributed to this article