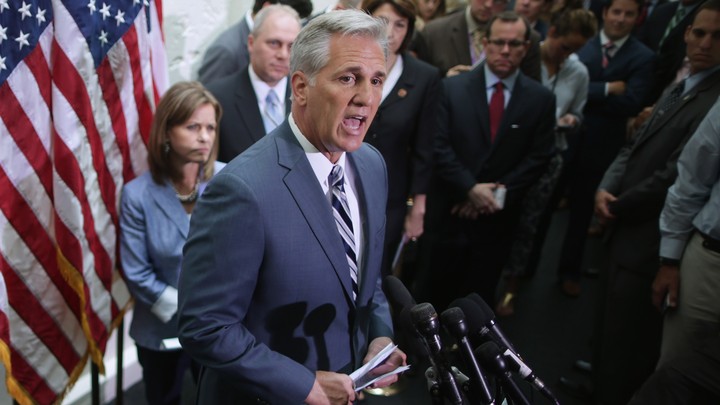 House Majority Leader Kevin McCarthy drew a line in the sand Monday, telling reporters that the House will not take up a Senate-passed highway bill, no matter the outcome of the upper chamber's deliberations.
The House is scheduled to recess on Thursday, and with the Senate advancing its highway bill at a glacial pace, it remains unclear if Senate Majority Leader Mitch McConnell will be able to pass his long-term Highway Trust Fund extension by then. McCarthy said the Senate instead should pass a short-term bill the House OK'ed weeks ago.
"We're not taking up the Senate bill," McCarthy said.
"We are set to depart on Thursday," he added. "We did this three weeks ahead of time, we've been very clear. "¦ How do you bring up a more than 1,000-page bill that deals with it and send it to the House on the day of departure?"
He said McConnell should bring up the House's bill that extends highway funding for five months, which would then give the chambers time to pass a longer-term bill or go to conference to resolve their disagreements.
The Senate is likely to add an amendment to its bill reviving the Export-Import Bank, a government lending institution that many House Republicans, including McCarthy, believe should be done away with. The bank's charter lapsed earlier this year, and House leaders have said they have no plans to bring it up.
Whereas House Republican leaders have said they want to use some tax changes to pay for a longer-term highway bill, McConnell has been cool to the idea. But Republican leaders complain that McConnell's bill does not fully offset the spending it would authorize.
We want to hear what you think about this article. Submit a letter to the editor or write to letters@theatlantic.com.
Daniel Newhauser is a staff correspondent for National Journal, where he primarily covers the House of Representatives. He was formerly a House leadership reporter for Roll Call, where he started as an intern in 2010 and quickly earned a slot as a beat reporter.
A native of San Antonio, Texas, Newhauser traveled further West to study journalism at Arizona State University's Walter Cronkite School of Journalism and Mass Communication and write for newspapers including the East Valley Tribune and the Green Valley News & Sun.