Martin O'Malley Is Doing Everything He Can to Go Tough on Wall Street. But Are Progressives Listening?
The Left loves Bernie Sanders' anti-bank rhetoric and doesn't trust Hillary Clinton's ties to Wall Street. Can O'Malley carve out a niche for himself?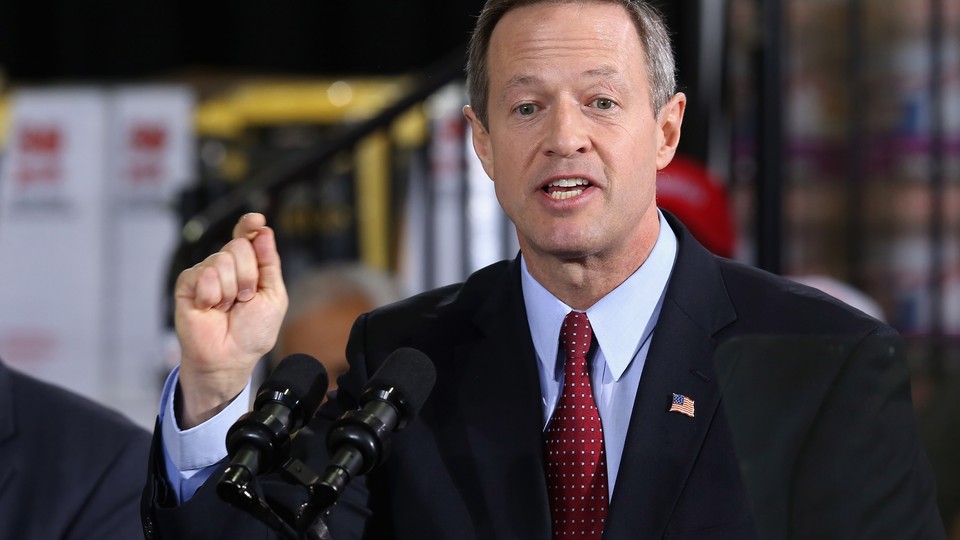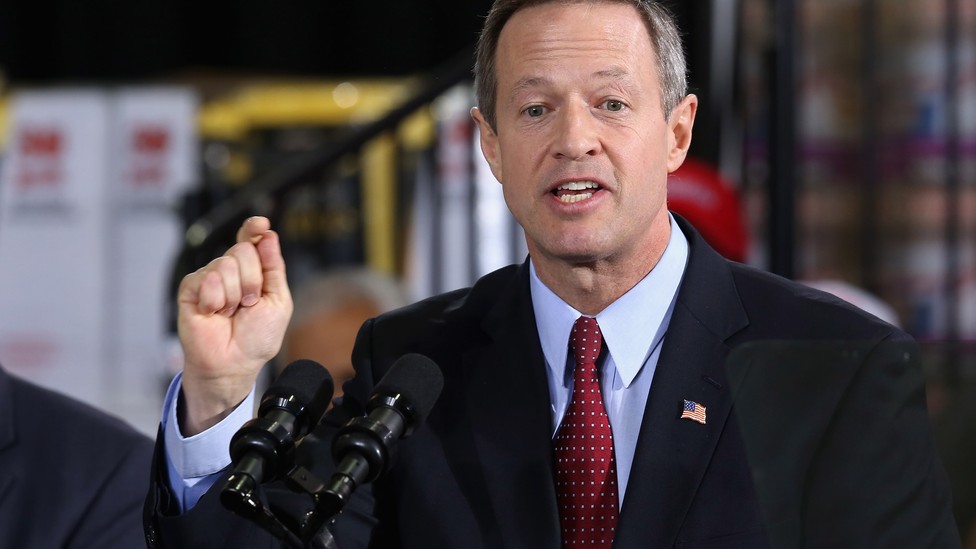 In his speech announcing his run for president, Martin O'Malley tried to paint Hillary Clinton as a friend of Wall Street, noting that the CEO of Goldman Sachs had said he would be fine with either Clinton or Jeb Bush as president.
Taking on Wall Street has been a consistent campaign theme in the former Maryland governor's rhetoric. Earlier this month, O'Malley released a detailed white paper that explained how he would go beyond Dodd-Frank Wall Street reform, which should appeal to progressives dissatisfied with Clinton's ties to the industry and who wanted Sen. Elizabeth Warren, famous for her critiques of big banks, to jump into the race.
On Thursday, O'Malley reaffirmed his commitment to challenging the financial industry, and his policies read like a wish list of progressive proposals, including bringing back Glass-Steagall, the regulation repealed by the Clinton administration that separated commercial and investment banking.
"Any Democratic candidate who expects to succeed in the general election" should "make some basic commitments that make real that promise of following through on that promise of Wall Street reform," O'Malley said at an event at the Center for National Policy.
O'Malley, however, is not the face of financial reform on the Democratic side as he wants to be. That's Sen. Bernie Sanders, who is leading O'Malley in the polls, and who voted against the initial repeal of Glass-Steagall in 1999. Last month, supporters of Ready for Warren, a group set on convincing Warren to run in 2016, threw their support to Sanders by establishing a new volunteer group called Ready to Fight. As a former governor, O'Malley has considerably less name recognition than the Vermont senator and his other competitor, Hillary Clinton, who needs no identifier after spending much of her adult life in the public eye. And while O'Malley was fairly progressive on issues like same-sex marriage and abolishing the death penalty as governor, cracking down on big banks 200 miles away wasn't part of his job description.
O'Malley on Thursday pointed to his experience as Baltimore mayor and Maryland governor to set himself apart from Sanders.
"Fifteen years of executive experience, making appointments in this case — that's what differentiates me," O'Malley said in response to a question from National Journal.
He also mentioned his experience helping Maryland deal with the national foreclosure crisis that hurt families during the recession.
"In two successive legislative sessions, I put forward legislation to slow down the house-grinding mechanisms that were taking homes from people all over Maryland," he said.
O'Malley has received some positive feedback from the Left on his Wall Street reform proposals.
"Martin O'Malley was the first candidate to make criminal prosecution of Wall Street bankers a 2016 issue — and it's been great to see a race to the top with Clinton and Sanders making bold statements in favor of accountability for bankers who break the law," said Adam Green, cofounder of the Progressive Change Campaign Committee, in a statement on Wednesday.
O'Malley seems committed to position himself as someone progressives can trust to challenge powerful interests. But without Warren's gravitas, Sanders's track record, and Clinton's eclipsing name recognition, there might not be room for him in the conversation.