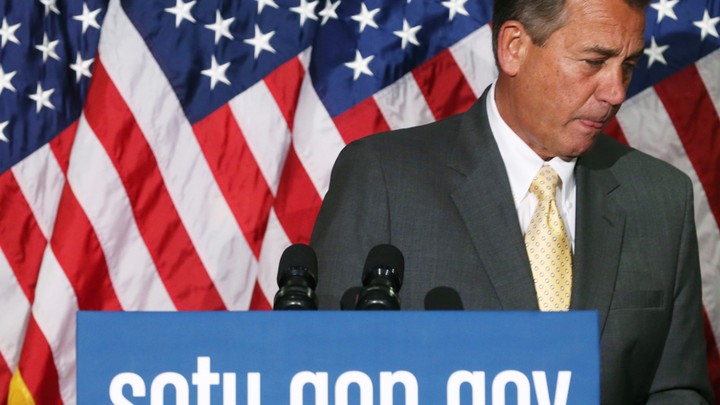 Rep. Mark Meadows will be spending his August recess collecting signatures to oust Speaker John Boehner.
After his motion to remove Boehner from Congress's highest office was shot down on the House floor Tuesday and sent to the Rules Committee to languish, Meadows's office said he would try a new route. The North Carolina Republican will attempt to circumvent the committee process with a discharge petition that, if signed by a majority of House members, will force a vote to vacate Boehner from the speakership.
"The next step will likely be to file for a discharge petition. This wasn't something that Mr. Meadows took lightly; he wanted to allow time and consideration for other members," Meadows spokeswoman Alyssa Farah said.
It is an unlikely scenario that has worked rarely in modern Congresses, and for this particular issue, Meadows would need to band with Democrats and enough conservatives to reach the threshold. Regardless, his unexpected move on the House floor highlights the continued unrest between Boehner and far-right conservatives in his conference.
The resolution to "vacate the chair," as it is known, would have forced a vote to strip Boehner of the gavel, which would then have set up a vote to install a new speaker — or reelect Boehner. But GOP leadership aides said it was filed as a nonprivileged resolution, which means that rather than triggering an immediate vote on the House floor, it was referred to the Rules Committee, which is packed with Boehner allies.
Members on the House floor clearly were taken aback by the holdup in the day's proceedings as aides scrambled to sort out the next steps. House Rules panel Chairman Pete Sessions told reporters Tuesday afternoon that he would look at the resolution before determining the next course of action, but that he had not even seen it.
"I have to ponder what I'm going to do," Sessions said. "Nobody came to talk to me, nobody asked my opinion, nobody asked me anything about it. I'm going to take a look at it, see what it stands for."
Meadows's resolution says Boehner has "endeavored to consolidate power and centralize decision-making, bypassing the majority" and has "caused the power of Congress to atrophy," among other charges. It also says the House "requires the service of a Speaker who will endeavor to follow an orderly and inclusive process without imposing his or her will upon any Member thereof."
A cadre of conservatives has long complained about the way Boehner and his fellow leaders have run the conference, and Meadows has a particular grievance: The leadership pushed for Meadows to lose an Oversight and Government Reform subcommittee gavel after he voted against an important rule for debate on the floor.
In January, at the start of the 114th Congress, 25 Republican members declined to support Boehner for Speaker, the most to oppose a sitting Speaker since 1923 and more than twice as many as opposed Boehner at the start of the previous Congress.
Rep. Walter Jones, one of those members, said he would have voted for the motion had it been given a vote.
"The people in my district are incensed," Jones said. "The leadership is not listening to the American people. They haven't listened to the American people."
Still, even Meadows's allies on the House Freedom Caucus did not appear to know about this move before he did it. Meadows filed the motion without any cosponsors.
FreedomWorks, an outside conservative group, said it backed Meadows's effort. "His courage and willingness to risk everything from committee placements to fundraising in order to do what's right is an inspiration to us all. We will be there, alongside our millions of activists across the country, to support this effort," the group said in a statement.
This article has been updated.
We want to hear what you think about this article. Submit a letter to the editor or write to letters@theatlantic.com.
Daniel Newhauser is a staff correspondent for National Journal, where he primarily covers the House of Representatives. He was formerly a House leadership reporter for Roll Call, where he started as an intern in 2010 and quickly earned a slot as a beat reporter.
A native of San Antonio, Texas, Newhauser traveled further West to study journalism at Arizona State University's Walter Cronkite School of Journalism and Mass Communication and write for newspapers including the East Valley Tribune and the Green Valley News & Sun.