Many Children Left Behind
With each passing year, more schools failed to meet the standards laid out by No Child Left Behind.
Fourteen years after its passage, and eight years after its technical expiration, No Child Left Behind may finally be up for a makeover.
Since its inception, the Bush-era education law has come under fire for a litany of criticisms: ever-increasing achievement targets, a reliance on standardized testing, and federal mandates that overrode state priorities.
And more than a decade later, it failed to achieve its main goal: making every U.S. student proficient in reading and math by 2014.
It was supposed to be simple: States would set academic guidelines and then administer annual tests to measure whether students were actually meeting those standards. The law prescribed consequences for schools consistently testing below the state-mandated levels.
In No Child Left Behind's early years, schools widely succeeded in meeting goals. But continuing to make additional gains year after year proved more difficult. By 2011, only 52 percent of schools made "adequate yearly progress" (AYP), compared with 74 percent in 2005. Florida, New Mexico, Vermont, and New Hampshire suffered the most severe plummets, each seeing an approximate 70 percent decline in schools making AYP between 2005 and 2011.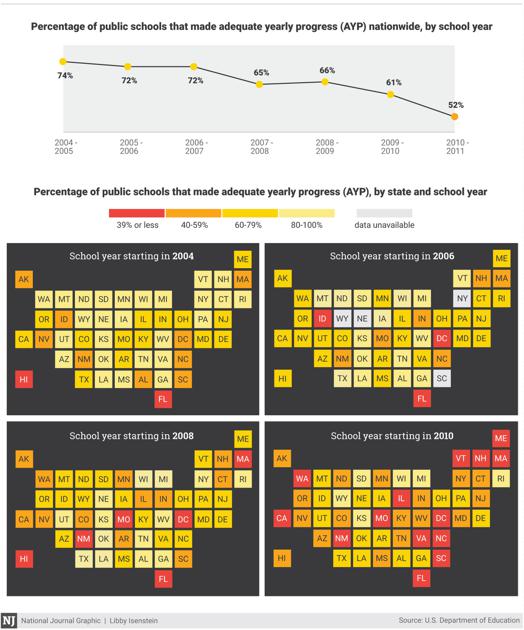 It should be noted that because each state determined its own testing targets, the percentage of "failing" schools varied greatly from one state to the next.
The Senate voted Thursday to pass a bipartisan bill that would grant states more leeway in choosing how to evaluate student achievement and determining the best course of action for schools not meeting criteria. The measure comes after a more conservative education reform bill that passed by a narrow margin in the House in early July.