The California Democrat Setting the National Agenda
From sick days to diapers, Lorena Gonzalez is shifting her party's focus toward the practical concerns of working Americans.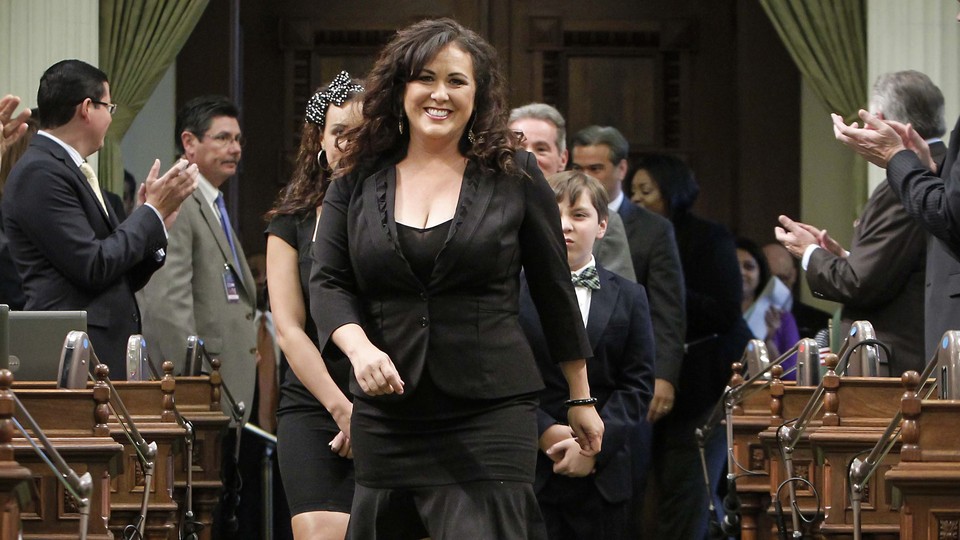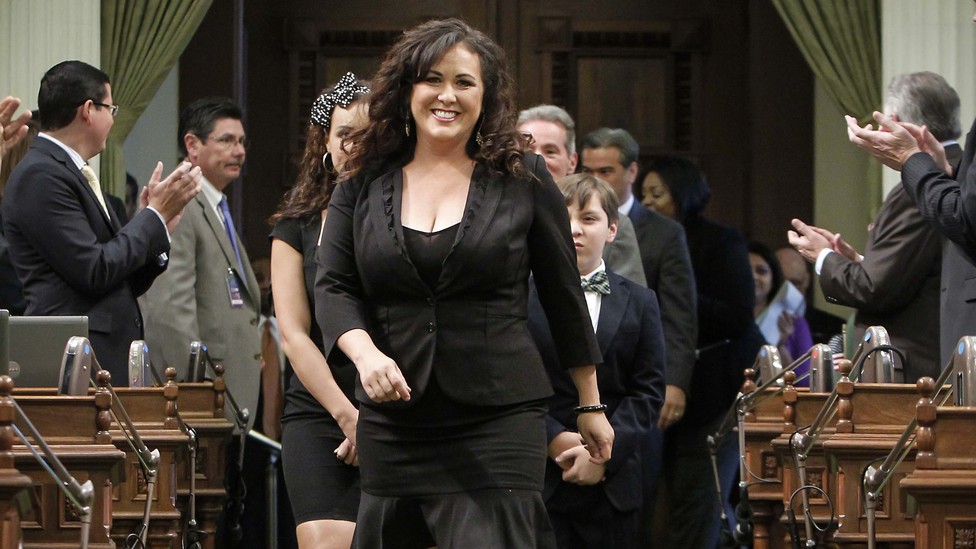 After President Barack Obama called for paid sick leave in his most recent State of the Union address, most progressives praised his leadership. Lorena Gonzalez thanked him for finally following her lead.
When Gonzalez, a California state assemblywoman, wrote a law making California the first state to guarantee paid sick days for all private-sector workers, it was a bold and controversial move. It passed last September. Fast-forward six months and paid sick leave has gone from "pet Democratic cause" to legislative reality in several states. Gonzalez, who's been in office just two years, has campaigned for paid sick-leave measures in other states and consulted with lawmakers around the country on how to replicate her work. Obama's call for action remains unfulfilled; Gonzalez's law took effect last Wednesday.
In addition to paid sick leave, Gonzalez has had a hand in many of the high-profile laws to come out of the state in the last two years. Among the bills Gonzalez has written or co-written are measures that would massively expand voter rolls by automatically registering all eligible Californians with driver's licenses to vote; offer workplace protections to NFL cheerleaders and grocery store workers; require most public schoolchildren to be vaccinated; and eliminate taxes on diapers. The breadth and scope of her legislative efforts have helped catapult her ahead of California's two powerful U.S. senators, its up-and-coming attorney general, and its first gay woman to serve as speaker of the Assembly to become arguably the state's most influential female politician.
"Some people get to Sacramento and have to figure out where the bathrooms are. She knows where the bathrooms are. She didn't waste a lot of time," said Joel Anderson, another member of the San Diego delegation in the state senate. Anderson is as conservative as Gonzalez is progressive, but he's become an unlikely ally.
"Some of my legislation, I get ribbed a little that it's not serious. Which is funny to me, because, like, have you ever went and talked to somebody about what matters in their life?" Gonzalez, who spent most of her career as an organizer and labor leader, told me. "They'll say with the diapers tax, 'Oh that's only $100 a year.' Well that may not mean a lot to you, but that means a lot to my neighbors. How do we get past this idea that big policy only has to do with infrastructure or water or rainy day funds?"
Many of Gonzalez's bills die before making it to the governor's desk, including one that would have doubled pay for employees forced to work certain holidays and an earlier version of the diaper bill that would have made them a welfare benefit. But even her failed efforts still get outsize attention. One reason why: She pays as much attention to the media as it tends to pay her. She decided to focus on diaper affordability after reading a Huffington Post article on families who struggle to afford them. As the debate over Confederate flags heated up in the aftermath of the Charleston church shooting, Gonzalez found a way to inject San Diego (and herself) into the conversation, calling on local leaders to rename Robert E. Lee Elementary School. She wants to turn her attention next to labor protections for California nail-salon workers, an effort inspired by an explosive New York Times story about the exploitation in New York and New Jersey salons.
At this point, you'd be forgiven for wondering the obvious: How hard can it be to pass progressive legislation in progressive California; to support working women in a state that is known for doing just that?
In some cases, it's harder than you might think. "It is a downhill slope for a progressive in the Legislature. That said, it is fairly unusual for a newer member to make so much of an impact so quickly," said Dan Schnur, the director of the Jesse M. Unruh Institute of Politics at the University of Southern California.
Although California as a whole votes reliably Democratic, its state legislature is much more politically diverse, and infighting can hold up legislation. Attempts to reform the state's landmark environmental law and another law that limits welfare benefits have drawn wide bipartisan support, yet keep stalling after years of effort.
Because she represents a solidly Democratic district—she ran unopposed in her first re-election effort in 2014—Gonzalez has had the luxury of being able to pursue her agenda without fear of voter backlash. But her tendency to gravitate toward controversial topics has cost her some opportunities to shore up support from those who'd otherwise be natural allies.
Gonzalez said she almost withdrew from the Women's Legislative Caucus last year when the group declined to support the paid sick-leave legislation, even though groups like The Shriver Report on women and poverty list paid sick days as the single largest reform that could be made to improve working women's lives.
"This year [the Women's Caucus] is doing a little bit better. They're doing the backlog of rape kits, which is really important, but it's not controversial. So everybody of course supported that. I think it's easier to get together and have priorities that are not controversial," said Gonzalez.
Gonzalez finds herself in an unusual political position: She's a progressive who can win over conservatives, but who often has trouble playing nice with other progressives. As a result, she's been snubbed in terms of committee assignments and was yanked from a high-profile committee earlier this year. "People say, 'Oh but we're all Democrats,' and it's like yeah, wait till you talk to some of these Democrats," she explained. "They're my friends, but we're coming from different places in life." On both sides of the aisle, she's earned a reputation for being publicly combative but privately conciliatory.
The state's raucous debate over mandatory vaccination is the latest example of her unique approach. Gonzalez is co-author of a bill signed by Governor Jerry Brown this week that removes the personal belief exemption from California's vaccine laws, which allowed parents to forgo vaccinating their children without a medical reason. Video of Gonzalez aggressively questioning opponents over their claims of how the bill would deal with immigrants—her district borders Mexico—went viral. She also publicly sparred with actor Rob Schneider, a vaccine denialist, on Twitter.
But few people know about another celebrity vaccine encounter that went differently. During the California Democrats Convention in May, Gonzalez slipped out with some staffers to grab lunch. They were sitting at a communal table inside a restaurant when some women squeezed in next to them. One of them was the actress Jenna Elfman. Elfman's group noticed the various stickers and pins Gonzalez and her team were wearing for the convention, including one that said "I (heart) immunity." Elfman, who was there to protest the vaccine measure, asked if she and Gonzalez could talk about the issue. Despite the public rancor surrounding vaccines, their discussion was polite and friendly.
"She was the most reasonable person I've had a discussion with on this," Gonzalez said about her discussion with Elfman. "It was very civil compared to everything else. She was a nice woman, just wrong."
That willingness to engage behind the scenes is also how Gonzalez won over Anderson on two bills that she co-authored. One measure would eliminate taxes on diapers; the other one cracked down on fraudulent legal-services companies that prey on immigrants seeking help in obtaining U.S. citizenship. "We don't agree on how to address the immigration issue, but we agree nobody should be exploited," said Anderson. "She invested time to figure out who I was as a person and then she pitches her ideas in a way I can understand. That's not normal. Most people in the majority usually dictate—'I need you to vote this way.'"
It's a much different portrait than the one of Gonzalez that usually surfaces in the media. That version of Gonzalez was the only San Diego-area lawmaker who spoke out in favor of a bill that would have ended killer whale performances at SeaWorld San Diego. That portrait of Gonzalez seethed at a vaccine opponent who'd asked in a committee hearing how immigrant children could prove they'd been vaccinated. "You know, other countries actually document vaccines. I know it's incredible but Mexico requires it for school as well," she told him. That portrait of Gonzalez throws shade at the Democratic speaker of the state assembly on Twitter.
Gonzalez seemed to revel in the hate mail and nasty phone calls that poured in as a response to her first failed diaper bill. "I had two older brothers, so I always say, 'You can say anything to me because I promise you they've said something worse,'" she explained. "Plus, we were working class, so you constantly have to deal with things like, 'So what, I'm wearing $5 shoes from K-Mart, leave me alone.' You become one of two things: You're either very embarrassed, or you're like, 'No, none of that matters.'"
Gonzalez said that she's mindful of working-class families like hers when she considers which issues to take up. She first got the idea to push for paid sick days when she served as leader of the San Diego and Imperial Counties Labor Council. Gonzalez would attend celebrations for groups that had successfully unionized. When she asked people what made them excited to join a union, she was surprised by the most common answer. "What you heard time and time again wasn't wages, wasn't benefits, it was, 'Oh my gosh, I get sick days. I get days to go pick up my kids when they're sick.'"
At first, Gonzalez brainstormed ways to push universal sick days as a ballot measure, but didn't get very far. "How do you convince workers who already have sick days to put it on the ballot for workers who don't?" she asked. "So we were trying to work with various foundations, and then I get elected, and I'm like, 'Oh, I can write a law.'" Six months after it passed, President Obama pushed for the same policy nationwide. Sometimes, the unconventional approach works.