Latino PACs Eye a Bigger Role in 2016
Emboldened by presidential-election-year turnout, groups are raising more money and making earlier endorsements.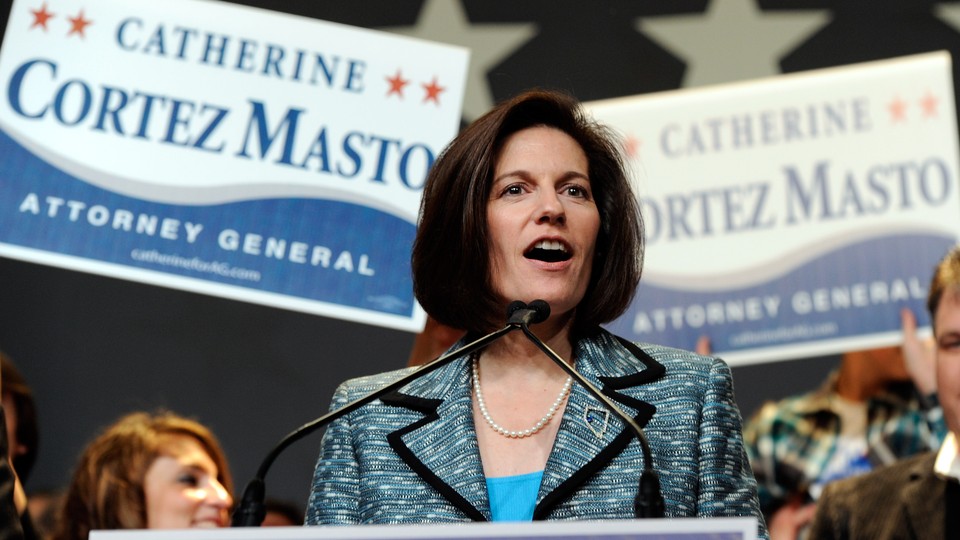 During the last election cycle, the fundraising arm for the Congressional Hispanic Caucus took in just under a million dollars over two years. Six months into 2015, BOLD PAC has already raised more than half that under Democratic Rep. Tony Cárdenas's leadership — and it's one of several Latino political groups ramping up its fundraising in anticipation of having a big effect on the 2016 elections.
Earlier this month, Cárdenas's group announced a record fundraising report of $513,000, well on its way toward the $2 million goal the California Democrat set for this election cycle. The aggressive push dovetails with other Latino groups making earlier endorsements, devising more targeted strategies, and raising more money as they work to elect more Hispanics in 2016.
"We're being very aggressive and very focused," Cárdenas said. "We're reminding people that we're the fastest growing demographic in the country."
The groups are eyeing Senate and House seats in states like California, Florida, and Nevada, where Hispanics are responsible for much of the population growth and are set, with presidential-year turnout, to have a greater effect on elections than in 2014. Still, Latino representation in Congress lags far behind the Hispanic share of the U.S. population: Latinos make up 17 percent of the population but only about 8 percent of Congress.
BOLD PAC, which backs Hispanic candidates and other Democratic lawmakers, has already supported seven candidates this cycle, donating $10,000 to most of their campaigns. Cárdenas has set a personal goal to issue 21 endorsements for 2016. Last cycle, the group took in $945,000. In 2014, BOLD PAC donated to 17 candidates, all Democrats.
Meanwhile, other Latino political groups are spearheading a more selective strategy.
The nonpartisan Latino Victory Project, a PAC supporting Latino candidates (and, in 2014, only Democratic ones), plans to target fewer races and thus bring to bear more decisive resources in 2016.
"We want to focus on places where we're going to make a difference in the margins," said Cristóbal Alex, president of the Latino Victory Project.
Of the seven federal Democratic candidates LVP supported in 2014, four won their elections. The group plans to focus some energy on primaries next year and will release its first slate of endorsements in September. Latino Victory Project only launched in May of last year, by which time many primaries were already decided.
"That will have a big impact," said Oscar Ramirez, a top Latino donor. "A lot of people in D.C. have traditionally taken a wait-and-see approach."
The group, as with other Latino PACs, plans to make Nevada's Senate race a major focus. Former Nevada Attorney General Catherine Cortez Masto, a Democrat, is running to become the nation's first Latina senator. Another Latina, Democratic Rep. Loretta Sanchez, is waging a long-shot Senate campaign in California, but the Latino Victory Project hasn't yet decided on whether it will get involved.
Poder PAC, which backs Democratic Latinas, has already endorsed Sanchez and Masto, as well as five nonincumbent House candidates. It's the largest-ever cohort of Latina congressional candidates. A diverse group of House contenders is already sparking interest for the group.
"When we tell people we have the ability to double the number of Latinas in Congress this cycle, it changes the way people look at what we're doing," said Ingrid Duran, a founder of Poder PAC.
Ana Sol Gutierrez, for example, would be the first Salvadoran-American elected to Congress if she won her House race in Maryland. Another candidate in Maryland, Joseline Peña-Melnyk, would be the first Dominican member of Congress.
Another new Hispanic-focused PAC isn't focused only on donating to Hispanic candidates. Rep. Carlos Curbelo, a freshman Republican from Florida, raised $75,000 to back House Republicans who support immigration reform. (Curbelo actually went up against the Latino Victory Fund in his House race last year, though he attended an event for the group earlier in 2015. "We're working on some common causes," he said.)
"I will support any Republican who is committed to advancing immigration reform," Curbelo said. "But obviously, Latino candidates will stand out, and I look forward to identifying those Latino Republicans who have a good chance of winning."
Curbelo's group has already given to 30 sitting House Republicans this year, and he said it could also donate to new candidates, like Florida Lt. Gov. Carlos Lopez-Cantera, a candidate for the state's open Senate seat.
Although many Latinos view the candidates and early political interest as encouraging signs, they say it will be a while before Latino representation in Congress can match the Hispanic share of the population.
"There's better and better organization, and there's more professional leadership and support," noted Robert Raben, a lobbyist and board member of the National Council of La Raza Action Fund, who said he was not speaking for the group. "But we have our work cut out for us."
CORRECTION: A previous version of this story misstated the time it took for BOLD PAC to raise $945,000.