Killing Them Softly: The Juvenile Justice System Is Complicit in Lost Lives
The United States has one of the most draconian prison policies in the world when it comes to juvenile offenders.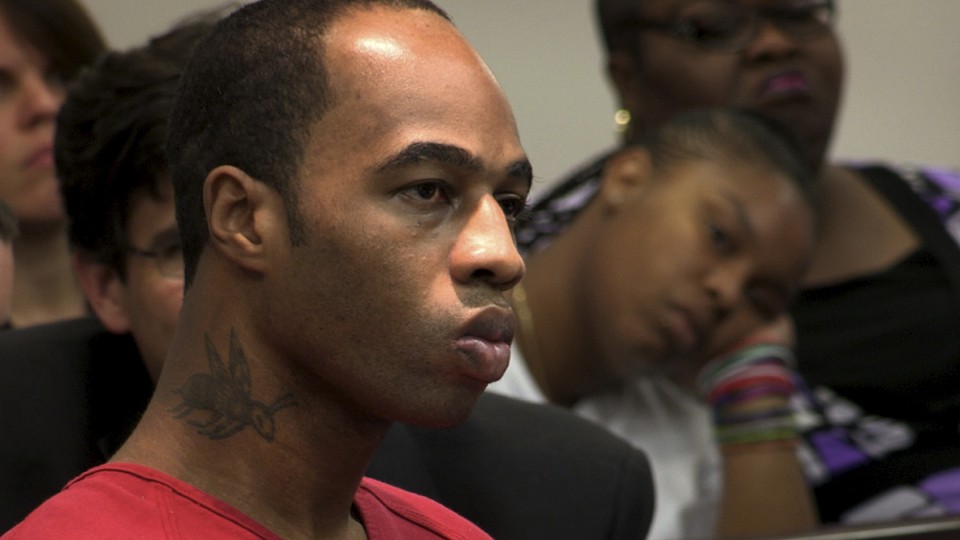 Kenneth Young may never see the inside of the U.S. Capitol.
But lawmakers on the Hill are using his story to make a push for more humane sentencing of child offenders. Right now, the United States is the only country in the world that sentences children to life, followed inevitably by death, in prison without parole.
That's what happened to Young.
In the early summer of 2000, the then-14-year-old accompanied his mother's 24-year-old crack dealer on a series of nonlethal armed robberies in Tampa. At 15, Young was tried as an adult and sentenced to four consecutive life terms.
More than 2,500 children, disproportionately young men of color, are serving similar life sentences.
But now there is a push by lawmakers on Capitol Hill, backed by scientists and childhood experts, to recognize the fact that children are different. They argue that children's brains are not fully developed and they do not yet possess the impulse control or judgment skills of adults.
Leading the charge are lawmakers like Rep. Tony Cardenas, a California Democrat and the first person of color to serve his Latino-heavy San Fernando Valley district, who has championed criminal-justice reform.
"This is without a doubt cruel and unusual punishment," Cardenas said during a screening at the Capitol this week of a documentary called 15 to Life about Young's life and fight for release.
Cardenas was joined at the screening by Rep. Bobby Scott, a Democrat from Virginia, who recently introduced a bill with Republican Rep. Jim Sensenbrenner of Wisconsin aimed at reducing the number of nonviolent offenders behind bars.
As Congress bickers about everything from health care to Iran, there seems to be a bipartisan appetite for reforming criminal-justice laws.
Earlier this month, the Senate judiciary Committee approved a plan that would require states to keep figures on the number of children of color behind bars. The Obama administration will announce plans on Friday to give some prisoners access to Pell grants to help pay for college, a resource that has been inaccessible to them for 20 years.
Public figures as diverse as Pope Francis and Newt Gingrich have called for change. Gingrich wrote in a 2012 op-ed with conservative commentator Pat Nolan, "We don't let young people drink until they are 21, and they can't sign contracts, vote or serve on juries until they are 18. But there is one area in which we ignore teens' youth and impulsiveness: our criminal laws."
"I think we're seeing a little light at the end of the tunnel." -- Rep. Bobby Scott
In 2005, the Supreme Court ruled it unconstitutional to impose the death penalty on juvenile offenders. Five years later, the Court said juveniles cannot be sentenced to life without parole for non-homicidal offenses, and then two years after that it removed the murder exception and ruled mandatory life without parole for children as cruel and unusual punishment.
But Young is still in prison.
Florida said the 2010 Court ruling allowed Young, who has worked as an aide for a handicapped inmate and whose only disciplinary report was for failing to make his bed one Saturday morning, to obtain a resentencing hearing. But a single judge remained unconvinced and set his release for 2030, when he will be in his mid-40s.
Meanwhile, men like Chris Wilson, who murdered a man at age 17, have been released as a result of more favorable resentencing hearings.
Wilson, who attended the Capitol screening, has flourished. He has graduated from college, speaks several languages, and works to connect unemployed Baltimore residents with jobs.
Over the last several years, a handful of states including Texas and Nevada have moved to limit the sentences that can be imposed on juvenile offenders. Others, including Pennsylvania, the state with the most juvenile offenders behind bars for life, continue to support life without parole as a sentencing option for children. Some states, including Alabama and Louisiana, have refused to reconsider the sentences of offenders who were given life before the Court rulings.
Advocacy groups like the Campaign for the Fair Sentencing of Youth say the discrepancy is cruel.
Yet opponents of softer sentences for juveniles, some of them family members of victims, are a vocal and heart-wrenching group. And they are often aided by public outrage at individual cases that gain national attention. Just this week, a 15-year-old in Santa Cruz, California was charged as an adult for the sexual assault and murder of his 8-year-old neighbor, in a case that has sparked public outrage.
The decisions that have made offenders like Wilson and Young eligible for resentencing are so recent, and the number of cases so few, that calculating reliable recidivism rates for children originally sentenced to life without parole and then released is difficult. Opponents often point to Wilson as an exception and ponder what Young might do if released.
Progress will take a cultural shift, Cardenas said, which is no easy task, particularly as recent officer-involved shootings of unarmed black men create intense, often racial, divisions over how the criminal-justice system should be structured.
But advocates are hopeful that reforms aimed at restorative rather than retributive justice will make their way through Congress. A case currently under consideration by the Supreme Court is set to decide whether juvenile offenders who were sentenced to life without parole before the Court's 2012 decision have the right to a retroactive resentencing.
"It is rare that there is such agreement," Jody Kent Lavy, director of the Campaign for the Fair Sentencing of Youth, said at the screening.
"I think we're seeing a little light at the end of the tunnel," Rep. Scott agreed.
Until then, hundreds of juvenile offenders like Young will continue to grow old behind bars.