Kentucky Republicans Turn to Their Favorite TV Bogeyman: Barack Obama
Despite the shift in national attention to Clinton and 2016, anti-Obama attacks remain a potent force in the Kentucky governor's race, the biggest election of 2015.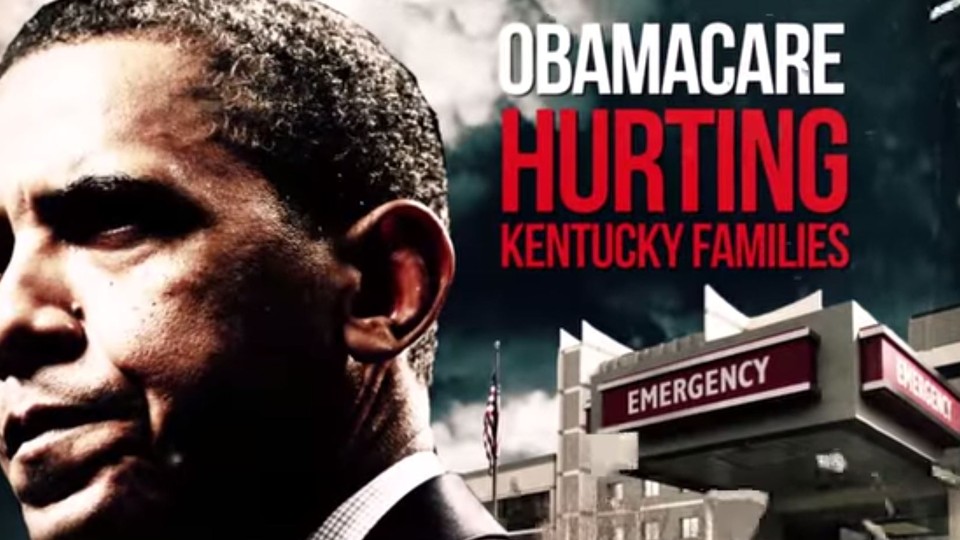 After nearly eight years of starring in Republican attack ads — whether or not he was on the ballot — President Obama has faded as a GOP target this year as the party focuses its energy on attacking Hillary Clinton. But in Kentucky, where voters will pick a governor in November, the anti-Obama strategy is getting one more run on center stage.
The Republican Governors Association already has released its second TV ad this year connecting Kentucky Attorney General Jack Conway, the Democratic nominee for governor, with Obama. And if the subject seems repetitive to voters who have seen it for years, there's a simple reason: It works. Republicans won 24 of 36 governor's races in 2014 using the same attack lines, and Obama is still hugely unpopular in Kentucky, where Sen. Mitch McConnell used the tactic to great effect last year, too; the president's approval rating has remained stuck at around 33 percent.
And while the Republican nominee, Matt Bevin, entered this year loaded with baggage from his 2014 primary loss to McConnell, it looks increasingly likely that Bevin could ride one last anti-Obama campaign to victory in November before the president leaves office.
Even though Clinton's reemergence on the political scene gives Republicans another well-known and polarizing bogeyman, attacks on Obama, whether on health care or the Iran deal or something else, won't vanish completely from state races any time soon. Democrats' hits against President George W. Bush remained a staple of their campaigns through at least 2010, more than a year after Bush left office.
"Whether it's rational or irrational, there's so much Republican distaste if not hate for Obama, from the Republican primary electorate to their strategists, that even if it's a bad strategy, I think that doesn't mean they won't still be using it," national Democratic consultant John Rowley said. "They're going to keep going to it until it's tattered and torn and it fails them."
It may not fail them this year in Kentucky. Bevin is embracing the Conway-Obama theme on the campaign trail. In a debate between the two candidates last Thursday, Bevin focused his attacks on Conway's support for Obamacare, Medicaid expansion, and Kentucky's state health exchange, Kynect, as well as Conway's choice not to defend the state's gay-marriage ban in court — issues with easy connections to Obama and national Democrats.
Conway's main challenge is overcoming those issues. Conway's decision last year not to defend the state's ban on gay marriage as attorney general puts him on the side of the courts and national public opinion — but the headlines would only remind Kentucky voters that he doesn't share their views. Most Kentuckians still oppose same-sex marriage, and after June's Supreme Court ruling legalizing gay marriage nationally, some county clerks still refused to issue marriage licenses to same-sex couples. That continuing struggle has kept the issue in the news all summer, and Conway's role never fails to earn a mention.
"The timing of this is horrific for Conway when you consider that it adds to the narrative that he is a Democrat with more-liberal tendencies," said Scott Jennings, a Republican strategist in Kentucky. "It is overshadowing anything else he might have done as attorney general. He really needs people to know something else about his tenure other than this, and I don't think they've done anything to change that."
The challenge also comes out in Conway's own campaign. He has focused on his opposition to Obama on coal — as attorney general, he sued the Environmental Protection Agency over new regulations, a fact that Conway highlights in his own early TV spots.
But attacks on Obamacare and gay marriage could end up defining Conway. The RGA's latest ad questions why Conway "refused to join his fellow attorneys general in court to stop Obamacare," like he did with anti-EPA lawsuits.
Kynect has been successful at boosting the number of Kentuckians with health insurance, but Obamacare by that name remains unpopular in the state.
That puts Democrats up and down the ballot in trouble, Jennings said. "That tells you a lot about where the generic environment stands. Every Republican has a chance to win even if they're outspent."