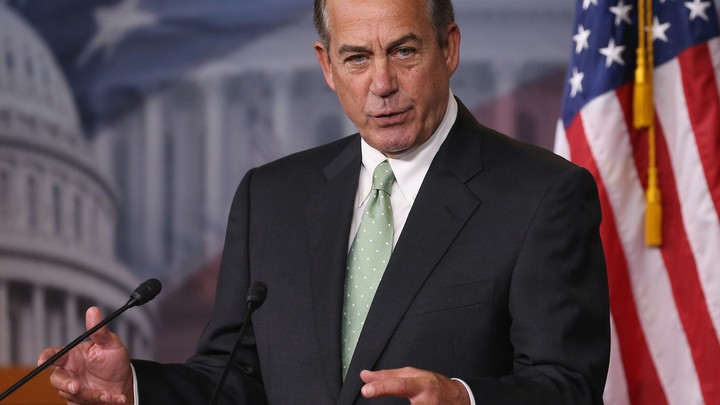 House Speaker John Boehner isn't scared of the one rogue and dissatisfied member in his conference trying to oust him.
In his press conference Wednesday, Boehner said he's not at all worried about Rep. Mark Meadows's move Tuesday night to take away his speaker's gavel.
"Listen, you have a member here and a member there who are off the reservation," Boehner said. "No big deal."
Meadows's move was seen by many as more symbolic than anything else. In order to pass the "motion to vacate the chair," the North Carolina Republican would need sweeping support. While Boehner has faced backlash from conservative members of his conference before, he has always easily survived rebuffs. A record number of lawmakers voted against him for speaker in January, but he still easily took the position. Some of Boehner's allies have called on the speaker to bring Meadows's resolution up for a vote just to show how much backing he actually has in the conference. Boehner says that is a waste of time.
"Listen, this is one member. All right. I've got broad support amongst my colleagues," Boehner said. "And frankly, it isn't even deserving of a vote."
Boehner is just one GOP leader on Capitol Hill who has taken flack from rank and file conservatives lately. Earlier this week, Sen. Ted Cruz went to the Senate floor to blast Senate Majority Leader Mitch McConnell as a liar.
When asked if he and Meadows had spoken since the incident, Boehner replied, "I have not, why?"
Meadows himself told reporters Wednesday that he may not be considering a discharge petition after all, just one day after his spokeswoman said he would. The petition would need signatures from 218 members, which could include Democrats, to force the motion to a vote.
"That was never really part of the plan. I think what people looked at is a number of issues on how this would be called up, but really that was not part of the plan," Meadows said.
That may be because Meadows was finding little support from members of the House Freedom Caucus, who were quick to distance themselves from his move. One member, Rep. Trent Franks, who voted for Boehner for speaker, said the move is ill advised, and that if it did come to a vote Democrats could exploit it to push for a speaker more liberal than Boehner.
"The Freedom Caucus didn't do this," Franks said. "I can't support this. I think this could put us in a situation where a few liberal Republicans could team up with the Democrats and elect a speaker that would be far to the left of John Boehner."
Rep. Richard Nugent, who is not an HFC member but who voted against Boehner in January, noted that the issue tramples the party's message going into the August recess: that the nuclear agreement with Iran is a bad deal.
"I think this is a poorly timed stunt, because it really takes our focus off of what we should be talking about to the American people, and front and foremost is the Iran agreement," Nugent said. "This just clouds that issue. I think it's foolish."
This article has been updated.
We want to hear what you think about this article. Submit a letter to the editor or write to letters@theatlantic.com.
Lauren Fox
is a congressional reporter at
U.S. News.
Her work has appeared in
Salon
,
MSNBC,
and
Columbia Journalism Review
.
Daniel Newhauser is a staff correspondent for National Journal, where he primarily covers the House of Representatives. He was formerly a House leadership reporter for Roll Call, where he started as an intern in 2010 and quickly earned a slot as a beat reporter.
A native of San Antonio, Texas, Newhauser traveled further West to study journalism at Arizona State University's Walter Cronkite School of Journalism and Mass Communication and write for newspapers including the East Valley Tribune and the Green Valley News & Sun.