Jeb Bush Calls For End to Fossil-Fuel Subsidies
The 2016 contender says tax credits for the oil and gas sector should be eliminated.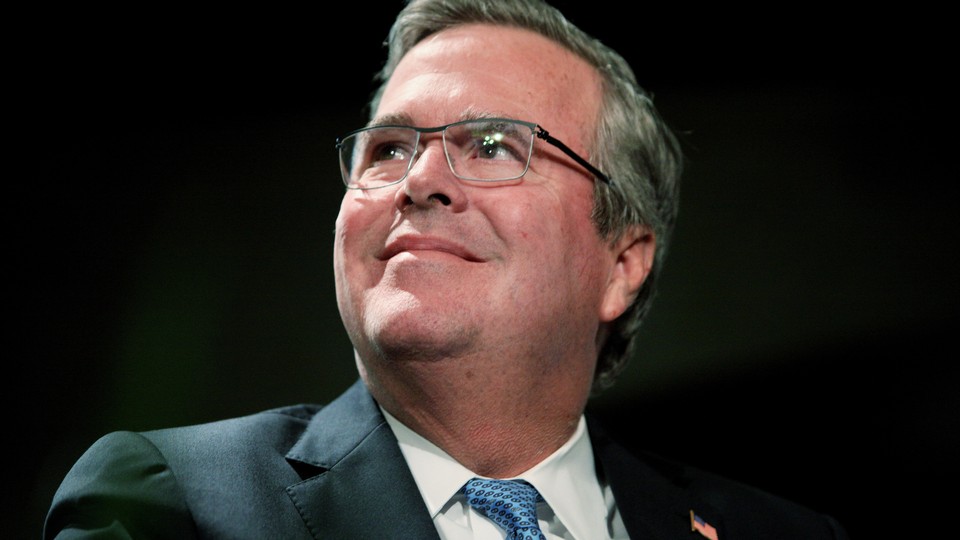 Jeb Bush wants to get rid of tax credits for the oil and gas industry.
"I think we should phase out, through tax reform, the tax credits for wind, for solar, for the oil and gas sector, for all that stuff," the 2016 Republican candidate said in New Hampshire on Wednesday, according to a video recorded by grassroots environmental group 350 Action.
"I don't think we should pick winners and losers," Bush added, saying: "I think tax reform ought to be to lower the rate as far as you can and eliminate as many of these subsidies, all of the things that impede the ability for a dynamic way to get to where we need to get, which is low-cost energy that is respectful of the environment."
Bush's comments arrived in response to questions from a 350 Action activist after the 2016 Republican contender appeared at an event hosted by the conservative advocacy group Americans for Prosperity in Manchester, New Hampshire.
When pressed by the activist on whether he would get rid of all fossil-fuel subsidies, Bush replied: "All of them. Wind, solar, all renewables, and oil and gas."
That stance is sure to ruffle feathers in the oil and gas industry, a sector that has long fought to maintain its current treatment under the tax code.
The call to end credits for fossil fuels may win the 2016 Republican contender measured praise from environmentalists who say that the oil and gas industry unfairly benefits from tax breaks that put clean energy at a competitive disadvantage. His call to end tax credits for wind and solar, however, won't sit well with green activists.
A Bush spokesperson did not immediately return a request for comment.
Bush has previously called for a phase-out of the wind-production tax credit, a policy provision that has helped the U.S. wind industry get off the ground.
The 2016 Republican contender called for tax reform during an interview with the New Hampshire Union Leader earlier this month, saying he would support "simplifying the code as dramatically as you can."