Is Wall Street Starting to Recruit in Pre-K?
Proponents of early childhood education are willing to follow the money.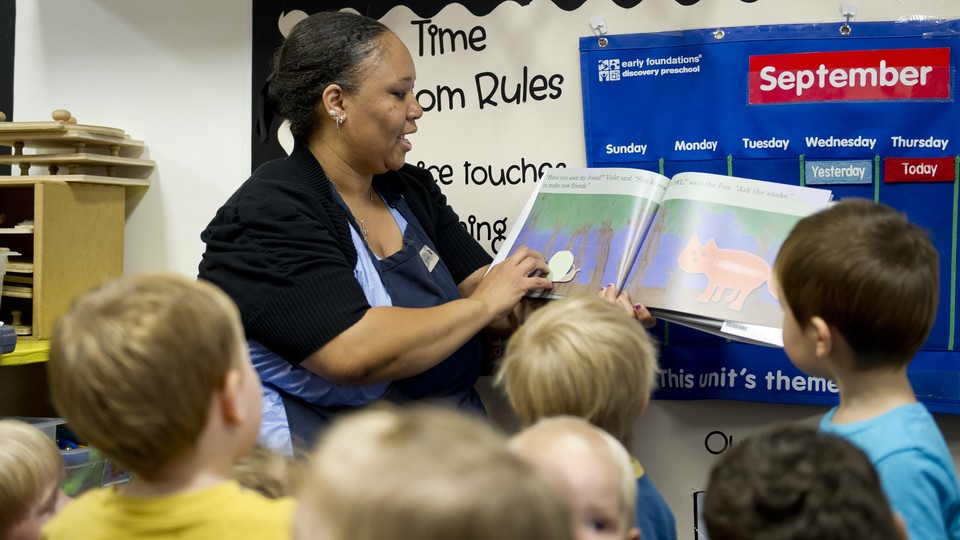 At college career fairs around the country, eager business and finance majors don their best professional look and tote crisp copies of their resumes for a chance to be recruited by a Wall Street firm. But is Goldman Sachs leading an effort to start recruiting future analysts and stockbrokers in preschool?
Over the last several years, the investment-banking giant has thrown its weight — and millions of dollars — behind the expansion of preschool. Now, as the federal education law makes its way toward a reauthorization that for years seemed unlikely, advocates of universal preschool are hoping to convince lawmakers on both sides of the aisle that expansion of early childhood education is possible — even if it means joining forces with Wall Street.
A new white paper from pro-universal preschool Save the Children Action Network explains that the partnerships follow a pay-for-performance model.
For instance, Goldman has launched a partnership with venture capitalist J.B. Pritzker's foundation and the United Way of Salt Lake to send hundreds of children to preschool in Utah. While the Salt Lake County Council kicked in $350,000, Goldman loaned $4.6 million and Pritzker contributed $2.4 million.
If it works, the private entities get their money back, plus interest. If it fails, the county council recoups its investment. In the event of failure, Goldman and Pritzker are out of luck and out a few million dollars, but that's pocket change in the scheme of their overall finances.
The idea is called social-impact financing, and with the Obama administration's push for universal preschool going nowhere fast, advocates of early childhood education see the concept as an opportunity, even if it means Wall Street has a hand in little Johnny's first formal education experience.
Save the Children Action Network calls the idea a "win-win arrangement that is more efficient than many existing government funding structures for social services."
Several states have tried social-impact financing for a handful of issues, but it's a relatively new idea in the realm of early childhood education.
Massachusetts employed the idea in 2012 to tackle juvenile-justice reform and homelessness. Washington has used the "pay for success" model to try to reduce teen pregnancy, and Fresno, California has launched an effort to decrease asthma among low-income children.
Save the Children Action Network calls the idea of social-impact financing a "win-win arrangement."
In 2014, the city of Chicago announced that Goldman Sachs and Pritzker would partner, along with Northern Trust, to send 2,620 children to preschool over four years with a $16.9 million bond deal. But it's too early to tell how successful the concept has been at expanding access to quality preschool programs.
Critics point out that social-impact financing schemes don't always work. An attempt involving Goldman to reduce recidivism at Rikers Island failed to produce results and was stopped this summer. And while a couple of duds — and a few million bucks — may not be a huge deal to a firm like Goldman, too many failures and there's no reason for them to invest. In other words, it's a somewhat risky long-term strategy for the public.
There's also a risk that private entities will continue to invest to the point that the government becomes too reliant on private corporations and cuts funding to a public service it had previously operated. As PBS noted, Head Start, the federally funded early childhood education program, saw cuts during the sequester as Goldman Sachs was funding preschool programs.
Last year, the Chicago Teachers Union rejected the idea of using the model to pay for a city preschool program because of the high interest rates the city would have to pay if it worked.
But the action network is hoping both Republicans and Democrats will see the appeal of social-impact financing as a way forward for expanding access to early childhood education. And they have some reason for optimism.
Preschool already has bipartisan support — the bickering has traditionally happened over how to fund the expansion — and during talks to reauthorize the nation's federal education law earlier this month, lawmakers on both sides of the aisle endorsed social-impact financing as a potential solution.
Advocates are looking for support and since Washington hasn't been able to make universal preschool a reality on its own, Save the Children Action Network and other proponents are trying to lead lawmakers to the money — even if that means sending them straight into the arms of Wall Street.