How Florida Democrats Won a Huge Victory, But Punished One of Their Stars in the Process
With new district boundaries, Democrats as a whole stand to gain, but that's cold comfort for first-term Rep. Gwen Graham.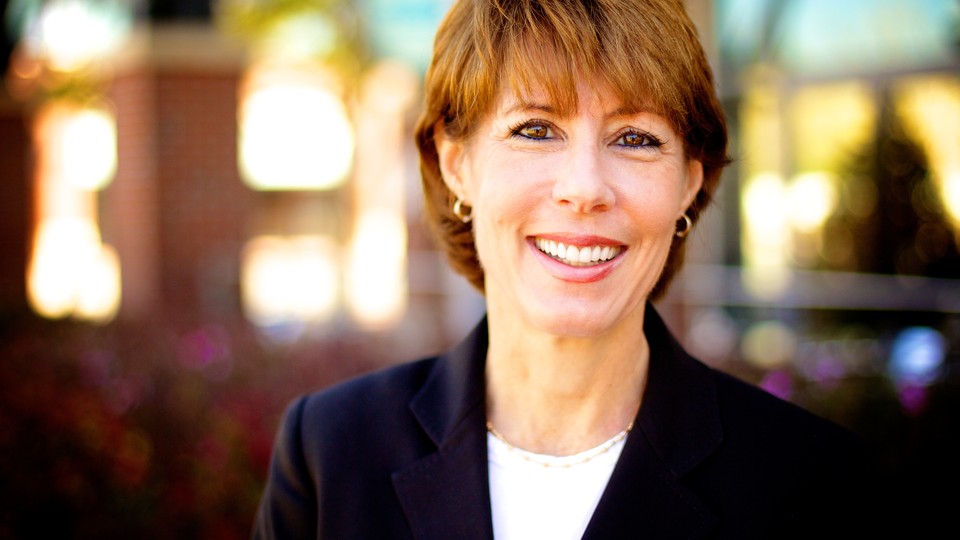 Democrats scored a majority victory in Florida this month when the state Supreme Court ordered the legislature to redraw the state's congressional-district map. The court ruled that Republican legislators had illegally packed Democrats into a few districts, demanding that lawmakers quickly redraw the boundaries to give Democratic voters a broader influence.
But now, as they venture into what exactly the new map will look like, Democrats are beginning to take stock of their victory's collateral damage, including for a lawmaker they'd hoped to make a pillar of the party for years to come.
That's first-term Democratic Rep. Gwen Graham, who in 2014 overcame a miserable national climate for Democrats to win a Republican-leaning district in the Florida panhandle. It was a tough victory for a candidate — and a victory that, it was thought at the time, would be a springboard to a long, successful career.
Following the court ruling, however, her district's boundaries are set to change, and while there are several scenarios for how the redrawn map will look, Florida Democrats and Republicans agree on one thing: none of Graham's options are promising.
Local campaign operatives say the boundaries will either leave her in a deep-red district or pull her into the same district as another Democratic incumbent. And if she can't keep her toehold in the House, Graham will have a hard time moving up the Senate, where formidable Democrats — including Democratic Rep. Patrick Murphy, who has already won the Democratic Senatorial Campaign Committee's endorsement, and progressive millionaire Alan Grayson — already are staking out space in the primary, not to mention the swing-state general election that follows.
"When [Graham] saw that ruling, you know she was going, 'Crap, I just won this seat!' " said Steve Vancore, a Tallahassee-based Democratic campaign consultant. "There's no doubt she had a 'What the hell?' moment."
Graham's quandary comes thanks to conflicting requirements in Democratic Rep. Corrine Brown's district, one of eight that the court said needs a revamp. Brown's district stretches from Jacksonville to Gainesville to Orlando, looping in a large number of African-Americans and Democrats. The court ruled that Brown's district can't pack so many Democrats in, but the Voting Rights Act requires that her district maintain enough African-Americans to elect a candidate of their choice. The solution, the court wrote in its opinion, was to redraw Brown's district in an east-west orientation, likely reaching all the way to Tallahassee and removing some of the most liberal voters in Graham's district.
In that case, Graham could end up in a district with few Democrats left, or she could end up in a heavily African-American district, facing Brown — who has represented a large portion of the region's minority population since 1993 — in a primary. "I think it's equally daunting running in a primary against a Democrat in a district that stretches to Jacksonville as it is running as a Democrat in one of the more conservative areas of state," said Kevin Cate, a Democratic consultant also based in Tallahassee.
But Graham — whose father, Bob Graham, was a popular senator and governor — should not be written off just yet, Vancore cautions. Her options are daunting, and certainly worse than if she could have just run for reelection in her current district, but they're not insurmountable, he said. Graham accomplished an improbable feat by unseating then-Rep. Steve Southerland last cycle and would at least have a chance at winning primaries against Brown or Murphy, or winning an even more conservative district, he said.
And then there's the moon-shot option, in which Graham passes on running anywhere in 2016 and instead waits to run for governor in 2018. The election season starts so early each cycle — especially in a competitive state like Florida — that it wouldn't be disastrous for Graham to be out of elected office for two years, Vancore said, adding that her last name is so well-known around the state, thanks to her father, that voters wouldn't forget about her in the interim.
Steve Schale, a campaign consultant for Graham, said it's too early to say what her best options might be, at least until the legislature unveils new maps in September. It's also possible that new lawsuits will derail the process, especially if Republican lawmakers don't fully follow the court's directions. "It's virtually impossible to know how the Florida legislature is going to take this up," Schale said.
Republicans would prefer that she run in an impossibly conservative district, or in a rough primary against Brown, and lose a reelection bid without building a greater profile around the state, said Ryan Wiggins, a Tallahassee-based Republican consultant. "There's no denying she is a strong candidate for Democrats," Wiggins said. "As a Republican, I don't like to see Democrats have candidates like her."
But regardless of whether Graham's political skills are enough to carry her through the current predicament, the fact that she's facing it demonstrates the complicated political fallout from the Supreme Court order.
Despite helping Democrats in the long run, the ruling offers an immediate silver lining to Republicans. Democrats have a thin bench in Florida, thanks to Republicans' control of both houses of the legislature. Graham is one of the few Democrats who appear able to move up and successfully run statewide. Republicans consider her a serious contender for the governor's mansion in 2018, but the ruling may end up forcing her out of office until then.
"In politics, you have to be careful what you wish for," said Agustin Corbella, a Republican consultant in Tallahassee. "The Democratic bench in Florida is small. There are not many appealing statewide candidates in their party. Now they have somebody considered a rising star in the party left without options."