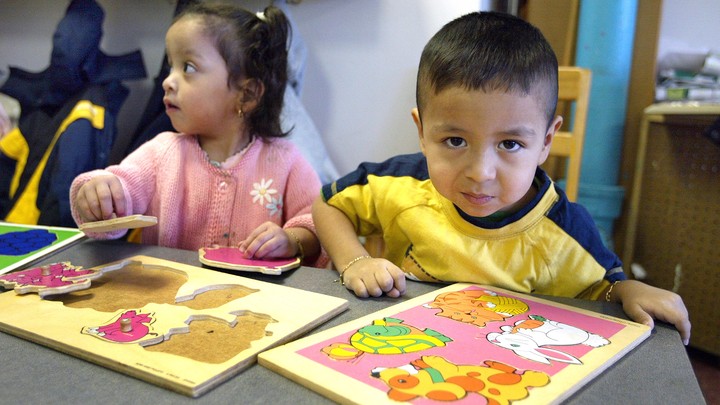 An earlier version of this article contained a mispelled name, which has been corrected.
Rogelia Segura Geniz, 41, works as an early childhood teaching assistant at Parents in Community Action (PICA), founded in 1969 and currently running nine child and family-development centers in Hennepin County, Minnesota. The community served by the organization has a racially and ethnically diverse population, including several groups who resettled as refugees.
Originally from the state of Puebla, Mexico, Segura Geniz lives in the Minnehaha section of Minneapolis and has raised five kids there.
To qualify for her current job, Segura Geniz went through PICA's Parent Training Program, where she attended 96 hours of classes and training in early childhood education. She is also currently enrolled in a bachelor's degree program in early childhood education.
This interview was translated from Spanish and edited for clarity.
***
I first heard about PICA from a lady in an apartment building where I lived. I was a stay-at-home mom, but I wanted to enroll my oldest son in a program where he would get more. I took him there when he was 3—he's 23 now—and all my kids have gone there. I saw that they got fed, that they were taught things, and that made me very happy.
When I would get notes home, I wasn't able to read them, because back in the 1990s they were in English. Now they send notes out in different languages. I knew that they offered parent services, but I was too inhibited because of my lack of English. When I had to interact with the staff, I would nod yes or say no.
But then I started taking English classes and was better able to tell what was going on, and I saw that I could participate in programs to become more skilled and be able to really provide for myself and my kids. By the time my youngest was enrolled in PICA programs—she's 10 now—I was able to take advantage of the parent training programs. I went to get a CDA (Child Development Associate) certificate so I could work with kids 3 to 5 years old. I had to put in 600 hours of practice time, and I looked for where I could do it, and PICA had the best program.
"If I hadn't been able to do this program, I would have likely ended up working in fast food, or washing dishes at a restaurant, what usually happens to people in my situation."
No one in my family has been a teacher or anything like that, but I was really interested in working with kids and sharing some of my culture with them, no matter their background. I feel very fulfilled doing this work.
I'm finishing my first year with my early childhood major for a bachelor's degree. I never thought I'd go to college. In Mexico, I finished my high school, but I didn't know a word of English when I got here, and I want to keep going to become a lead teacher at a preschool.
If I hadn't been able to do this program, I would have likely ended up working in fast food, or washing dishes at a restaurant, what usually happens to people in my situation.
Parents need programs like this so they can get ahead. You can put your kids in programs that help them develop, but without helping the parents get in a better economic situation, become more stable, the children will have to struggle harder and maybe not get all the advantages they can.
This story is part of our Next America: Early Childhood project, which is supported by grants from the Annie E. Casey Foundation and the Heising-Simons Foundation.
We want to hear what you think about this article. Submit a letter to the editor or write to letters@theatlantic.com.
Carolina González is a writer based in
New York.