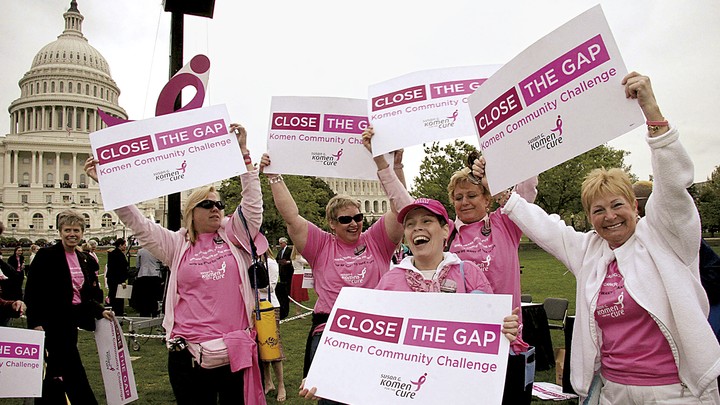 House Republicans corrected a legislative stumble Wednesday, removing a breast-cancer organization as the financial beneficiary of a commemorative-coin bill after members raised concerns about the group's ties to Planned Parenthood.
The bill was to be voted on Tuesday, the same day that an undercover video began to circulate on the Web appearing to show a Planned Parenthood official discussing the sale of body parts from aborted fetuses.
The video's interpretation by critics was disputed by the organization, but it nonetheless caused an uproar among antiabortion lawmakers, who removed their names as cosponsors of the bill en masse because it funneled money to Susan G. Komen for the Cure, which has ties to Planned Parenthood. As a consequence, a vote on the bill was removed from the day's calendar.
On Wednesday afternoon, the House agreed unanimously to remove Susan G. Komen for the Cure from the legislation. The measure would have given some proceeds from the minting of commemorative coins to the Komen foundation and the Breast Cancer Research Foundation. Now the money will only go to the latter organization.
The House will vote on the measure later Wednesday. It is unclear whether the Senate will act to make the bill law.
We want to hear what you think about this article. Submit a letter to the editor or write to letters@theatlantic.com.
Daniel Newhauser is a staff correspondent for National Journal, where he primarily covers the House of Representatives. He was formerly a House leadership reporter for Roll Call, where he started as an intern in 2010 and quickly earned a slot as a beat reporter.
A native of San Antonio, Texas, Newhauser traveled further West to study journalism at Arizona State University's Walter Cronkite School of Journalism and Mass Communication and write for newspapers including the East Valley Tribune and the Green Valley News & Sun.