Hillary Clinton Stops Short of Calling for $15 Minimum Wage
The Democratic front-runner took press questions Thursday afternoon, and suggested Democrats should focus on a minimum wage proposal that "has a chance of succeeding."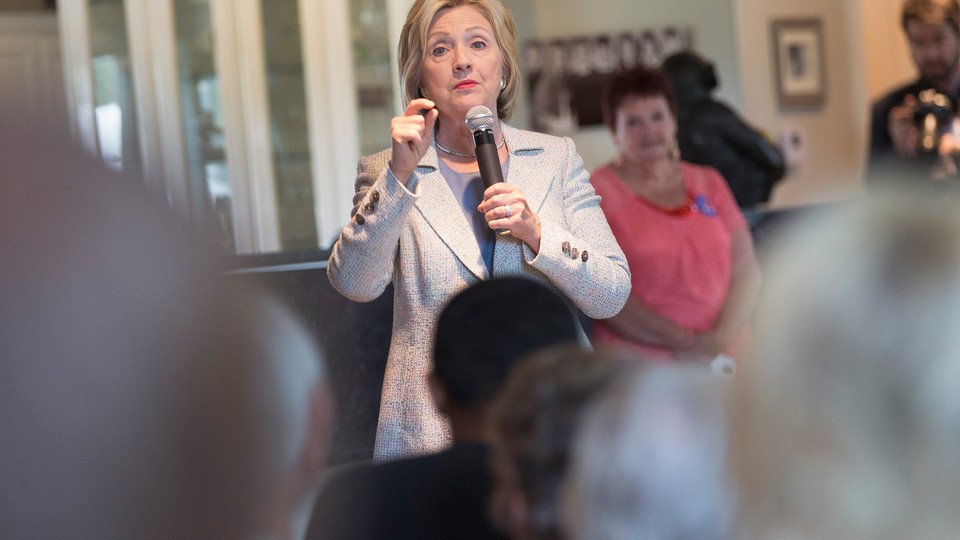 Speaking to reporters on Thursday, Hillary Clinton called for a higher federal minimum wage — but stopped short of supporting the $15 minimum wage touted by some of her Democratic nomination opponents.
Clinton praised the proposal in Congress, spearheaded by Washington Democratic Sen. Patty Murray and Virginia Democratic Rep. Bobby Scott, which would set the federal minimum wage at $12 with automatic increases for inflation. At a brief press availability following her closed-door meeting with the AFL-CIO Executive Council, Clinton said she thinks cities can and should play with changing those minimums for themselves.
"I think it's going to be important that we set a national minimum, but then we get out of the way of cities and states that believe that they can and should go higher," she said. "I've said before that the cost of living is different in various parts of the country. I supported what New York did, what L.A. did, what other cities are doing, and I think they should be experimenting with what that will do to help raise incomes and create more opportunity for people."
When she was asked a follow-up questions specifically about the $15 federal minimum wage, however, Clinton suggested that congressional Democrats should focus on a proposal that has a realistic chance of becoming law.
"Patty Murray is one of the most effective legislators in the Senate, bar none. And whatever she advocates, I pay a lot of attention to because she knows how to get it through the Congress," she continued. "And let's not just do it for the sake of having a higher number out there, but let's actually get behind a proposal that has a chance of succeeding, and I have seen Patty over the years be able to do just that."
The $15 minimum wage has been a key point for progressives, and both Vermont independent Sen. Bernie Sanders and former Maryland Gov. Martin O'Malley have voiced their support for the proposal.
Clinton also took a question about the delays in some of her top State Department aides turning over emails to her former department. On Wednesday night, her former spokesman and aide Philippe Reines handed over 20 boxes of emails.
"I think we have been proceeding in a timely fashion and indeed the vast majority of the emails I've turned over were already in the State Department system," she said. "This is really a question for the State Department, they're the ones who are bearing the responsibility to sort through these thousands and thousands of emails and determine at what pace they can be released."
Clinton also blasted Republicans for their efforts on the Hill to defund Planned Parenthood.
"For more than a century, Planned Parenthood has provided essential services for women in our country," she said. "And I think it is regrettable that Republicans are once again trying to undermine, even end, those services that so many women have needed and taken advantage of. So I think that it's another effort by the Republicans to try to limit the health care options for women and we should not let them succeed once again."
As for a question about Donald Trump, Clinton wouldn't take the bait. "I'm going to let the Republicans choose their nominee," she said, smiling. "And then I will look forward to running against and winning against whoever that nominee is."