Hillary Clinton: I'll Take a Stand on Keystone When I'm President
That answer is sure to rile environmentalists who have made opposition to the controversial pipeline a political litmus test.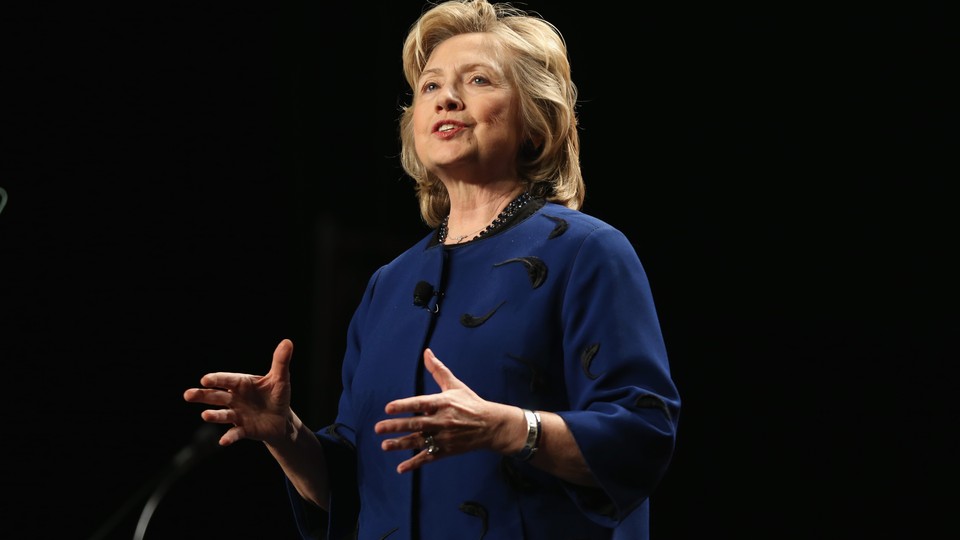 Hillary Clinton wants to wait until she wins the White House before taking a stand on the controversial Keystone XL pipeline.
At a town hall in New Hampshire on Tuesday, Clinton responded to a question from the audience asking if she would sign a bill approving the pipeline by saying that she would not "second guess" President Obama's decision. Should the issue still be alive in January 2017, however, then Clinton will say what her position is.
"If it's undecided when I become president, I will answer your question," Clinton said.
"As you know, I was the secretary of State who started that process. I was the one who put into place the investigation. I have now passed it off — as obviously, as I'm no longer there — to Secretary Kerry. This is President Obama's decision, and I am not going to second-guess him because I was in a position to set this in motion and I do not think that would be the right thing to do. So I want to wait and see what he and Secretary Kerry decide," Clinton said in response to the Keystone question.
That answer is sure to rile environmentalists, who have made opposition to the controversial pipeline that would ship oil from Canada to the Gulf Coast a political litmus test. Keystone has been under review at the State Department, a process that started under Clinton's tenure as secretary of State, for more than five years, and a final decision by the administration is still pending.
Republican 2016 challenger Jeb Bush took a swipe at Clinton's remarks on Twitter.
The President has to make lots of tough calls. Supporting Keystone XL and North American energy security is an easy one.

— Jeb Bush (@JebBush) July 28, 2015
Clinton has repeatedly declined to take a stand on the pipeline. On Monday, she suggested that she was disqualified from weighing in on Keystone XL as the former secretary of State after a reporter in Iowa asked if she would say what she thinks of the project now that she has officially declared a 2016 bid.
On Tuesday, Clinton went a step further by indicating that she will not take a position on the pipeline until the president weighs in or until she wins the White House.
Bernie Sanders, a Democratic challenger trying to outflank Clinton on the left, called the candidate's silence on Keystone "hard to understand."
"It's hard for me to understand how one can be concerned about climate change but not vigorously oppose the Keystone pipeline," Sanders said on Tuesday.
Keystone XL is at the center of a contentious national debate over global warming and U.S. energy security. Environmentalists worried about Clinton's commitment to the environment want to see her clearly oppose the project. But labor unions have long supported construction of the pipeline, saying that it would create jobs.
Bill McKibben, the president of grassroots group 350.org, called on Clinton to make up her mind on Monday.
"We need Clinton to show she understands the other half of the climate-change equation — and prove she has the courage to stand up against fossil-fuel projects like offshore and Arctic drilling, coal-leasing in the Powder River basin, and the Keystone XL pipeline," McKibben said.
Other Clinton critics were also quick to attack."With her second dodge on Keystone in as many days, Hillary Clinton is making it abundantly clear she'll say or do anything to get elected," Michael Short, a spokesman for the Republican National Committee said.
This story has been updated.