Hill Battle Lines Quickly Drawn on Iran Deal
Friends and foes of the agreement were taking sides before anyone had time to read it.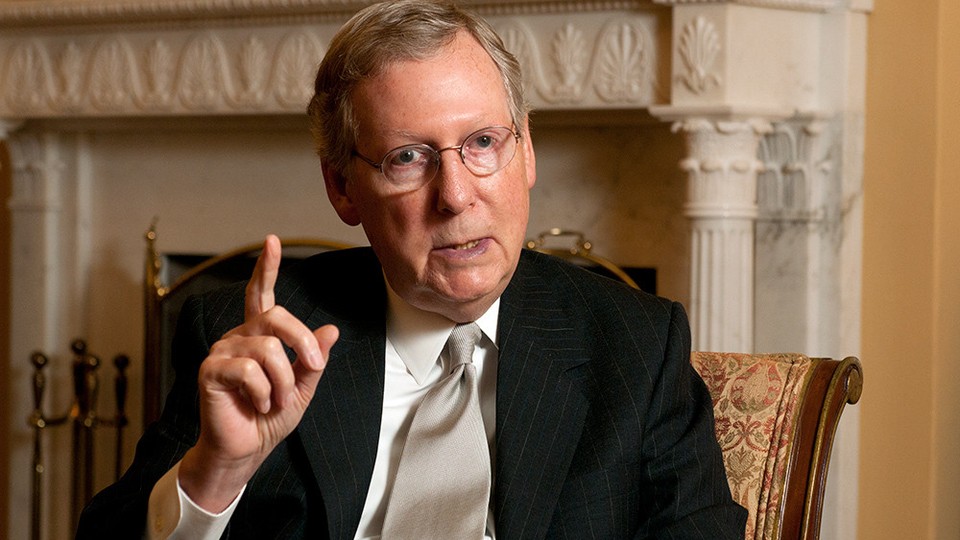 The announcement of a landmark Iran nuclear deal quickly split the Hill on partisan lines, as press secretaries hit "send" with scant time for lawmakers or aides to read through the whole agreement, which stretches to nearly 160 pages including annexes.
Congress now has 60 days to view the Iran nuclear deal and vote to approve, disapprove, or take no action. In a speech Tuesday morning, President Obama promised he would veto legislation that would prevent the implementation of the deal, meaning that Congress would need to get a two-thirds majority—a very tall order—to keep congressional sanctions in place.
The deal would provide billions of dollars in sanctions relief for Iran. In exchange, Tehran would submit to new uranium limits and inspection protocols, which would lengthen the country's "breakout time" from a few months to a year for at least a decade. Obama stressed Tuesday that the deal is better than the alternative.
"Consider what happens in a world without this deal," he said. "Without this deal, there is no scenario where the world joins us in sanctioning Iran until it completely dismantles its nuclear program. ... Such a scenario would make it more likely that other countries in the region would feel compelled to pursue their own nuclear programs, threatening a nuclear arms race in the most volatile region of the world."
The White House has already begun its lobbying effort, which will intensify as the week goes on. On Wednesday, Vice President Joe Biden will brief House Democrats on the deal at a meeting that was requested by House Minority Leader Nancy Pelosi.
Some key members of the Senate Foreign Relations Committee, including Chairman Bob Corker and Democratic Sens. Ben Cardin and Christopher Coons stressed the need for a prompt review, although Corker, a Republican, added that he starts "from a place of deep skepticism." Senate Majority Leader Mitch McConnell promised hearings and said the administration approached the talks from a "flawed perspective: reaching the best deal acceptable to Iran, rather than actually advancing our national goal of ending Iran's nuclear program."
But others were quicker on the trigger. Nebraska Sen. Ben Sasse, a freshman Republican, said the administration, "just lit the fuse for a nuclear arms race in the Middle East" in a press statement sent out about two hours before Obama announced a deal, based upon reports that he would. After the president's speech, House Speaker John Boehner said it was "likely" to fuel a arms race across the world as well. And GOP Sen. Marco Rubio of Florida, a presidential candidate and member of the Foreign Relations Committee, predicted that the GOP-led Congress would vote to disapprove the deal.
"Based on what we know thus far, I believe that this deal undermines our national security," said Rubio in a statement. "President Obama has consistently negotiated from a position of weakness, giving concession after concession to a regime that has American blood on its hands, holds Americans hostage, and has consistently violated every agreement it ever signed. I expect that a significant majority in Congress will share my skepticism of this agreement and vote it down."
Some Democrats have already embraced the deal, and Pelosi and Senate Democratic Leader Harry Reid called it "historic."
"Today's historic accord is the result of years of hard work by President Barack Obama and his administration," said Reid in a statement. "The world community agrees that a nuclear-armed Iran is unacceptable and a threat to our national security, the safety of Israel and the stability of the Middle East. Now it is incumbent on Congress to review this agreement with the thoughtful, level-headed process an agreement of this magnitude deserves."
And Sen. Dianne Feinstein, the top Democrat on the Intelligence Committee, gave a clear endorsement to the deal.
"This is a strong agreement that meets our national security needs and I believe will stand the test of time. I stand behind the U.S. negotiating team and will support this agreement in the Senate," Feinstein said.
Delaware Democratic Sen. Tom Carper, meanwhile, noted that "none" of his colleagues had actually read the agreement yet. "To the harshest critics among us, let me say this," said Carper. "Cool your jets."
This article has been updated.
---
Daniel Newhauser contributed to this article