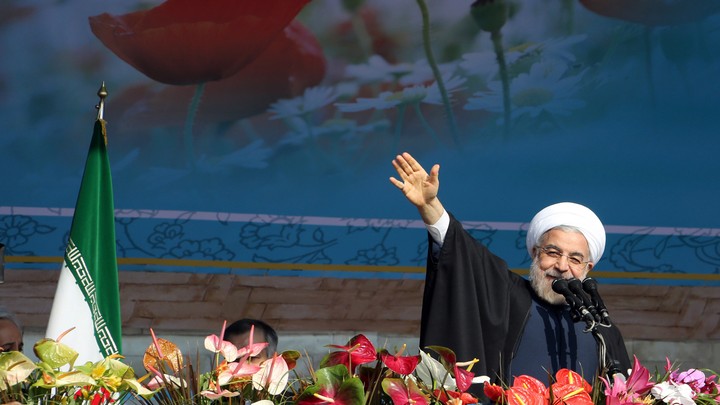 As the U.S. has engaged in negotiations with Iran toward Tuesday's final nuclear deal, Iranian President Hassan Rouhani's Twitter feed has been one to watch.
With a single tweet on Monday, he seemed to scoop the official announcement that an agreement—which would limit Iran's nuclear program in exchange for sanctions relief—had been reached, before quickly deleting the revealing message. And earlier this year, Rouhani got into a mostly one-sided Twitter spat with freshman Republican Sen. Tom Cotton, who's been vehemently against U.S. deal-making with Iran.
So it's no surprise that Rouhani would take to Twitter on Tuesday morning to explain his thinking on the deal within minutes of addressing his countrymen. And based on early reporting on his address, his Twitter and in-country messaging seem similar.
In his morning speech, Rouhani explained that Iran "has never sought to manufacture a nuclear weapon" and never will, and said that "God has accepted the nation's prayers." On Twitter, he promoted greater regional stability in Iran, and similarly sought to curb concerns about Iran's intentions with its nuclear program.
We do not seek #WMDs, nor exerting pressure on regional states. We call for greater brotherhood, unity and further expansion of ties.

— Hassan Rouhani (@HassanRouhani) July 14, 2015
But his advocating for "greater brotherhood" came after a characteristically anti-Israel message, which could feed worries that a sanctions-less Iran is a threat to Israel. Those worries are of particular concern to those in Congress, who now have 60 days to review the Iran deal.
To our neighbours: Do not be deceived by the propaganda of the warmongering Zionist regime. #Iran & its power will translate into your power

— Hassan Rouhani (@HassanRouhani) July 14, 2015
In his address, Rouhani emphasized that this was a "mutual deal" that met all of Iran's needs. On Twitter, he also expressed hope that the "wall of mistrust" between Iran and other nations would come down.
This agreement goes both ways. The successful implements of #IranDeal can dismantle the wall of mistrust brick by brick. #RouhaniLive

— Hassan Rouhani (@HassanRouhani) July 14, 2015
In recent days, it was unclear when and whether a final agreement could be reached. Secretary of State John Kerry said just five days ago that negotiators "will not rush and will not be rushed." On Tuesday, Rouhani's tweets served as a reminder of the long and arduous process of these negotiations.
I'm pleased to announce that after 23 months of negotiations this admin managed to reach a new point, a new chapter in history #IranDeal.

— Hassan Rouhani (@HassanRouhani) July 14, 2015
We did not expect #ranDeal to come easily. Extensive negotiations in light of mutual respect & win-win mentality were absolutely crucial.

— Hassan Rouhani (@HassanRouhani) July 14, 2015
Upon #IranDeal implementation all sanctions will be lifted--not suspended. Otherwise,there was no need for 18-day round-the-clock #IranTalks

— Hassan Rouhani (@HassanRouhani) July 14, 2015
Unsurprisingly, both Rouhani and President Obama claimed credit on behalf of their countries for the deal's completion.
In a statement Tuesday morning, Obama said that "today, because America negotiated from a position of strength and principle, we have stopped the spread of nuclear weapons in this region." On Twitter, Rouhani thanked the "Iranian diplomats, lawyers & nuclear scientists whose extraordinary efforts" led to this agreement, as well as his other countrymen.
The steadfastness, resistance, patience, perseverance & support of the great nation of #Iran were indeed key to this victory. #IranDeal

— Hassan Rouhani (@HassanRouhani) July 14, 2015
We want to hear what you think about this article. Submit a letter to the editor or write to letters@theatlantic.com.
Nora Kelly
is a senior editor on
The Atlantic
's politics team.