Here's How Hillary Clinton Wants to Fight Global Warming
Her campaign announced new national goals for renewable energy deployment and vowed to protect President Obama's carbon emissions rules.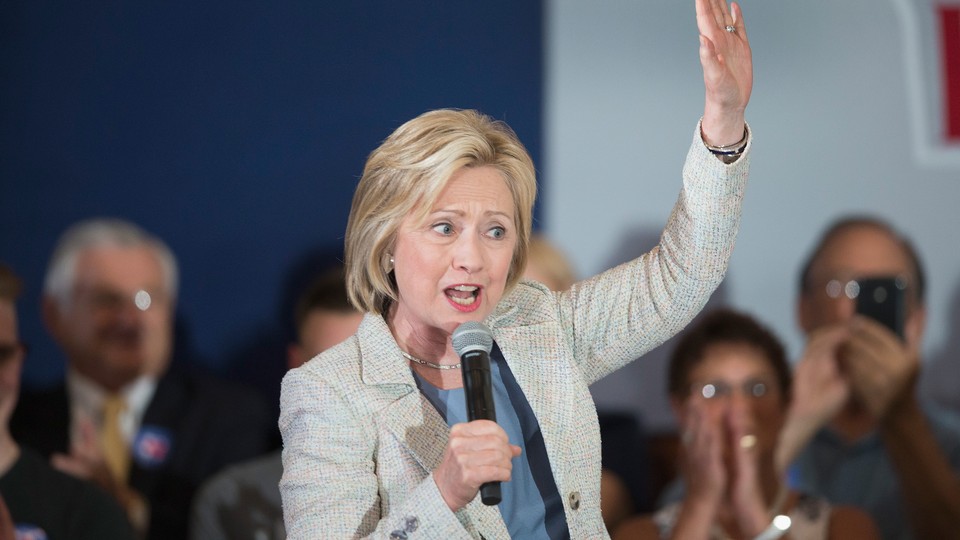 Hillary Clinton began the closely watched rollout of her energy-and-climate platform Sunday evening by announcing goals that would greatly expand the deployment of renewable power in the coming years.
However, the announcement does not address a suite of controversial topics, including whether Clinton supports the Keystone XL pipeline and whether she would allow oil drilling in Arctic waters.
But the Clinton campaign emphasized that Sunday's proposal is just part of a broader climate-and-energy agenda that will unfold in the coming months.
Clinton's plan calls for more than half a billion solar panels installed across the country by the end of her first term, and having the U.S. generate enough renewable energy to power every home within a decade of the start of a Clinton presidency.
Achieving the goals would mean expanding the amount of installed solar-energy generating capacity by 700 percent from current levels by the end of 2020, and adding more green-power generation capacity to the electric grid than any other decade in U.S. history, according to a summary of the plan.
According to the Clinton campaign, the clean energy agenda outlined on Sunday would meet the test that environmental mega donor Tom Steyer laid out last week when he called on all candidates to put forward a plan to ramp up renewable and carbon-free energy so that it accounts for more than half of all power generation by 2030.
Brian Fallon, a Clinton campaign spokesman, said on Twitter: "Clinton's goal translates to 33% of electricity by 2027. Counting nuclear, as Steyer does, she exceeds his 50% goal."
Steyer was quick to praise Clinton while making clear that he hopes to see the 2016 Democratic frontrunner outline additional actions she will take to fight global warming.
"Today, Hillary Clinton emerged as a strong leader in solving the climate crisis," Steyer said in a statement, adding: "we look forward to hearing more details about her proposals to tackle climate change."
The campaign unveiled the clean-energy pledge by releasing a video and outline of the plan Sunday evening.
"Future generations will look back and wonder: What were we thinking? How could we possibly be so irresponsible?" Clinton's voice intones during the video. "I'm just a grandmother with two eyes and a brain, and I know what's happening in the world is going to have a big effect on my daughter and especially on my granddaughter."
"You don't have to be a scientist to take on this urgent challenge that threatens us all; you just have to be willing to act," Clinton adds.
Sunday's rollout is a pivotal political moment in Clinton's relationship to environmentalists, including the more-progressive wing of the movement that has questioned her green bona fides.
Some environmentalists are dubious about Clinton's commitment to powerfully confronting global warming and fossil fuels. The more lefty and aggressive sectors of the green movement, such as Vermont activist Bill McKibben, note her lack of a Keystone position.
And Clinton has applauded the economic benefits of the nation's fracking-fueled oil and natural-gas boom, and the lower carbon emissions of gas compared to coal, while calling for "smart" regulations.
The summary of her plan does not touch on where she may seek to allow or bar development, promising only future information on the topic.
There will be a major initiative, the campaign said, on ways to "ensure that fossil fuel production taking place today is safe and responsible, that taxpayers get a fair deal for development on public lands, and that areas that are too sensitive for energy production are taken off the table."
Steps to achieve the renewable power goals announced on Sunday include protecting the Obama administration's carbon-emissions standards for power plants, according to the Clinton campaign, as well as new initiatives. That means, a "new partnership with states, cities, and rural communities that are ready to lead on clean energy." This work would include grants and "market-based" incentives to help states cut carbon beyond the standards Obama is imposing and accelerate green-energy deployment.
The campaign says Clinton, if elected, would pursue a wide-ranging set of initiatives to expand deployment of renewable energy, such as removing barriers to transmission and fighting to extend green energy tax credits on Capitol Hill, and expanding renewables development on federal lands and buildings, among other steps.
Clinton's campaign chairman, John Podesta, has vowed that Clinton would make climate change and clean energy major themes of her race for the White House.
Subsequent announcements will address issues such as reducing oil consumption in the U.S. and around the world, guarding against supply disruptions, and modernizing energy infrastructure, the campaign said.
On the heels of Sunday night's announcement, Clinton will tour and give a speech on energy and climate Monday at the Des Moines Area Regional Transit Central Station, which has a "platinum" certification in the U.S. Green Building Council's rating system.
Two other contenders for the Democratic nod are appealing to progressive voters with aggressive climate proposals and records of their own.
Sen. Bernie Sanders, who has been gaining in the polls and attracting large crowds, has sponsored legislation to impose a tax on carbon emissions.
Sanders also is a longtime opponent of the Keystone XL pipeline and has endorsed the movement among some universities, churches, foundations, and other institutional investors to dump their holdings in coal and oil-and-gas companies.
Former Maryland Gov. Martin O'Malley, another Keystone foe, unveiled a broad plan in June. It proposes a mandate to require that all of the nation's electricity come from renewable sources by 2050, while expanding EPA's carbon emissions rules for power plants to cover other large pollution sources and rejecting any expansion of offshore drilling, among other measures.
O'Malley, saddled with very low polling numbers, sought to promote his plan ahead of Clinton's announcement Sunday.
"Eschewing the piecemeal, poll-tested, 'all of the above' energy strategies of the past, O'Malley has made clear that he will use the full force of his executive power to make the transition to a clean energy future the Number 1 priority of our federal government," his campaign said.
Clinton, in her Senate career before becoming secretary of State, drew high marks from the League of Conservation Voters, which carefully tracks lawmakers' votes on a suite of environmental and energy matters.
She scored an 82 percent record for her career, though her numbers were dragged down somewhat by missing a number of votes while running for president eight years ago.
This post has been updated with additional information.