GOP's Next Iran Strategy: Tie Hillary Clinton to the Deal
Republicans probably can't stop a nuclear agreement if one is reached, but they could use it to try to put the White House in GOP hands.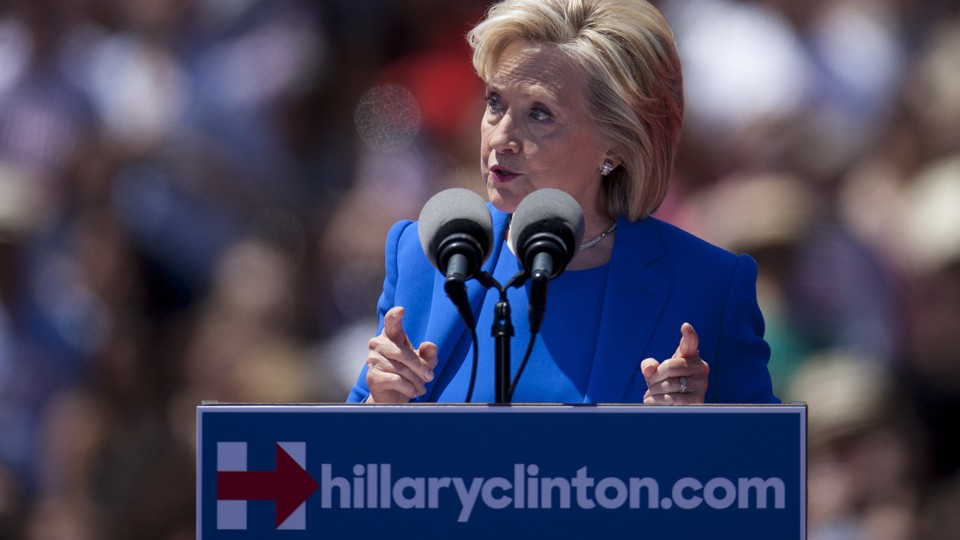 Congressional Republicans have their eyes on 2016 as they sharpen their offensive against President Obama's potential nuclear deal with Iran.
As negotiators blow through more deadlines in Vienna this week, Republican efforts are underway in Washington to upend an agreement if one is reached. And some GOP lawmakers want to tie Hillary Clinton to the deal if they can't stop it outright.
"She owns the good and the bad, and this is a defining moment for her," Republican presidential contender Sen. Lindsey Graham said. "If she does support a deal that doesn't have anywhere, anyplace inspections, that gives the money up front without a behavior change, then I think it is really going to have a big issue and a liability for her."
Clinton said earlier this year that diplomacy with Iran "deserves a chance to succeed." And during a campaign event in New Hampshire over the weekend, the former secretary of State said she hoped that an agreement could be reached. She defined a strong deal as one where Iran's nuclear program would be cut off, and the country would be accountable to inspectors.
The Clinton campaign did not immediately respond to a request for comment on the GOP strategy.
Republicans are growing more convinced that the president's promise of a "good deal" with Iran is no longer possible.
"The Iranians have been staying firm and we have been moving in their direction," Senate Majority Whip John Cornyn said. "I want to see what the deal is first, but I am skeptical."
Still, Republicans are running short on options to stop the president if he reaches an agreement.
Several Republicans, including Sens. Tom Cotton, Rob Portman, and Shelley Moore Capito, have said spending bills could be a place to hold up the president. But others, including Intelligence Chairman Richard Burr, pointed out that funding bills seldom make it all the way through Congress.
Senate Minority Whip Dick Durbin attended the White House meeting with fellow Democrats on Tuesday and said the president only put the chances of striking an agreement at "less than 50-50," but Republicans still are desperate to respond if that unlikely deal goes through.
If the president presents a plan to Congress after Thursday, members will have 60 days to review it before voting. Even then, the Senate needs 67 votes and the House 290 to override a presidential veto. With the bar so high, most recognize it's unlikely that Republicans could halt the deal through that process, barring significant Democratic defections.
"We are looking at all of the options, and at the moment I don't think there is any clear direction, but there are other things that "¦ you could do more proactively," said Sen. John Thune, a member of the Senate GOP's leadership team.
"The agreement that we are going to receive, we basically have to vote to disapprove it, and if the president has got 34 votes in the Senate, then he probably—he can get through with that. But we are hoping when we have the opportunity to educate the American people about this deal, that there will be enough clear-eyed Democrats who will come to the conclusion that no deal is better than a bad deal," he said.
But even if they lack enough votes, Republicans can launch a messaging campaign aimed not just at Obama, but at Clinton as well.
"Effectively, this is her policy as well," Republican Sen. Cory Gardner of Colorado said. "We cannot afford the bad kind of deal the president is on the verge of making, and we cannot afford the continuation of that bad deal under Hillary Clinton."
As Republicans see it, the best way to stop the Obama administration's dealings with Iran is to replace it with a Republican administration. And the best way to do that is to frame U.S. negotiations as capitulation to Iran.
"We are going to have a new president here in 673 days or whatever," said Idaho Republican Sen. James Risch when asked how a deal could be stopped.
The effort also includes plans to subject Secretary of State John Kerry to tough, public questioning. Senate Foreign Relations Committee Chairman Bob Corker said that he would seek his testimony before the panel.
"We have had difficulties in the past getting administration witnesses up here," he told reporters in the Capitol. "But that would be what we anticipate happening." Across Capitol Hill, House Foreign Affairs Committee Chairman Ed Royce said on the panel's website that he expects to bring Kerry before the committee to testify if a deal is completed.
Even before that, Royce is holding hearings Thursday and next Tuesday about the potential deal, sessions likely to feature heavy doses of criticism and skepticism. Witnesses include foreign policy hawk and former senator Joe Lieberman, who will testify next week.