Everyone in Congress Has Something to Say About Planned Parenthood
Republicans are attempting to remove federal funding for the organization in any way they can.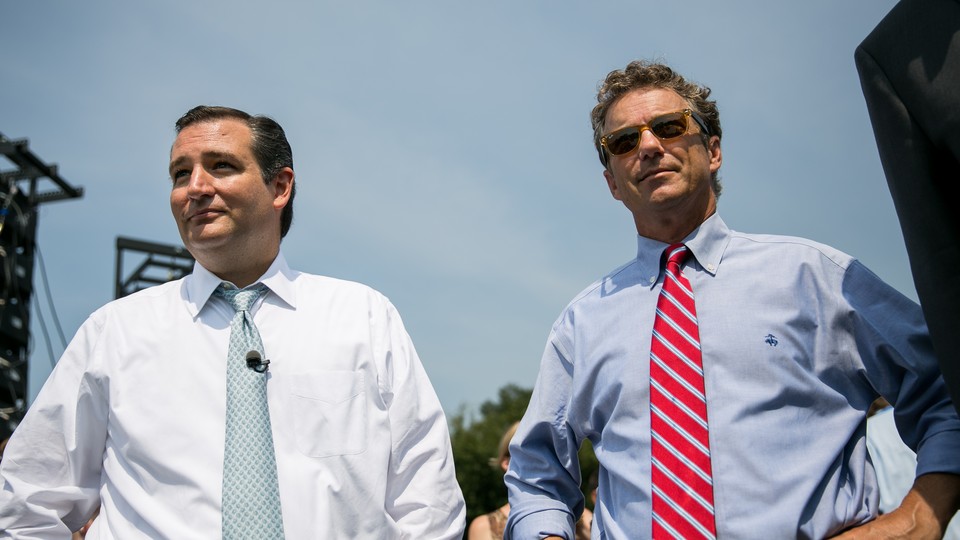 In little more than a week, a video aiming to serve as a Planned Parenthood exposé has ignited a debate over the organization's funding that hangs ominously over congressional activity, and Wednesday was no different.
Almost immediately after the video — which depicts a Planned Parenthood doctor talking about the exchange of fetal tissue — was released, the House announced committee investigations and lawmakers began talking about eliminating the group's federal funding. (It has yet to be determined whether the video depicts illegal activity.)
After a second video was released this week, things heated up: Sens. Ted Cruz and Rand Paul, who are competing for the Republican presidential nomination, filed defunding amendments to bipartisan highway legislation that's already struggling to gain momentum in the upper chamber.
On Wednesday, Republican lawmakers in the House and Senate filed stand-alone defunding bills. And 50 senators — 49 Republicans and Democrat Joe Manchin — sent a letter to the Health and Human Services Department, calling on it to comply with investigations into Planned Parenthood.
Democrats are on offense as well, criticizing the group that taped the conversation with the Planned Parenthood official.
Several House members signed onto a letter Wednesday asking Attorney General Loretta Lynch and California Attorney General Kamala Karris to investigate the legality of the actions of the group that produced what they deem "selectively edited" videos.
White House press secretary Josh Earnest also noted the questions about editing. "I have read the reports and I'm confident that [the president] has too, raising significant concerns about the way in which the videos were selectively edited to distort not just the words of the individuals speaking, but also the position of Planned Parenthood," Earnest said Wednesday. "They have made very clear that they subscribe and implement the highest ethical standards in carrying out their operations."
Of the highway bill amendments that would defund Planned Parenthood, Earnest said, "obviously we do not at all support a measure like that."
But the question exists of where any of this goes beyond talking points.
The most plausible vehicle for passing a Planned Parenthood-defunding measure is the highway legislation, as it's considered a must-pass bill. But even if the Senate gets a vote on that, Majority Leader Mitch McConnell will have to choose between benefitting presidential candidates and getting a bipartisan deal through, since it guarantees Democrats will bail on the larger bill.
"My hope is that it will be removed because if our colleagues want a bill, this amendment has no place in it," Connecticut Democratic Sen. Richard Blumenthal said.
"It's not going to pass the Senate, so I don't worry too much about what it's going to do to the highway bill," added fellow Connecticut Democrat Sen. Chris Murphy. "I mean, this is just the first of many presidential-campaign amendments that aren't going to attract any Democratic votes, so I'm not going to lose too much sleep over it."
Cruz and Paul do not intend to back down.
"I think it's a horrendous thing to sell body parts," Paul told National Journal when asked if he thinks the amendment threatens the highway legislation.
But Dan Holler, communications director of Heritage Action for America, doesn't think McConnell will allow votes on the amendment. "It seems like he is going to make sure that the Export-Import bank gets its vote, but he's not going to promise a vote on any other controversial or nongermane amendment," Holler said.
On the other hand, Holler said in an email the spending bill due at the end of September "will include language that defunds. Period."
And while Holler doubts Democrats would oppose a spending bill in defense of Planned Parenthood in light of the videos, it's not sounding that way.
"I don't think ultimately Mitch McConnell and John Boehner are going to be held hostage by the Republican presidential primary," Murphy said. "Maybe I'm giving them too much faith, but I don't think we're going to be shutting down the government over amendments generated to score points in a Republican presidential primary."
Paul said his amendment "would eliminate nearly $500 million of taxpayer funding each year" to the organization. That part, it turns out, is pretty spot-on. Planned Parenthood receives $528.4 million a year from the federal government.
Its total revenue is about $1.3 billion, according to Planned Parenthood's 2013-2014 annual report, meaning the government provides more than a third of its money.
But what's a bit misleading in the midst of this political debate is how the government's money is being used. No federal funds can be used for abortion, with the only exception being Medicaid funds that pay for abortions in cases of rape, incest, or threat to a woman's life.
Abortions account for only 3 percent of total services at Planned Parenthood, according to the organization. On the other hand, 90 percent of services offered are preventive and include cancer screenings, birth control and STD testing and treatment. Of the 2.7 million people it serves a year, 78 percent of them are at or below 150 percent of the poverty level, the group says. And 1.5 million people who used Planned Parenthood services receive health coverage through Medicaid.
"The men and women who benefit from this funding often have limited health care access, and we are often their primary health care provider. They turn to Planned Parenthood for the quality, compassionate care Americans have relied on for nearly 100 years. One in five women will rely on Planned Parenthood for health care in her lifetime," said Dawn Laguens, executive vice president of the Planned Parenthood Action Fund. "This may be a political talking point for some, but for the women, men, and young people we serve, it's quite literally a matter of their well-being."
---
Rebecca Nelson contributed to this article