Everyone Agrees Medicare Must Be Made More Sustainable
The jury is still out on how to do so.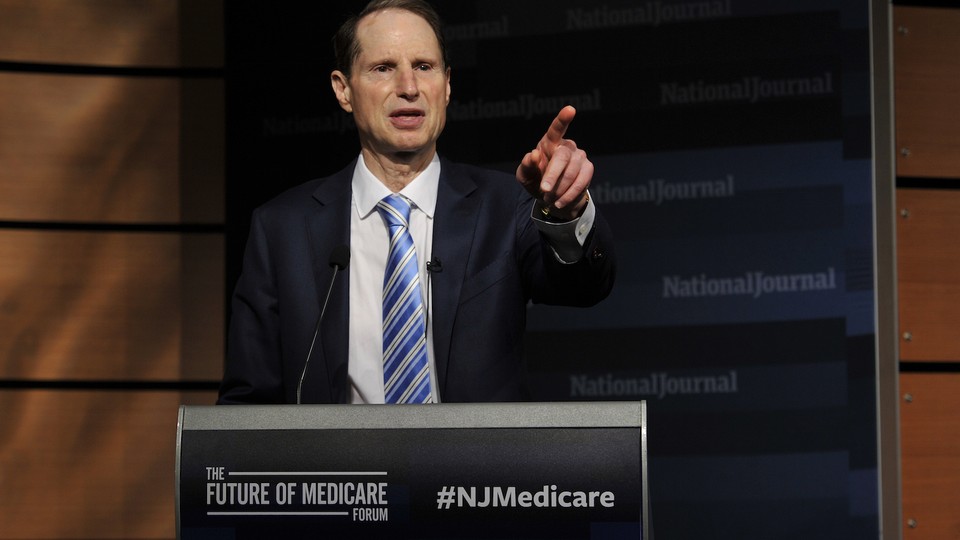 Medicare's 50th anniversary is giving rise not only to celebration, but also to well-founded concern about the program's sustainability.
Democrats and Republicans who spoke at a National Journal event on Tuesday — underwritten by the Better Medicare Alliance to examine the future of Medicare — agree that something must be done to ensure the program remains affordable and continues to improve the health of older Americans. But there are plenty of ideas coming from both parties as to what that something is.
Sen. Ron Wyden, ranking member of the Senate Finance Committee, put forward one area of reform that Washington has been reluctant to touch: the price of pharmaceuticals.
"This issue of pharmaceuticals — making sure people can get the cures and that people can afford them — is no longer an issue that can be ducked," he said.
Although the rapid rise of prescription-drug — particularly specialty-drug — cost is widely known and understood, there have been little to no legislative efforts to address it. An exception is an investigation into Sovaldi, a drug that treats Hepatitis C, led by Wyden and Republican Sen. Chuck Grassley.
On Tuesday, Wyden said that as the prescription-drug component of Medicare continues to grow much more rapidly than the rest of the program, "Congress needs to tackle this issue of pharmaceuticals in a bipartisan way." Specifically, he advocated for linking pharmaceutical prices to value. Currently, Medicare cannot negotiate prices with drug companies.
While Rep. Kevin Brady, chairman of the Ways and Means Health Subcommittee, had a different approach, he agreed that something must be done to make Medicare more sustainable.
"It's fairly easy to have high-quality health care or affordable health care," Brady said. "You can do one or the other pretty easily. Doing both has to be our goal, both in Medicare and throughout health care."
He advocated for simplifying it by combining Medicare Parts A and B, the hospital-insurance and medical-insurance components of the program.
It's hard to imagine Congress agreeing on anything — let alone major Medicare reform — in the realm of health care at a time when a repeal of the Affordable Care Act was added as an amendment to a highway bill and then failed with a vote strictly along party lines. This partisan nature of health care policy is not lost on Wyden; however, he also points to successes that get less press coverage.
"I do not think that the change in doctor reimbursement is a one-off," he said, referring to the "doc fix," a reform of Medicare doctor payments that became law earlier this year.
He also brought up another bipartisan health-policy effort, one that passed the House more recently and is expected to be taken up by the Senate in the fall: medical innovation.
The House legislation, 21st Century Cures, attempts to encourage and accelerate the rate of medical innovation. But while this effort aims to enhance quality of care, it does little to address its cost. Wyden mentioned the effort, which is being spearheaded by the Health, Education, Labor and Pensions Committee, but declined to elaborate on it.
Congress may not have decided what to do about its growing Medicare problem yet, but, Brady said, it should if it wants the program to continue.
"We know the sure way to end Medicare is to do nothing, is to pretend there isn't a problem," he said.
This story has been updated to more accurately reflect the role of the Better Medicare Alliance in the event.