A Year After Eric Garner's Death, Has Anything Changed?
For the past 12 months, America has actually paid attention to police violence—but what has it learned?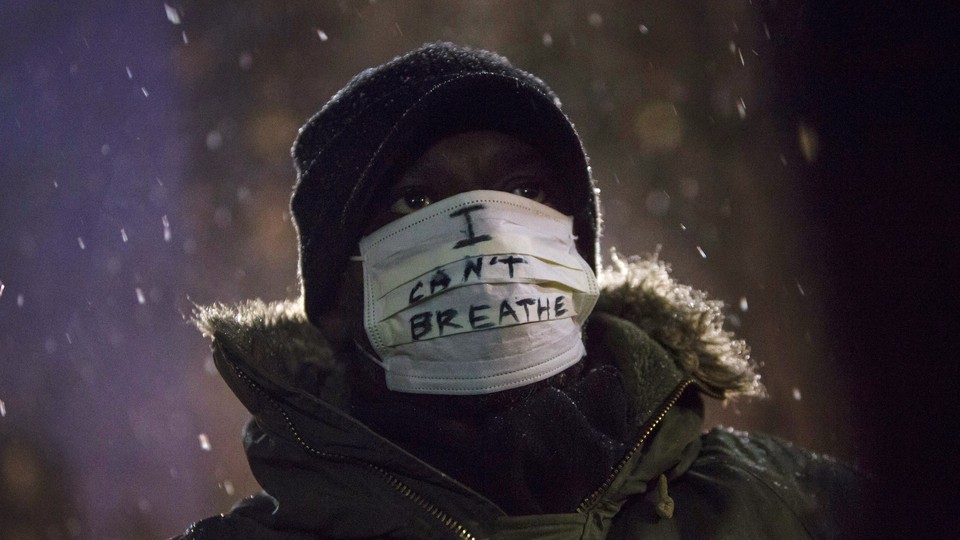 July 17, 2014 seems to have started as a normal day for Eric Garner. By the middle of the afternoon, Garner, who was out on bail for several minor offenses, including selling single cigarettes, was on the sidewalk in Tompkinsville, on Staten Island. He had reportedly just broken up a fight when police approached him about selling loosies. Police arrested him, and placed him in a banned chokehold as he protested—over and over—that he couldn't breathe. Within an hour, the 43-year-old was dead at a hospital.
Friday marks the one-year anniversary of Garner's early death, and with that it marks the one-year anniversary of the United States' focus on police violence against black Americans. The story didn't achieve full national attention until a month later, with Michael Brown's shooting in Ferguson, Missouri, but Garner's death provides a starting point for a litany: Garner, Brown, Tamir Rice, Walter Scott, Freddie Gray—and many others whose names are unknown or less known. Garner's last words, the repeated plea "I can't breathe," have become a slogan for protestors against police violence across the United States.
Garner's death was not, of course, the beginning of a pattern; it was only the beginning of a new awareness and attention within the media to something many African Americans have endured and discussed for decades. My colleague Ta-Nehisi Coates has connected police violence against African Americans with a national identity based on the plunder of people of color stretching back to before the nation's foundation. But the year has been important and potentially pivotal. These stories aren't going away—this week, there's a new mystery with the death of Sandra Bland. Here are three important lessons for Americans since July 17, 2014.
First, deaths like this are far more common than many Americans understood. Garner and Brown's deaths raised two closely related questions: How many people are killed by police every year, and how many people are shot by police each year? People who wanted to know—from reporters to FBI Director James Comey—seemed surprised to learn that there are no reliable statistics to answer that question. Two heroic projects from The Guardian and The Washington Post have gone a long way toward answering the deaths and shooting-death questions, respectively. This isn't a role that should fall to journalistic organizations, though—the government needs to reliably track the statistics.
Second, building awareness about police violence has proved much easier than doing something about it. Officer Darren Wilson, who killed Michael Brown, was not indicted by a grand jury in St. Louis County. Officer Daniel Pantaleo, who choked Garner, was not indicted by a grand jury on Staten Island. Six Baltimore police officers have been charged with crimes in Freddie Gray's death, but it remains to be seen whether prosecutor Marilyn Mosby will be able to convict them on the most serious offenses. Baltimore is a particularly disheartening case—although Mosby's action has been praised as a major step forward—because prosecutors are often wary of charging police, with whom they work every day. It's been clear for many years that Baltimore's police department has serious issues with brutality, and the city has had to pay out millions in settlements. Yet Baltimore's reformist police commissioner, detested by the police rank and file, was just fired amid a spike in crime, which some people think was caused by a work slowdown by those same officers.
Even as traditional methods of cracking down on such abuses have come up short, activists, officials, and victims' families have found alternative means of holding police to account. Foremost among those is forcing legal settlements and bringing civil cases where criminal cases fail. With the anniversary of his death approaching, Eric Garner's family reached a $5.9 million wrongful-death settlement with the city of New York, though some people worry that the agreement doesn't change anything since it has no material effect on police practices. At some point, though, it seems inevitable that the cost of compensation for police brutality will force cities to change practices. A Wall Street Journal investigation found that the 10 cities with the biggest police departments paid out almost $250 million in settlements last year and more than $1 billion over the last five.
Activists have also found a willing and powerful partner in the Department of Justice, which has used civil-rights investigations and consent decrees to force cities around the nation to reform their practices, including in Cleveland and Ferguson. There are other unconventional tactics in use, too—like the civil-rights leaders in Cleveland who discovered an obscure law that could be used to force a magistrate judge to consider arresting an officer in Rice's death. The effort failed to obtain a warrant, but it renewed attention and spotlighted the local prosecutor's slow pace in deciding whether to charge officers over the 12-year-old's shooting.
Third, there's still so much that the public doesn't know and much that is left to police discretion. This already-bleak anniversary is made darker by the mysterious death of Sandra Bland. The 28-year-old black woman from Chicago was on driving to Texas for a new job when she was stopped by police near Houston for failing to use a blinker. During the traffic stop, she was eventually arrested in Waller County by a state trooper for assaulting a public officer, arraigned, and sent to jail on $5,000 bail. On Monday, she was found dead in her cell of what the sheriff says is self-inflicted asphyxiation.
Bland's family rejects that—they don't believe that she would have hurt herself, noting that she seemed in high spirits even after her arrest on Friday, and saying it's generally out of character for her. The FBI has now joined the investigation, and a video has surfaced that reportedly shows part of the arrest. But by the time the clip begins, an officer is already physically subduing Bland. There's still a great deal that is unknown about her arrest and death. Are stops for failing to use blinkers routine in Waller County, or used as pretexts for pulling over certain kinds of drivers? What happened between the driver and the officer? Was Bland the aggressor, as police have it, or was the officer at fault? Are there other recordings of the stop? Did the police act appropriately? What happened between Friday afternoon and Monday morning as Bland waited in her cell?
Many of these things may be unknowable, and others will emerge over the coming days and weeks. What's clear from the start is that a traffic stop for failing to signal a lane change, involving an African-American woman with no apparent criminal record, somehow escalated to a physical altercation between the officer and the driver and ended with a young woman dead in a county jail cell. Eric Garner's death one year ago may have been the beginning of Americans paying attention to police violence against people of color, but Bland's death shows why the anniversary doesn't offer any closure.