Due to Crisis, More Puerto Ricans Now Live in the U.S. Than on the island
One writer looks at how the crisis created an exodus.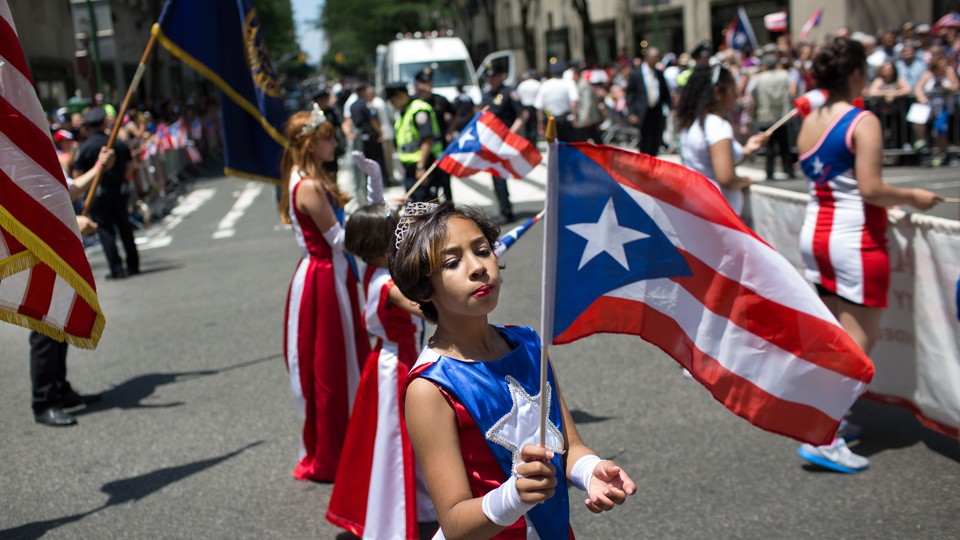 The ground is buckling under my family's feet in Puerto Rico, as though an earthquake were rattling the entire island.
The earthquake is a collapsing economy. Stores are shuttered in San Juan. Businesses are leaving the island. Jobs disappear without warning. The "official" unemployment is 12 percent, but the real unemployment is closer to 25 percent. From 1996 to today, 160,000 factory jobs dwindled to 75,000. In 2010, the government laid off 33,000 workers. Right now it owes $73 billion. Governor Garcia Padilla says he can't pay it, and the island is this close to bankruptcy.
At first, none of this affected my cousin Adai­l Nieves. Born and raised in Caguas, he was taking computer classes and ready to work hard—at anything. He lived in a rented room and kept his overhead very low. Adaíl was going to make it. Every night, he'd sit at the window with his computer books, and read by the light of a streetlamp. He kept his books in a soapbox nailed to the wall, and a poem was nailed above them: Rudyard Kipling's "If."
If you can keep your head when all about you
Are losing theirs and blaming it on you"
Adai­l kept his head. He cooked rice and beans on a hot plate, ironed his pants by placing them under his mattress, and sewed patches on them. He made the rounds of government employment offices in San Juan, Rio Piedras, Caguas, Cataño, Guaynabo, Dorado, Naranjito, and Bayamón. He entered and exited the gleaming bank buildings of Hato Rey, and criss-crossed the sixteen piers of San Juan Harbor. The steadiest job lasted three months: cleaning boat hulls in Las Croabas. Otherwise, Adai­l was lucky to work one or two days per week.
"Sorry, nothing today," he'd hear.
Adai­l kept trying. He covered the holes in his shoes with pieces of carton. From the piers and factories, he went to the hotels and restaurants, looking for a job as a busboy or dishwasher.
"Sorry "... Sorry"..."
He knew that jobs were getting scarce, and people were leaving the island. For nearly ten years, over 100 Puerto Ricans per day have packed their bags: 140,000 last year alone. It is a new mass migration, comparable to the one after World War II. They're moving to Texas, North Carolina, and especially Florida, which boasts nearly 700,000 Puerto Ricans in the Orlando metropolitan area, and 1 million throughout the state. For the first time, more Puerto Ricans live in the U.S. (4.7 million) than on the island (3.6 million).
But Adai­l was not going to be one of them. He loved his island, and he would struggle and stay because it was his home.
Four years passed. Adaíl quit his computer classes, and took any job he could find. Sometimes he was hired off the books, and paid $50 for a 10-hour workday. He took the money and considered himself lucky.
Adail felt betrayed by American capitalists and Puerto Rican politicians. He knew that if the Jones Act were reformed, and the U.S. permitted Puerto Rico to develop its own shipping industry, there'd be 50,000 more jobs throughout the island.
He knew that under current law, Puerto Rico has no bankruptcy protection. The $73 billion debt, and the interest payments on it, are strangling the island. Taxes will rise. More businesses will shut down. More jobs, and people, will leave Puerto Rico.
Last week, for the first time in his life, Adail had to pay a sales tax of 11.5 percent at Sam's Club. His landlady also informed him that, because her water rates had risen by 60 percent, she'd have to raise his rent. That night, something died inside Adaíl. He trudged up to his rented room, looked at the Kipling poem, and said his goodbyes.
Adai­l is moving to Florida to look for a job in Orlando. "I'm going to Disneyland," he told me bitterly, over the phone.
Nelson Denis, a former New York state Assemblyman, is the author of War Against All Puerto Ricans (Nation Books, 2015).
Say It columns are works of opinion that reflect the writer's viewpoint as supported by evidence. They do not represent the opinions of Next America, its parent company or affiliates.